Police leaders recognized for innovative use of cloud-based crucial information software
The first-ever PowerDMS Entrust Awards celebrated three police departments for modernizing subpoena management, finding high-risk children with autism faster and saving their departments money
---
By P1 Staff

ORLANDO – Several law enforcement leaders from around the country were recognized for their innovative use of a cloud-based records management system to solve pressing community problems at the inaugural Entrust conference.
In addition to honoring award winners, conference attendees – users of the PowerDMS information management technology platform –participated in educational sessions on topics such as engaging a millennial workforce, using tactics to increase employee safety, and maintaining a department culture of compliance. 
The six award winners were: 
•    Community Hero Award: Paul Tennies, Northville Township (Ill.) Police Department
•    Innovation Award: Alicia Schotter, Winder (Ga.) Police Department 
•    ROI Award: Gabrielle Fiore, Orlando (Fla.) Police Department 
•    Environmental Protector: Jennifer Cruz, Community Care Plan 
•    Power User: Beth Elliott-Thul and Lisa Montpetit, Boynton Health Service
•    Champion of the Year: Megan Styron, Greenville (N.C.) Police Department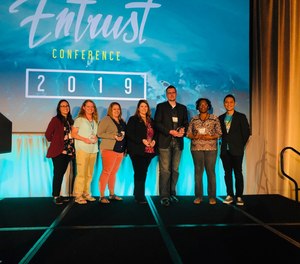 "With Entrust, we set out to bring together our exceptional customers from across the country to collaborate, share and learn best practices from each other, from industry leaders, and from PowerDMS experts," said David DiGiacomo, CEO of PowerDMS. "We are proud of the award winners who demonstrate the transformative work our customers are doing to benefit their organizations and the communities."
Public safety Entrust Award winners
Among the six winners, three recipients were recognized for their innovative use of PowerDMS in law enforcement. 
Digitizing subpoenas for improved access
Winder Police Department, represented by Alicia Schotter, was recognized with the Entrust Innovation Award for moving the department's handwritten, paper log subpoena process to PowerDMS. 
Once a subpoena is scanned into PowerDMS the document can be emailed to officers and tracked for the presence of an officer signature. If an officer misses her court date she can look at the documentation to see when she signed for it. Officers also receive an alert the day after the subpoena is entered in PowerDMS and have access to that subpoena up to one day after the court appearance date.
Helping officers find high-risk children with autism 
The Entrust Community Hero Award was presented to the Northville Township Police Department, represented by Paul Tennies, for the department's resourceful use of the PowerDMS mobile app to record and track all high-risk children with autism in the community.
The project was initiated by Sgt. David Roberts who has a child with autism, who is non-verbal. Roberts has experienced the panic of his son running away from home. Thankfully, first responders searched the area and eventually found the boy by a body of water. 
As a result of his personal experience, Roberts initiated a public education program to obtain profiles of children with autism in their community. These profiles were physical paper files which remained in the police department and weren't accessible to the units responding to a missing child incident. 
Roberts realized time is critical in these incidents and suggested loading the profiles into PowerDMS to make them accessible to all officers with the PowerDMS mobile app. Now, all responding officers have a photo of the child and the demographic information they would typically request when they arrive on scene. The child's information led to creation of an enhanced profile which includes a search grid map of the child's residence, including identifying nearby bodies of water for officers to check first. 
Further, this initiative was tied to Autism awareness month in the state of Michigan. The department has had success in using the profiles and in 2019 is expanding the concept to include vulnerable adult profiles. There are seven assisted living facilities in the community and most specialize in dementia care. This program provides support to individuals in those communities who may also wander.
Redesigning department's Transfer History Records
Orlando Police Department received the ROI Impact Entrust award. Gabrielle Fiore accepted the award after spearheading a redesign of the agency's process for Transfer History Records and how those records are managed, revised and accessed by employees.
Managing Transfer History Records with PowerDMS has saved the department multiple hours and dollars every week. Personnel no longer must make multiple requests to access and print employee transfer records. Rather, employees can access this information from any device, at any time. 
Policy delivery, tracking and training
PowerDMS, used by agencies across the U.S., is web-based software that electronically delivers and tracks the policies police officers need to do their jobs. 
"As a longtime user and champion of PowerDMS, I was blown away by the creative ways agencies and organizations are leveraging PowerDMS to improve how they do their important work," said Eric Daigle, principal, Daigle Law Group and legal advisor to law enforcement agencies throughout the country. "The critical information shared during Entrust will undoubtedly maximize the impact of PowerDMS, allowing its customers to continue to strive for and achieve operational excellence within their organizations."
With PowerDMS supervisors can make sure officers receive and understand critical content, can hold officers accountable for their performance in the field and quickly prove officer's compliance in the wake of an incident. 
 

Request product info from top Police Software companies
Thank You!