2 Fla. departments purchase iRobot for shared use
Law enforcement from both departments has trained extensively on the equipment and share responsibilities
---
By Fallan Patterson
Forum Publishing Group via Sun-Sentinel
MIRAMAR, Fla. — The Pembroke Pines and Miramar police departments recently partnered to jointly purchase a high-tech robotic device they can both use in dangerous situations.
The iRobot is used by law enforcement to obtain information, approach suspicious packages or devices, and to avoid putting an officer in a potentially dangerous situation. It even has audio capabilities for negotiation situations.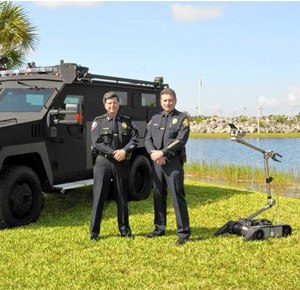 "It's basically to safeguard lives of officers and others, as well," said Tania Rues, spokeswoman for the Miramar Police Department.
The iRobot cost about $146,400 and was purchased using funds collected through seizures from criminal activity.
"[It] is intended to safeguard the lives of our officers and citizens in our respective communities," said Miramar Police Chief Ray Black.
"This partnership allows both police departments to obtain state-of-the-art equipment at a shared cost which is beneficial to each city," said Pembroke Pines Police Chief Dan Giustino.
This is the second time in recent years the police departments have purchased equipment together. They agreed to share the $282,000 price tag on a Bearcat armored rescue vehicle in 2010 using grant funds from each city.
The tank-like vehicle is designed for use during SWAT situations, such as those involving hazardous materials, acts of terrorism or threats with high-powered weapons at schools or in public areas.
"The Bearcat armored vehicle and the iRobot are two important tactical assets for police departments to have in responding to high-risk calls," Giustino said. "As cities face financial challenges, police departments can continue to enhance their existing partnerships by sharing the expense and maintenance of new technologies, equipment and special-purpose vehicles."
Law enforcement from both departments has trained extensively on the equipment, Rues said, and the departments share storage responsibilities: Pembroke Pines houses the Bearcat and Miramar stores the iRobot.
"Both assets will enhance the safety of police officers and citizens of both communities," Giustino said.
McClatchy-Tribune News Service