Ballistic shields can improve officer safety
It's unacceptable to make patrol officers wait for a supervisor or SWAT officer for a ballistic shield, so let's properly equip the first officers to arrive on scene
---
At one time, ballistic shields were reserved for SWAT and other specialty teams. But now, we recognize the need to make ballistic shields readily available for patrol officers, supervisors, school resource officers and even detectives. When ballistic shields are easily accessible, they can be quickly deployed and regularly utilized. This will make our communities and officers safer.
Why patrol officers need ballistic shields
The North Hollywood shootout in 1997 demonstrated to law enforcement trainers and police leaders that patrol officers needed patrol rifles. Additionally, for many of us, this event demonstrated how rifle-rated ballistic shields could be utilized by patrol officers to protect themselves and others.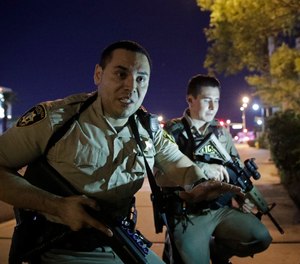 Twenty years later, a rapid mass murder suspect armed with multiple rifles killed 61 people in Las Vegas. Rapid deployment of ballistic shields may have been useful to the initial officers on scene by providing cover during approach, and while rendering aid and evacuating the wounded. It is now widely recognized that patrol officers will be the first officers on scene of an active shooter and that additional ballistic protection will help patrol officers save lives.
Bank robberies and active killer incidents aren't the only times when patrol officers could benefit from having ballistic shields available. Ballistic shields are most frequently deployed on calls like building searches, shots-fired investigations, armed subjects and other patrol calls. Making ballistic shields available to patrol officers creates a much safer working environment for those officers and our communities.
How to select ballistic shields
A few years ago, I recognized the need for patrol officers at my department to have additional ballistic shields available. At the time, shields used by patrol officers were kept in the sergeant's vehicles. If an officer had an immediate need for a shield, they had to wait for a sergeant to arrive on scene. Sure, they were easy to keep track of, but they weren't used much. I'm not certain where this line of thinking comes from, but it seems some police managers are more concerned with keeping equipment secure and undamaged instead of being useful. Since officers are nearly always the first to arrive on scene, it doesn't make sense to restrict shields to supervisor vehicles.
At the time, each shield used by patrol was a SWAT "hand-me-down." The shields were usable, but they were old, heavy and bulky compared to modern armor. As a result, the shields were usually left behind instead of deployed on calls where they were needed. After all, who wants to deploy on a call using heavy, outdated equipment?
After meeting with each patrol team to determine the features they wanted in new ballistic shields, I discovered there was near-unanimous agreement that new ballistic shields for patrol be rifle-rated, as lightweight as possible, come with a viewport to aid in maneuvering around obstacles and be equipped with a supportive grip system to make their use less clumsy and cumbersome. An integral light was considered less desirable due to additional weight.
Weight is an important factor and should be taken seriously. Modern ballistic shields are lighter and offer increased maneuverability than in years past resulting in greater ballistic protection from a similar size shield. All other things being equal, a lighter shield is safer and easier to use. A heavy shield is harder to hold onto and more difficult to stabilize while moving. As the shield operator starts to fatigue from the weight, it is more likely the shield will drop down exposing officers to potential danger. A heavy shield is also more difficult to deploy from vehicles making it more likely to damage the shield or patrol vehicle during deployment.
The addition of a viewport on a ballistic shield can add a significant cost to each shield. The price increase for adding a viewport is between $450-$1,800 per shield depending on the manufacturer. However, this option makes it considerably easier to maneuver while using the shield. Without the viewport, the shield operator must lean out to see around the shield. This exposes the operator and potentially causes them to get in the way of other officers and their ability to see around the shield. The viewport greatly aids the shield operator by providing the ability to navigate around obstacles and avoid tripping hazards.
Another important feature to look at is the carry and grip system. Operator comfort is key to utilizing the shield properly, with less effort and over a longer period. Especially on long, drawn-out searches or calls for service, a carry and grip system that provides a comfortable way to carry the shield is crucial to consistent deployment and proper use. Rigid handles, comfortable padding, forearm straps, suspenders and other systems can make extended deployments more comfortable resulting in more frequent use.
Ballistic shield training
After selecting the ballistic shield that meets your officer and department's needs, the next step is to train all potential users on how to deploy this valuable piece of equipment.
Training shouldn't be restricted to SWAT and rifle officers. All patrol officers should be trained to properly deploy and utilize ballistic shields. Training should cover the types of calls for service and circumstances where a handheld ballistic shield could be useful. Once the context has been discussed, training can move on to the basics of how the shield is stored and deployed.
The fun training comes next. The practical application of ballistic shields should cover ways to use them effectively during building searches and room clearing. Building search training should cover one- and two-officer shield teams, stacking techniques and stairway tactics. Basic close-quarter use and perimeter operations are situations where patrol officers could be expected to deploy a ballistic shield and should be a part of the curriculum. Finally, arrest team strategies and techniques should be covered to ensure officers understand how to use the shield while communicating and detaining suspects.
When it comes to the live-fire range, officers should be trained on a variety of topics including one- and two-handed shooting with the shield. Reload and malfunction drills should be performed so officers get the opportunity to perform these skills under controlled training conditions instead of trying to figure it out in the uncontrolled environment of a fight. Once these skills have been trained using handguns, it's time to add patrol rifles to the mix.
The ultimate goal is to get officers immersed in scenario training with ballistic shields. These scenarios could include a variety of situations including injured officer rescues, approaches to doorways, threshold evaluation and port-and-cover window tactics.
If you're searching for a ballistic shield training class, there are several options available. Some manufacturers offer training classes for law enforcement agencies and the use of their products. There are different training organizations such as Team One Network and the National Tactical Officer's Association (NTOA) that provide training classes on the use of ballistic shields and ballistic shield instructor certification courses. 
It's unacceptable to make patrol officers wait for a supervisor or SWAT officer for a ballistic shield. It is time to properly equip the first officers to arrive at every call for service. Portable and lightweight ballistic protection is a necessity for our patrol officers and communities.

Request product info from top Ballistic Shields companies
Thank You!