Preparing your police department's response to demonstrations in an imperfect world
By now every officer should be trained in crowd control so that a group of them can form anytime to address a violent crowd in the early stages of its development
---
The U.S. Supreme Court's recent decision to overturn Roe v. Wade triggered violence in many cities. In watching this country's leaders react to the decision and departments respond to the demonstrations, it appears many have learned little from the civil unrest in 2020 and 2021.
A story to demonstrate how to deal with unreasonable demands on police
Years ago, shortly after our officers were issued and trained in the use of pepper spray my chief asked me to handle a letter from a local hospital administrator banning the use of pepper spray by police in their hospital.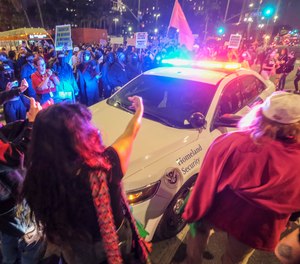 I contacted the hospital administrator and told him, respectfully, that he had no more authority to tell police what level of force they could use when summoned to their hospital than I had to tell a doctor what medicine they should administer when summoned to their hospital. For either of us to do so would be an act of gross malpractice. After that simple, respectful discussion, the administrator re-considered his order and rescinded it.
The point is that chiefs and sheriffs need to have similar conversations with mayors and governors to minimize their micro-management of these disturbances. In reference to violent rhetoric, chiefs and sheriffs need to contact offending elected officials and show them examples of how their violent rhetoric makes these officials part of the problem and not part of the solution when it comes to managing civil unrest.
If unchecked this rhetoric-encouraged anarchy coupled with a stand-down mentality will eventually lead to large sections of cities becoming unpoliceable and therefore uninhabitable. Look to the "CHOP" in Seattle as an example.
Recommendations for dealing with the media
During media contacts, chiefs and sheriffs should explain the role elected officials and the media can play in preventing large disturbances. They also can inspire violence with inaccurate reporting and inflammatory language.
Ask them if they want their legacy to be of urban renewal or urban decline. Be honest and blunt!
Recommendations for dealing with local commanders
If unnecessary "stand-downs" are ordered, chiefs and sheriffs, assistant chiefs, under sheriffs, captains, lieutenants, sergeants and officers must be able to have respectful but serious discussions about law enforcement's duty to protect the community and preserve the peace.
Elected officials who wish to order officers to stand down should be reminded, "Sir/Ma'am, we can do this. Let us do our jobs." An environment where officers feel free to carry on such a conversation must exist as well.
Officers improperly equipped
Many officers have been put in harm's way during large disturbances that erupted during Roe v. Wade demonstrations. They can be seen clearing unlawful assemblies without the benefit of chemical and impact munitions. Most are without proper protective equipment.
[RELATED: Plan early and prepare your gear for mutual aid deployment]
Tactical response recommendations
When policing demonstrations on hot button issues look to proven crowd control tactics. When planning for these demonstrations, plan and schedule for the worst-case scenario especially when opposing demonstrations are scheduled.
Make certain everyone has the proper equipment for the worst-case scenario and your on-scene commanders have full authority to make decisions to respond to the threats presented by individuals in the crowd.
[RELATED: How to buy riot response gear eBook]
Split your personnel
As a part of the plan, when things are peaceful, consider splitting your available personnel in this manner:
Team A for Plan A
Plan A should be implemented first to deal with a peaceful demonstration. You can assign part of your officers (Team A) wearing the uniform of the day to the scene of the demonstration, dealing with individuals in the crowd and situations as they develop, trying to facilitate the peaceful demonstration and prevent a large disturbance.
Team B For Plan B
Plan B should be immediately implemented when the crowd is led down a violent path. Half of the officers (Team B) not yet deployed should be already staged close by, fully equipped for an immediate-ready-response. They should form up to face the crowd, while the unequipped officers pull back after their arrival.
Team A can proceed to the staging area, where they can quickly gear up, reform as a team and respond to re-enforce Team B, which should still be with the crowd.
All options should be on the table for bringing peace back to the street.
Recommendations for spontaneous disturbances
By now every officer should be trained in crowd control so that a group of them can form anytime to address a violent crowd in the early stages of its development. Every officer should have in their squad a crowd go-bag containing at the very least, a baton/carrier, mask/carrier, a helmet/shield and a crowd control uniform allowing full skin coverage.
Line supervisors should also all be able to quickly form up and command a group of officers to address a spontaneously formed crowd effectively. Trained and fully equipped grenadiers with authorization to use impact, or chemical munitions as needed should be readily available as well.
Grenadiers should also be trained to document and justify each use of these munitions after the event as well.
Conclusion
I have heard in the past that some of my recommendations are great if we lived in a "perfect world." The opposite is true. I make these recommendations because we live in an imperfect world. Prepare!
► Access Police1's catalog of crowd control training resources here

Request product info from top Riot Gear companies
Thank You!