How a Tenn. agency trains its LEOs to be emergency medical responders
10 deputies are now certified to provide enhanced medical care prior to fire and EMS arrival on scene
---
By Marian O'Briant
Blount County, Tennessee Sheriff James Lee Berrong and Blount County Mayor Ed Mitchell were on hand October 16 for the official kick-off of the department's Emergency Medical Response (EMR) program.
"This is a groundbreaking program for law enforcement," Sheriff Berrong said. "I don't know of any other Sheriff's offices in Tennessee that offers this to its citizens. These deputies who are certified are now equipped with additional life-saving skills and equipment that will allow them to be able to provide aid more quickly when it comes to life-and-death health emergencies."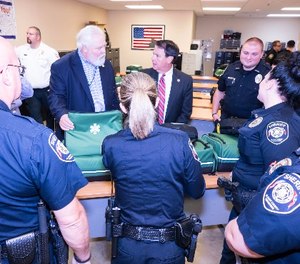 Ten deputies who expressed interest in the certification were selected to take part in the initial program. American Medical Response (AMR) taught the 60-hour certification course, followed later in the month with a national certification test. One deputy, Megan Householder, was previously certified as an advanced EMT.
The deputies will now work with AMR to gain 30 hours of practical experience on an ambulance.
Program enhances emergency medical services
Sheriff Berrong and Mayor Mitchell saw a way to enhance medical services in Blount County.
Patrol deputies often arrive on scene prior to fire or EMS, and administer some sort of medical aid. These deputies will now be ready to provide enhanced medical services to improve emergency medical care in Blount County.
The EMR certified deputies will be spread between all three patrol shifts.
"In the seven years I've been Blount County Mayor, seeing this EMR program in our Sheriff's office is one of the proudest moments," Mayor Mitchell said. "As mayor, the safety and well-being of our citizens has and will continue to be of utmost importance to me.
"With the help of Sheriff Berrong, we have put in place a new way of ensuring we are doing what both of us believe is in the best interest of the county. It says a lot about the high quality of our Sheriff's Office and the deputies who embraced the idea and worked hard to gain this additional certification."
EMR-certified deputies receive an additional $4,000 per year. Sheriff Berrong hopes to add 10 additional deputies each year to the program.
What is an emergency medical responder?
Emergency Medical Responders provide immediate lifesaving care to critical patients who access the emergency medical services system.
EMRs have the knowledge and skills necessary to provide immediate lifesaving interventions while awaiting additional EMS resources to arrive. EMRs also provide assistance to higher-level personnel at the scene of emergencies and during transport.
---
About the author
Marian O'Briant is the public information officer for Blount County Sheriff's Office.