5 ways a school resource officer can improve campus security
SROs can start by being prepared, proactive, resourceful and decisive
---
By Joseph Zalenski
The mass shooting at Marjory Stoneman Douglas High School in Parkland, Florida, on February 14, 2018, was a sobering reminder of how someone with ill intent can victimize our communities.
On that day, a lone gunman killed 17 people and wounded 17 others. As shots were fired inside the high school, the school resource officer, who was a retired sheriff's deputy, took cover outside and never engaged the shooter. He was later cited for negligence.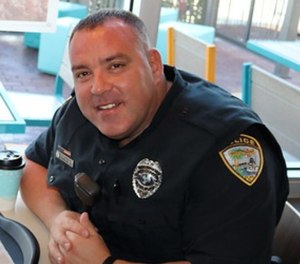 The public and government officials reacted with outrage to the SRO's failure to act and the incident sparked local and national debates about the role and responsibilities of school resource officers.
I'm an SRO at an elementary school in Lee County, Florida, that has about 1,000 students and 100 faculty/staff members; about the same number of students and staff are in a connecting middle school. I read the Florida Department of Law Enforcement (FDLE) report (available in full below) on the Parkland shooting and encouraged my principal to do the same. Afterward, we discussed our takeaways.
Some pages are inspiring, others gut-wrenching. The report identifies several lessons from the incident around campus security improvements, police communications, equipment and training.
From a law enforcement viewpoint, the FDLE report emphasized that the days of setting perimeters and waiting for resources during a crisis are over.
Much of the report focused on the response by the two primary agencies that went to the scene, plus included a breakdown of each officer's actions. I do not intend to dissect the report, but to inspire potential responding officers and every SRO, into making a few small preparatory decisions that may help better protect students, teachers and officers during a school shooting.
1. Decide to be visible, confident
Every principal, parent and staff member at a school wants reassurance their SRO intends to confront a threat and place themselves in harm's way with their arsenal of body armor, firearms, training, intestinal fortitude and righteous indignation. You need to be visible to students, make them aware you know them, and project an air of confidence in yourself and your abilities while still being approachable. In some cases, students just need to know someone cares about them. Even my first graders talk about police stopping "robbers" and "strangers."
2. Decide to improve your skills
Commit to and work toward improving your skillset. In years past, many SROs were in the wind-down years of their careers. That's not an issue as long as an SRO continues to keep skills and knowledge sharp and up to date. Stay current with the latest tactical trends. Attend training that challenges you and ensures you are mentally and physically equipped to meet the situation we all hope never comes.
3. Decide to be prepared
Stay proficient with your handgun and long weapon. Carry QuikClot or another anti-coagulant, a tourniquet and occlusive dressings in your vest or equipment.
To mentally prepare yourself for a crisis, perform self-talk and what-if scenarios in your head as you patrol your school every day. This will help create a mindset for solving tactical issues before you need to perform at "combat speed." Grab a blue training gun and work corners, get your footwork down and practice sweeping rooms quickly. Also, determine possible reactions to potential threats and work through to their conclusions.
Think about the radio you'll use and the types of transmissions you'll use it for. The school radio will be chirping information about what's happening, but agency radio will be your lifeline to help. Figure it out now. Work on various outcomes, be it engagement, barricade or surrender. These exercises will speed up your OODA (observe-orient-decide-act) loop.
The first day I set foot in my school, I felt the responsibility of keeping the occupants safe. Keep in mind that a school is filled with students, academics and folks who don't see the school as "T" or cross intersections, choke points or center-fed rooms. You need to assess and make recommendations on how to improve security and be insistent with a pleasant explanation about the reasons.
4. Decide to share information
Share what you are doing and why. When it came time to perform our staff back-to-school lockdown/active shooter response training, I played the video that showed the Marjory Stoneman Douglas High School incident unfolding in an illustration: nothing graphic, no sound, just a timeline and the illustration of who was alive and who was not. When the video ended, the room was mostly silent as the staff contemplated how they could help prevent such a horrific event. Conversations with staff members in the following days confirmed many were seeing things from a different perspective and were fully committed to making the campus secure.
5. Decide to prepare resources
Law enforcement agencies can be proactive regarding school checks and encourage them for daywork officers. Frequent drive-throughs can discourage external threats. SROs should invite zone and district officers (host a roll call) for complete tours of the school to increase their familiarity with the landscape. I would rather have my backup get familiar with the layout of my school when I'm buying them lunch than coming in blind to the tactical challenges when I'm in desperate need of help.
As the SRO, you need the extra eyes and ears; you can't do it all. The sooner you start cultivating resources, the safer your campus will be.
Marjory Stoneman Douglas High Public Safety Commission Initial Report 2019 by Ed Praetorian on Scribd
---
About the author
Officer Joseph Zalenski is currently assigned as an SRO in Lee County, Florida. He entered the Philadelphia Police Academy Class 322 in 1997 and joined the Cape Coral Police Department in 2005. He has served in patrol as an FTO, training unit, bike unit, honor guard and now the SRO unit. Officer Zalenski is passionate about campus safety and is frequently caught in the classroom with "his" kids teaching them or spending time at recess, PE or the cafeteria. He recently attended FASRO 2019 and Active Shooter Instructor level courses, the Winter conference of the Association of Threat Assessment Professionals and is an upcoming presenter at FASRO 2020.

Request product info from top Police Training companies
Thank You!