Reinforcing field tactics with Critical Mindset Coordinated Response training
Street encounter training must be constantly evaluated and frequently rehearsed
---
By Lieutenant Michael Nevin
The San Francisco Police Department has developed a new training course designed to reinforce sound field tactics using reasonable force options during street encounters.
The agency's use of force policy dictates: "Using a critical decision-making model, officers shall collect information, assess the threats and risk, consider police powers and the Department's policies, identify options and determine the best course of action, and review and re-assess the situation."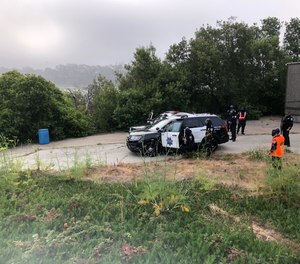 The Critical Mindset Coordinated Response (CMCR) course is specifically intended to reinforce and enhance officers' basic tactical knowledge, skills and abilities.
The CMCR training course focuses on five principals:
Assess and re-assess utilizing critical decision-making skills;
Plan and coordinate to resolve complex, high-risk situations;
Emphasize the need for leadership at the scene;
Emphasize teamwork through communication and shared intelligence;
Adopt the process of the "debrief" following an incident.
Through classroom lectures, students are able to review tactical concepts, watch videos and complete tabletop exercises, but the main focus of the course is hands-on scenario-based training. Officers are challenged as they must cope with evolving scenarios that force them to determine whether apprehension or containment mode is appropriate. They are reminded to stay alert because situations are often fluid and the mode of response may require adjustment.
"Discretionary" vs. "non-discretionary" time
The training explores the difference between "discretionary" vs. "non-discretionary" time. If suspect behavior involves an immediate threat, officers have "non-discretionary" time and are expected to react swiftly to prevent death or serious bodily injury to innocent persons. If suspect behavior does not involve an immediate threat to others, officers have "discretionary" time to slow things down. This presents the opportunity to attempt de-escalation techniques and employ tactics advantageous for officers. A mantra emphasized in training is: "If time is available, take it!"
"Four Cs" for high-risk incident resolution
Students utilize the "Four Cs" for high-risk incident resolution:
Containment;
Communication;
Coordination;
Control.
All the tools available to officers in the field are accessible in the training including extended-range impact weapons, ballistic shields and tourniquets. Radios and body-worn cameras are worn by officers to ensure training closely resembles a patrol shift. Officers quickly learn that having a plan and assigning specific roles will increase the likelihood of successful outcomes. Officers and supervisors who take on too many tasks often don't perform as well as those who focus on a single task.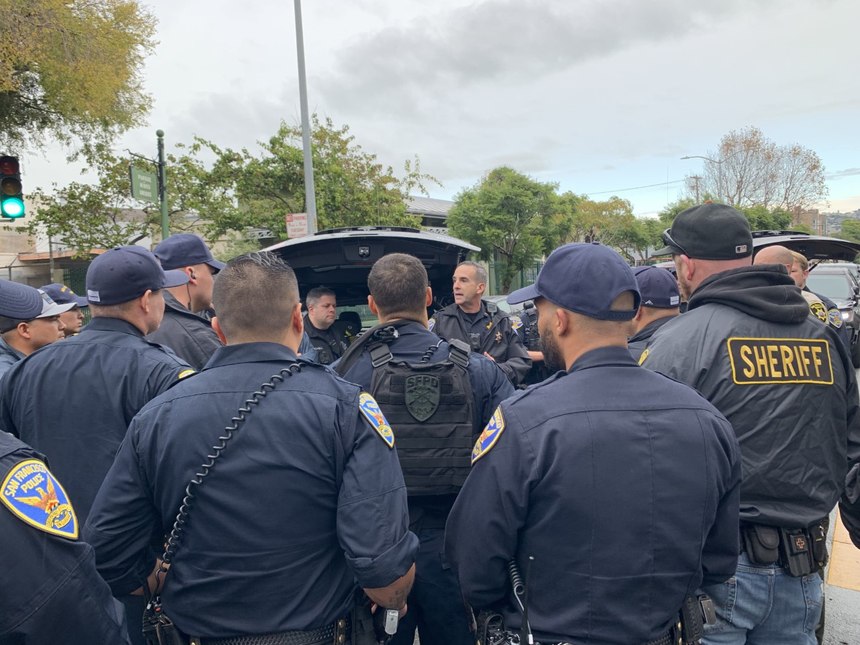 Training part of larger program
The CMCR course is part of the larger training model within the San Francisco Police Department involving units such as the Crisis Intervention Team (C.I.T.), Emergency Vehicle Operations and Control, Physical Training and Defensive Tactics, Recruit Training Office and Range. Training staff from all disciplines meet monthly to ensure oversight, consistency and guidance for officers with respect to all the courses of field tactics and force options training to better prepare them for the challenges they face.
In light of changes to California state law regarding police use of force, the San Francisco Police Department wants to stay ahead of the curve. Fortunately, the agency's current use of force policy closely resembles California Penal Code 835a (revised law effective January 1, 2020). California law defines "totality of the circumstances" as follows: "All facts known to the peace officer at the time, including the conduct of the officer and the subject leading up to the use of deadly force." With this in mind, our training must provide officers with relevant and timely courses of instruction, especially when it comes to tactics and the application of force options.
Lead CMCR trainer, Sergeant Justin Bugarin, explains: "In a society in which the public demands aspects of policing to be better, we as a profession have an obligation to do so. The SFPD has chosen to take on the challenge."
Since January 2019, several hundred San Francisco police officers and a few dozen from outside agencies have participated in the 2-day CMCR "force on force" training. Almost 1,000 officers have completed a 1-day abbreviated CMCR course offered during weekly advanced officer training.
San Francisco Police Chief William Scott has credited CMCR with contributing to a significant reduction in reportable use of force incidents. A recent quarterly report showed a 24% decrease in 2019 uses of force compared to 2018 numbers.
Since its inception, the student course evaluations have been overwhelmingly positive.
"Great training. The course helped encourage everyone to take leadership roles and do it with confidence. The biggest part of the course was teaching us to slow down and plan the best tactics to complete the mission, do it safely and win."
"I have attended many training courses throughout my career and CMCR has by far been the best. Hands-on practical learning and scenarios were a great way for me to learn and actually be able to apply these skills in the field."
The concepts taught in CMCR are not new to those in law enforcement and we did not reinvent the wheel. But it has served as a reminder for our agency that street encounter training needs to be consistently evaluated and frequently rehearsed. Our officers have embraced the training and the community they serve will continue to reap the benefits.
For more information on the CMCR training, email sfpd.ftfo@sfgov.org.
---
About the author
Lieutenant Michael Nevin has served with the San Francisco Police Department for 25 years. He has worked in patrol, investigations, and is currently assigned to the Training Division. He has experience as an officer-involved shooting investigator and has worked on use of force policy.

Request product info from top Police Training companies
Thank You!