SHOT Show education program provides police training, response strategies
The LEEP program at SHOT Show offers specialized police training classes; here are some of our favorites from previous shows
---
By Nancy Perry
"Are you going to SHOT Show?"
The more than 65,000 police officers, shooting instructors, hunters and firearms enthusiasts and collectors who answer "yes" to this question are currently counting down the days to one of the most significant events on the firearms calendar.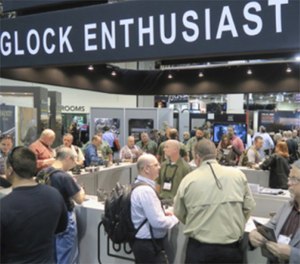 The event debuted in St. Louis in 1979, where it attracted 5,600 attendees. Fast forward to 2020, and SHOT Show consistently makes the list of the top 25 tradeshows in the nation.
If you've never been to SHOT Show, here's the skinny: SHOT (Shooting, Hunting, Outdoor Trade) Show is an annual tradeshow for the shooting, hunting and firearms industry. The event, which is owned and sponsored by the National Shooting Sports Foundation, rotates between Las Vegas, Orlando and New Orleans, although it has found a regular home in Vegas, where the event literally takes over the SANDS Expo Center.
While most folks attend SHOT Show to see the latest tech from every major firearms manufacturer, specialized training courses are also offered as part of the event's Law Enforcement Education Program (LEEP).
To give you a taste of what's on offer as part of the LEEP program, the Police1 editorial team has revisited our SHOT Show special coverage archives of LEEP courses.
Here are some of our favorite past LEEP sessions, which are still useful resources for police officers:
A complex, coordinated attack is a synchronized attack executed by two or more semi-independent teams working in coordination with each other. In these attacks, multiple locations are hit in close succession, without warning, by multiple, well-trained attackers who typically focus on soft targets. The attackers communicate effectively across teams and often use the media (including social media) to adapt their operations.
These attacks call for very specific tactics in response, and it's necessary for police to identify exactly what they're dealing with in order to select and use the proper tactics.
As active shooter threats evolve, law enforcement agencies and police officers need to assess their current capabilities to respond to these new threats. Time will not be on our side when the next active shooter attack is launched, so we need to ensure we take advantage of the time we have now to get ready.
Don Alwes – a member of the National Tactical Officers Association – offers a model that can serve as a guide for self-inspection and a yardstick to measure readiness to better enable police to focus energy and resources on the areas that deserve them the most.
Despite the intense pressures and dangers associated with decision-making in the law enforcement environment, police officers are expected to make the right choice every time.
R.K. Miller, president of National Training Concepts and a National Tactical Officers Association instructor, provides an examination of decision-making for police officers, with an emphasis on making the right choices under pressure.
R.K. advises that we should strive to prepare for those difficult decisions now. Successful decision-making under stress is more about how we train, educate, prepare, think and handle ourselves on a daily basis than it is about the choices we make when the balloon goes up. 
Commander Thor Eells of the Colorado Springs Police Department, who also serves as the National Tactical Officers Association Executive Director, highlights the delicate nature of these calls and the legal minefield that officers and agencies have to tread when they get involved in these emotionally-charged situations.
One of the most critical takeaways is that because suicide is not classified as a crime under most state laws, it complicates the situation for law enforcement and limits their lawful ability to assist in resolving these crises.
This article, originally published 12/20/2017, has been updated.

Request product info from top Police Training companies
Thank You!