Why police training must balance the body and the brain
While there is great value to lecture-based training, it can't be a street cop's training endgame
---
Francis Bacon wrote, "Ipsa scientia protestas est," which translates to "Knowledge itself is power." He clearly never tried to get a resistive suspect into handcuffs.
The power needed to win a street confrontation is developed through the effective combination of seven components:
Balance
Focus
Speed
Flexibility
Endurance
Strength
Simplicity of technique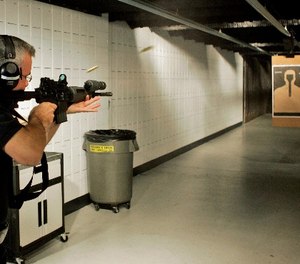 If you memorize these words, you will know the seven components, but that knowledge in itself will not make you powerful.
To be powerful, you must regularly venture out of the knowledge-based classroom (mental) and engage in rigorous, ongoing skills training (physical). You see knowing is enough only in a sterile classroom; doing is required on the unforgiving street.
Taking a Balanced Approach to Police Training
As law enforcement officers age, there is a natural tendency to shy away from hands-on training and gravitate toward lecture-based education. Cops become satisfied to train while seated on their brain.
There should be a healthy balance between mental and physical learning in police training. This can be achieved by varying our training locations. For example, training should take place:
In a training/lecture room and online;
In a gymnasium/weight room/track to address fitness;
In a mat room to learn and update defensive and control tactics;
On a driving range for hands-on emergency vehicle operations and on a driving simulator.
On a firearms range, in scenarios and on a firearms simulator.
For the survival-minded officer, fitness training on your own time and dime must be a part of your regimen.
Don't Just Train in Your Comfort Zone
Many of us like to train in our comfort zone. For example, the DT guru will spend all of his or her hands-on training time in the mat room, while the top gun spends all of his or her training time on the range.
It is important to continually update your strengths, but it is critical to identify your weaknesses so they become your strengths as well.
Imbalanced Training is Economical
Many administrators may lean toward knowledge-based lectures to avoid police officer injuries, as well as reduce police training costs and enhance convenience. Officers embracing a sedentary lifestyle are satisfied to remain seated comfortably while being "entertrained" by a great trainer.
There is great value to lecture-based training; however, this can't be a street officer's training endgame. Ongoing skills training is an absolute necessity for street officers. A balance must be struck in training between the knowing and the doing.
Developing Power in the Peace Officer
A balance in training can develop seven components of power in the peace officer:
Balance on the street comes from maintaining proper stance, whether moving or stationary. You must be able to move and perform tactics effectively while maintaining your balance, as you simultaneously compromise the resistive suspect's balance.
Focus comes into play whether you are trying to get the best results out of finger placement on the mandibular-angle pressure point, or while delivering a round to the center mass of an armed robber taking aim at you. This type of focus is achieved first through knowledge-based training to learn where the vulnerable areas are, followed by skills training in the defensive tactics room and on the firearms range.
Speed in the applications of holds, delivery of punches and in performance of your sudden assault draw will assist you in defeating assaultive and resistive suspects. Speed is also improved through knowledge-based training. A major enhancer of speed is having a solid knowledge in arrest search and seizure, as well as the rules you follow in use-of-force decisions, because knowledge can improve an officer's decisiveness. Decisiveness is the equivalent of hyperdrive on the street.
Flexibility means training your muscles and joints to be able to move through your full range of motion. Patrolling in a squad, sitting at a desk or watching a screen for hours a day will rob you of your flexibility. The rule of physical flexibility is, "Move it or lose it!" Flexibility also means having multiple options at your disposal. Developing both types of flexibility requires mental and physical training.
Endurance is primarily maintained or improved upon through physical activity. You will be able to run longer if you run, fight longer if you spar, overcome resistance longer if you lift. There is another type of endurance that can be obtained through knowledge-based training. Listening in advance of critical incidents to the lessons of physical and emotional survival from people who have "been there and done that" will assist officers in emotionally enduring the difficult times in their careers.
Strength is primarily gained in a weight room or fitness center. Strength can be improved upon throughout your life. It is imperative a street officer have strength to draw upon. It is however not the final arbiter in a struggle. By quickly taking a suspect's balance away and using an effective leveraging technique, an officer can defeat strength in many cases.
Simplicity of technique does not mean you choose only the simplest of techniques. It means that through knowledge-based training and successful street applications of a particular technique, it becomes second nature for you, making you more powerful.
When there is time to think, knowing the correct action to take helps you succeed. This is developed through mental training. When there is no time to think, the powerful reaction that helps you prevail comes only through rigorous and repeated hands-on training.
Power on brothers and sisters.

Request product info from top Police Training companies
Thank You!