Why targets from Infinity Targets may be the last targets some shooters ever need
These reusable, weatherproof targets are made of 100% recycled materials and hardy enough for any environmental conditions
---
By Gene Whisenand
I have been searching for a target system that does not cost as much as a firearm and one that will survive the elements you find at the range. I believe Infinity Targets might satisfy my needs.
About Infinity Targets
I ran into three young gentlemen who were staffing the booth for Infinity Targets at SHOT Show 2023. I had seen some advertising for these targets and was happy to find them early on my first day of the show.
I had the pleasure of speaking with Infinity Targets' CEO and founder, Elijah Lorence, Vice President of Sales and Marketing, Matt Bennett, and Vice President of Operations, Zane Webb. I am very impressed by the product these men have created. They identified a gap in that market that has needed to be addressed for a while: the worthlessness of target stands at public ranges.
Lorence started working on a solution about three years ago, but as a college student studying mechanical engineering, he shelved his project to complete his degree. In April 2022, he restarted and expanded the business. Now he is at the helm of Infinity Targets. To me, it looks like he and his team are all on the way to a very successful career.
Target deficiencies
As a firearms instructor for the past 15 years, and a shooter for all my adult life, I have always found a deficiency with targets and target stands. I am amazed at how many shooters aim to damage the target stands, no pun intended. This has caused me to always bring out my own target equipment.
Normally that means I drag out a number of H stands, two 1" x 2" x 4' sticks per stand, cardboard backings, at least two clamps per cardboard backer, multiple paper targets per cardboard backer and enough adhesive spray glue to anchor everything down. As you can imagine, I carry quite a bit of target equipment out to the range in addition to firearms and ammo.
The skinny on the targets from Infinity Target
Now on to why I think Infinity Targets has a winner of a product:
These targets are made from 100% recycled rubber from used tires.
All targets ship with two clamps to mount them to the target stands. They can also be mounted to the target stands with construction screws if they will be left in that position for extended periods.
The targets can withstand at least 110 rounds of 5.56 per square inch. The targets should be able to easily take 3,000 rounds before they would need to be replaced.
When a bullet passes through the target, it will often leave a black mark on the target indicating the impact point. Simply spraying the front of the target with spray paint refreshes the face of the target.
The targets are available in many designs and custom options.
All targets are 100% American-made.
These are incredibly good targets, and it appears that they may be the last targets some shooters may ever need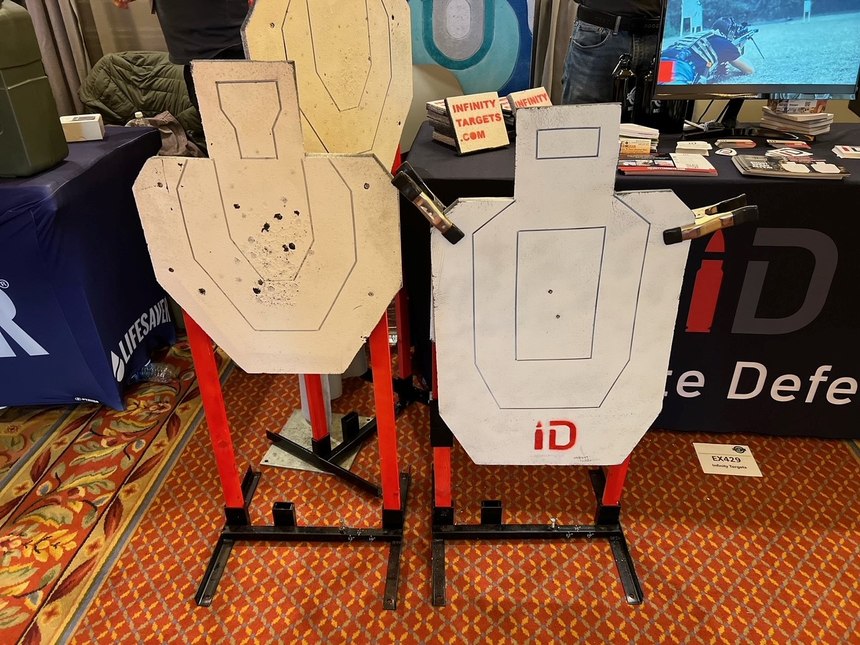 A collection of the targets available. (Photo/Gene Whisenand)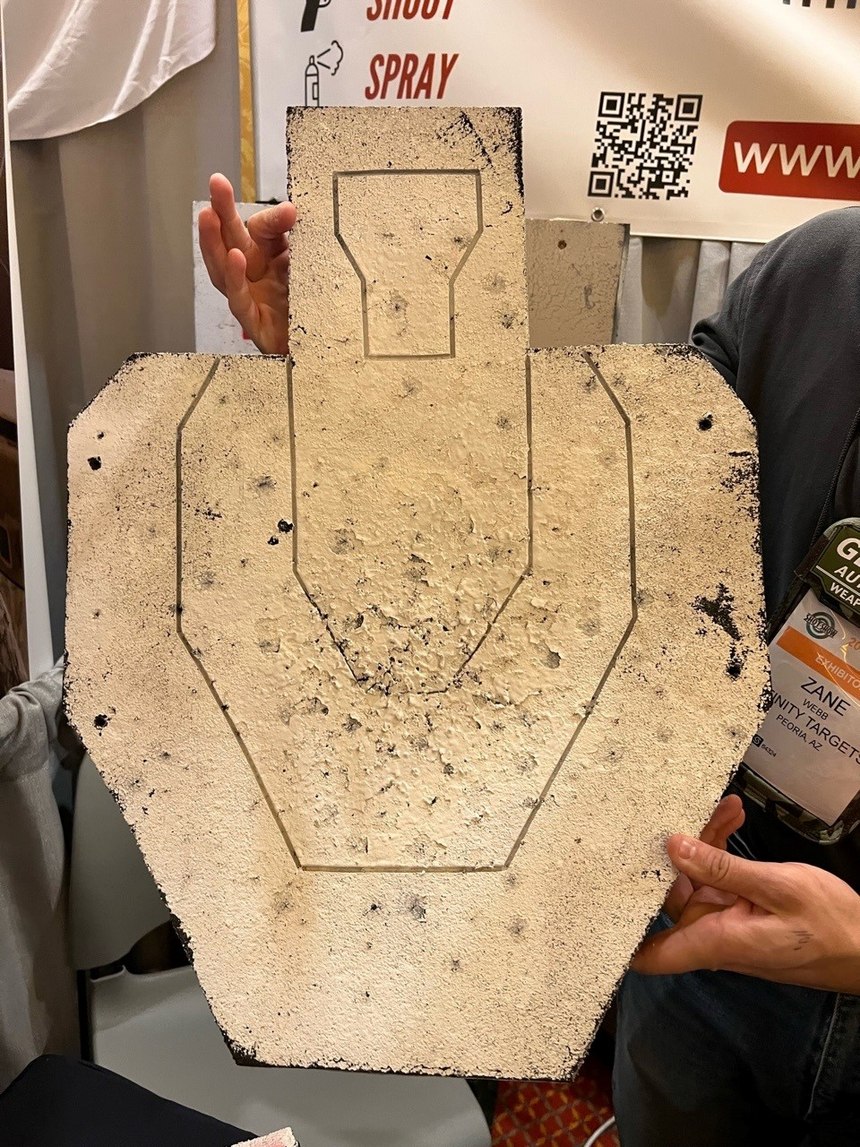 One of the original targets with well over 5,000 hits. (Photo/Gene Whisenand)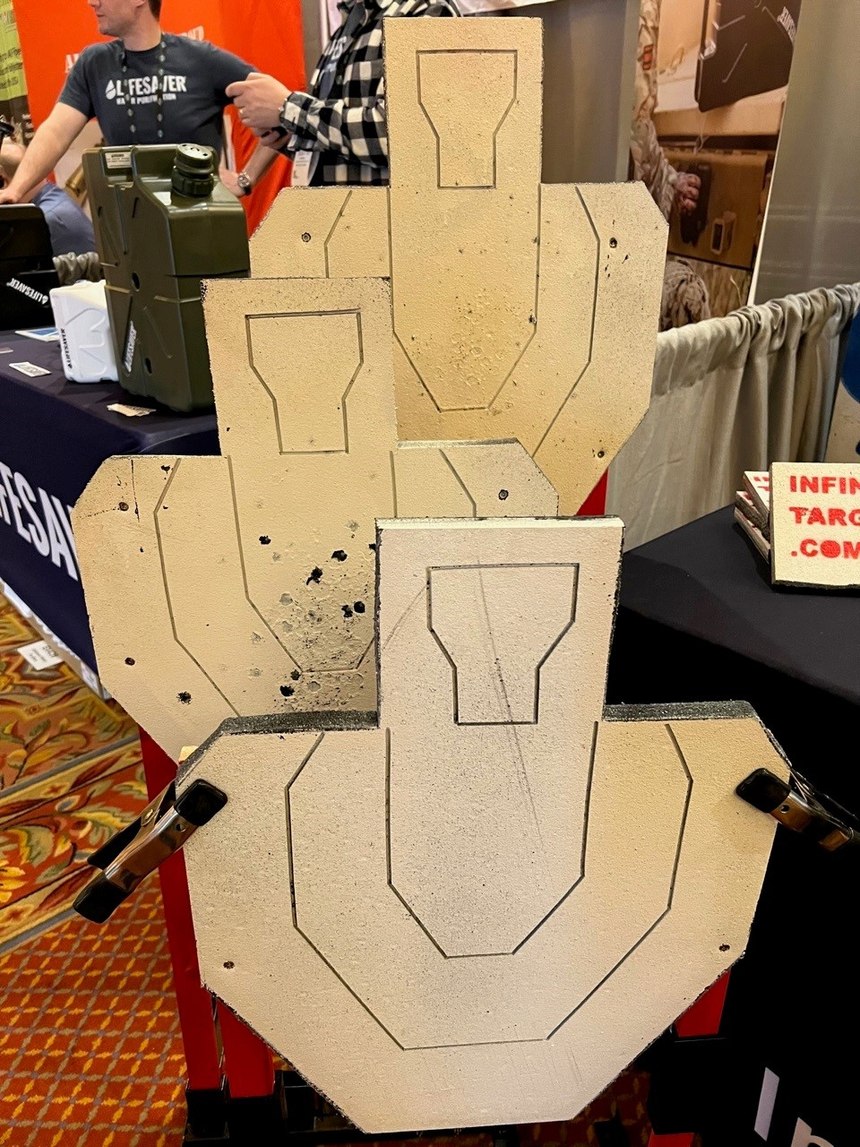 Collection of Gen 1 Targets. (Photo/Gene Whisenand)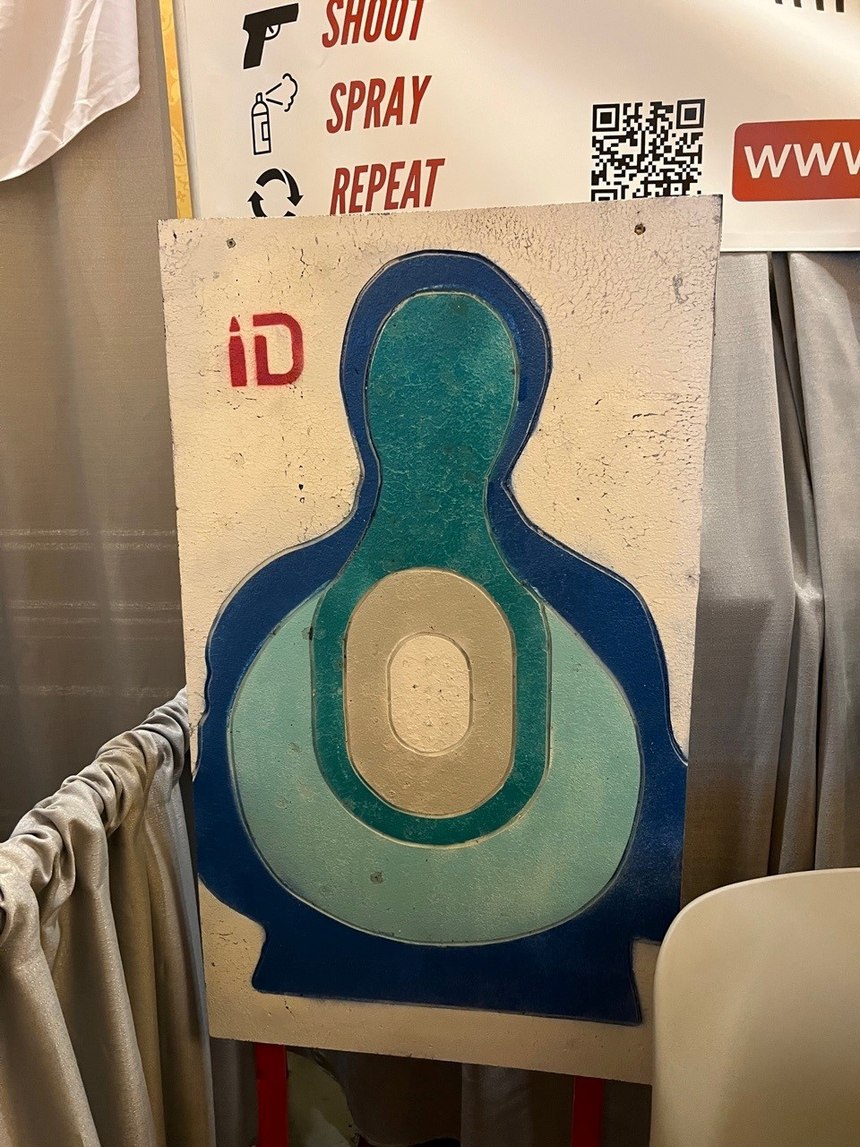 An example of a custom target. (Photo/Gene Whisenand)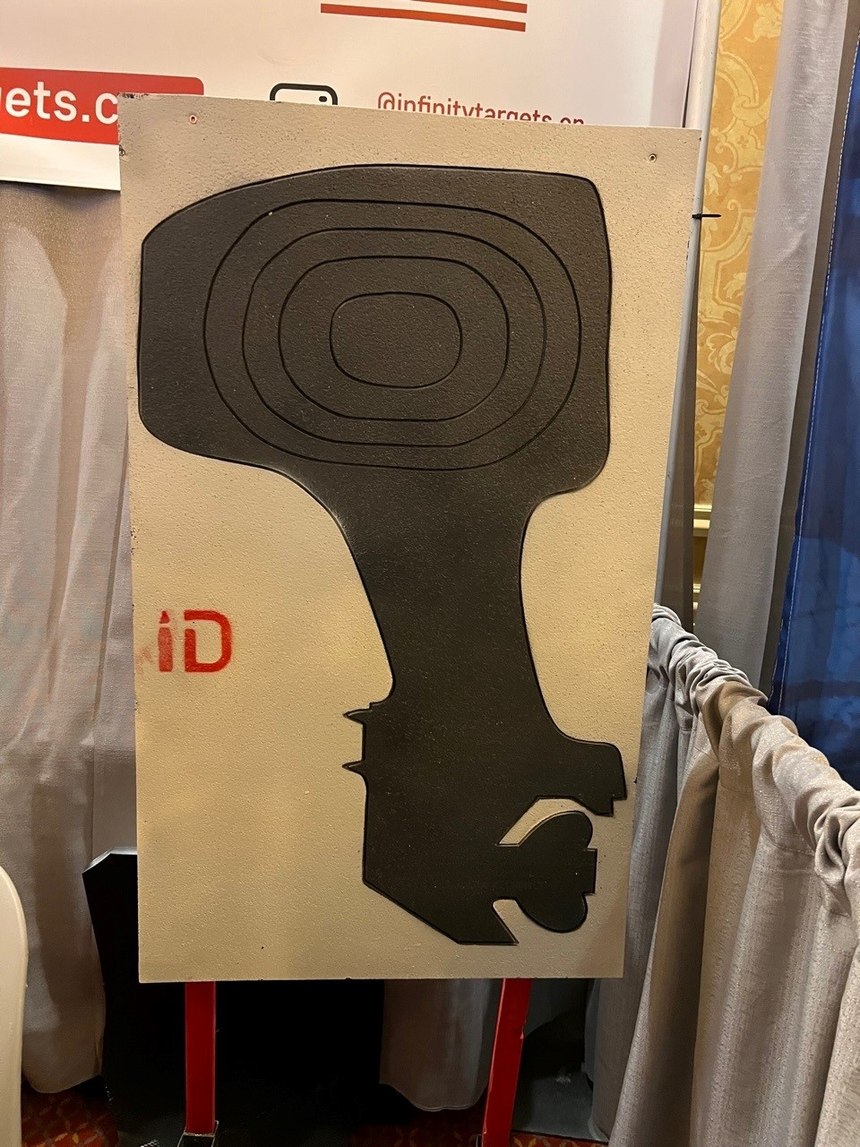 An example of the target used by DHS Maritime Security. (Photo/Gene Whisenand)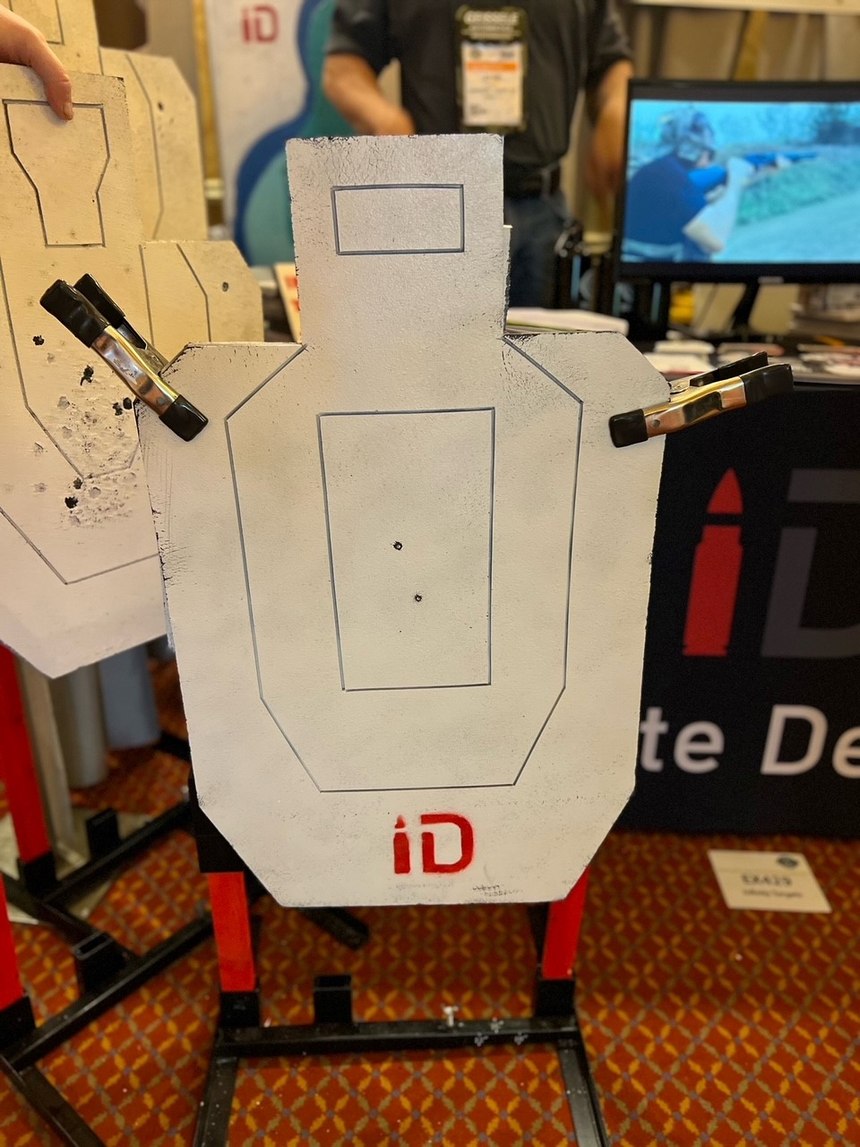 Gen 2 Target Face. (Photo/Gene Whisenand)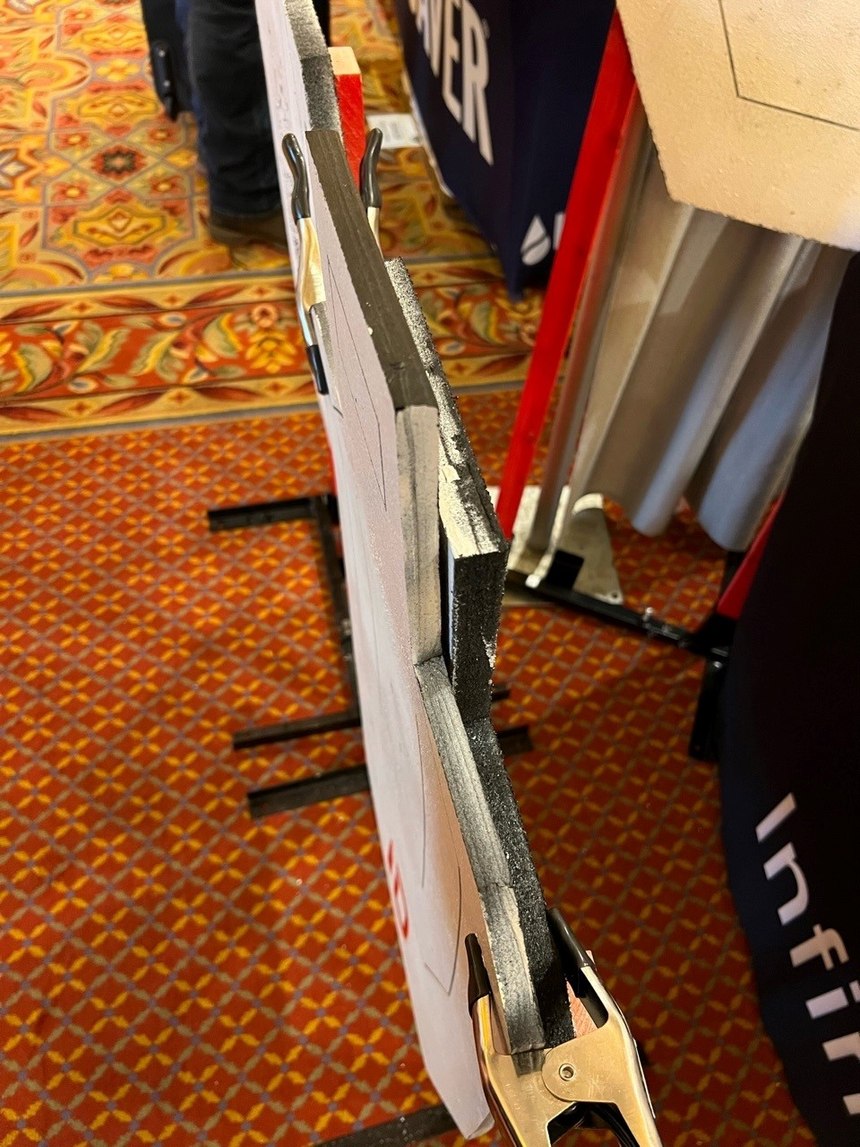 The difference between the Gen 2 target in the front and Gen 1 in the back. (Photo/Gene Whisenand)







The targets come in a plethora of designs, including the IDPA style target, which weighs in at a healthy 11 pounds with the two clamps that it is shipped with. Both smaller and larger targets are available, in as well as custom designs.
Infinity Target made a target specifically for the Department of Homeland Security, Maritime Security to simulate the engine of a motorboat. This target was towed behind a boat on a platform that enabled the shooter to engage it from a helicopter. Because the targets are waterproof it allowed the engagement time to be longer because it did not need to be replaced as often as a similar target made of cardboard.
Infinity Targets currently has a bid submitted with the United States Military, specifically with my alma mater, the 1st Division of the United States Marine Corps at Camp Pendleton. Where I could see these targets truly shining is on the Camp Pendleton ranges. Because of their resistance to the elements, they would be able to be mounted on a range and left for some time.
What's next at Infinity Targets?
The team at Infinity Targets is working on a new design currently called the Gen 2 design. It is 33% lighter than the original targets, will have a 30% longer life than the original targets and will cost about 20% more than the original targets. That may seem like a lot; however, the original IDPA target has an MSRP of $99 each (that includes two clamps). The Gen 2 targets are hitting the street with an MSRP of $119, still a very good price for a target with the life that this target has. The Gen 2 targets will still be 100% American-made and made of 100% recycled materials.
It should be abundantly clear that I am very impressed by Elijah and his team at Infinity Targets. I expect them to be very successful and turn out some very good equipment. My company will be using these targets in many of our classes.
For more information, visit https://infinitytargets.com/.
---
About the author
Gene Whisenand has been a firearms instructor for 15 years. He has taught law enforcement, military, special security and civilian students throughout that time. He also has been a private investigator for over 20 years. He has been deemed a subject matter expert by the courts of California in firearms, use of force and gangs. Prior to all of this, he served as a Navy Corpsman attached to the United States Marine Corps and is a veteran of Operation Desert Shield and Desert Storm.

Request product info from top Police Shooting Range Equipment companies
Thank You!