IACP Products: Stop suspects without risking officer safety
---
Police pursuits are under fire, in more ways that one. The question of "to pursue or not to pursue" is one that's rattling police departments from California to South Carolina.
Once an officer makes the decision to pursue a vehicle, the question then becomes, "How should the officer best stop this vehicle?" Method vary anywere from GPS tracking devices (like StarChase) to using multiple back-up vehicles to surround the suspect, but by far one of the most tactically effective method are spike strips.
But are spike strips safe for law enforcement officers? According to the National Law Enforcement Officers Memorial Fund, records show that since 1996 as many as 20 or more police officers in the United States have died on duty while manually deploying old-fashioned road spikes or similar manual tire-deflation devices.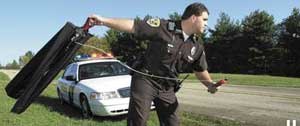 Here's where StopTech comes in. StopTech, a brake technology company, manufactures Stop Stick – an easy to deploy, safe to handle device that is reducing risk of officer injury with great results. More than 16,000 pursuits have ended safely, without risk or harm to the officer involved with the use of Stop Stick.
Basically, Stop Stick is the same as any tire deflation device, but the spikes are cased in plastic, providing officer safety during deployment. The attached cord allows the officer to stand away from the road, and the device leaves no debris behind.
I spoke with Gary Uthe, the Executive Vice President of Stop Stick, about why the product is helping keep officers safe.
"It's so much faster than putting goggles on, having exposed spikes, and getting on the road to roll out a spike strip," Uthe said.
It also looks good for department budgets - the company replaces the used parts free of charge for a 3-5 year period of time.

Request product info from top Police Vehicle Equipment companies
Thank You!