Top 10 most extravagant police vehicles
Here are some of the coolest police cars from around the world
---
By Police1 Staff
The Crown Vic and Dodge Charger have proven to be American favorites among police when it comes to their squads; there's just something about making traffic stops in a vehicle that can truly rule the road.  But we wanted to take a look outside the traditional picks and found some of the most extravagant and coolest police cars around the world. Take a look. 
1. Techart Porsche 911 Carrera - Germany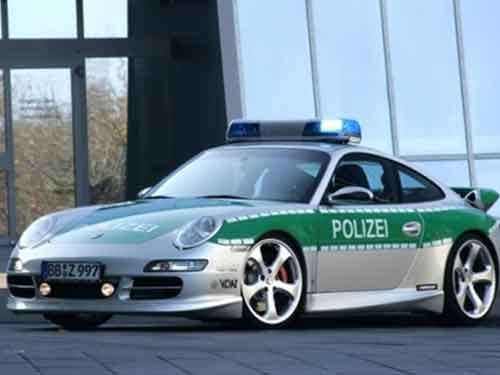 This German beauty joined the police ranks in Germany as part of a joint initiative by the Federal Traffic Ministry to demonstrate performance tuning safety. The Carrera reaches 186 mph and can go from 0-60 in in just 4.5 seconds.
2. 612 Ferrari Scaglietti - United Kingdom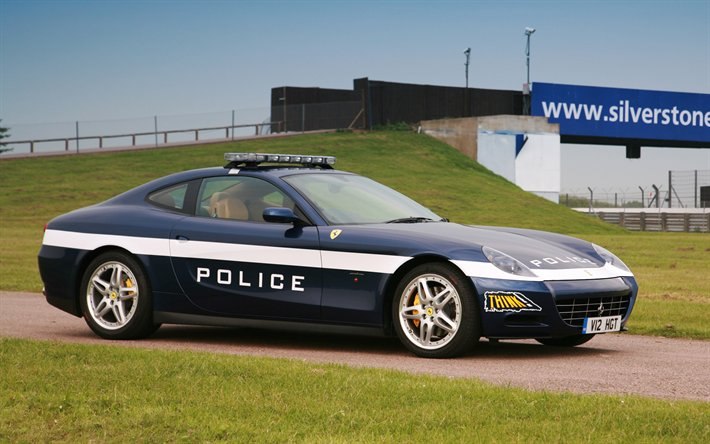 In 2007, Ferrari had a world relay to celebrate their 60th anniversary and presented the United Kingdom with this flagship V12 four-seater Ferrari 612 Scaglietti to be shared among five different police agencies across the country.
3. Lamborghini Aventador - Dubai
In a city of boundless bling, it is no surprise that Dubai Police added a $500,000 Lamborghini to its fleet. This impressive 7-gear coupe goes 0-60 in three seconds flat.
4. Lotus Exige S - England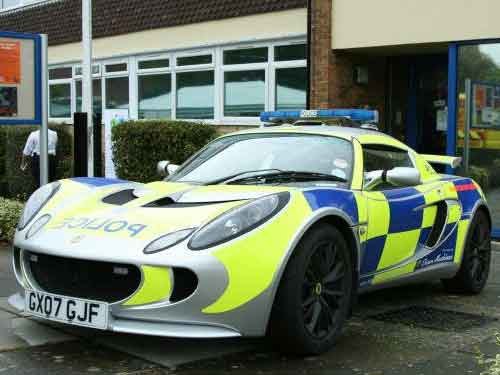 A high number of fatal car accidents involving young drivers prompted the police of East Sussex, England to add a Lotus Exige S to their fleet to promote road safety. The 2007 coupe is light, weighing in at only 2077 pounds and putting out a whopping 220 horsepower, allowing it to go 0-60 in 4.1 seconds.
5. H2 Hummer - Canada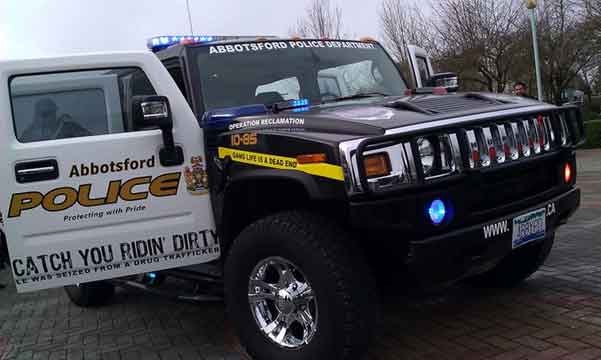 Like the East Sussex Police and Traffic Ministry of Germany, officers in Abbotsford, Canada, wanted to use a new squad to send a message to the public. Their message, however, was against gangs when they seized a 2004 H2 Hummer and put $3000 of their own funds into making it over. While the 8600-pound beast may not get credit for its 0-60 speed or its carbon footprint, the Hummer has an unmatched off-road prowess and undeniable presence.
6. Lamborghini Gallardo - LOS ANGELES
The LAPD uses this Lambo at charity events on loan courtesy of Light Source 1, a fiber optics company.
7. W Motors Lykan Hypersport  - Dubai
You knew Dubai would have multiple entries on this list. This baby made an appearance in the seventh installment of the "Fast and Furious" film franchise and can go from 0-60 in 2.8 seconds with speeds up to 240 mph.
8. Honda Civic Type R - Australia
The New South Wales Police Force uses this vehicle as part of their "Eyewatch" campaign, which encourages the public to connect with police on social media. The cult car is powered by a turbocharged four-cylinder engine. 
9. AM GENERAL HUMVEE - RHODE ISLAND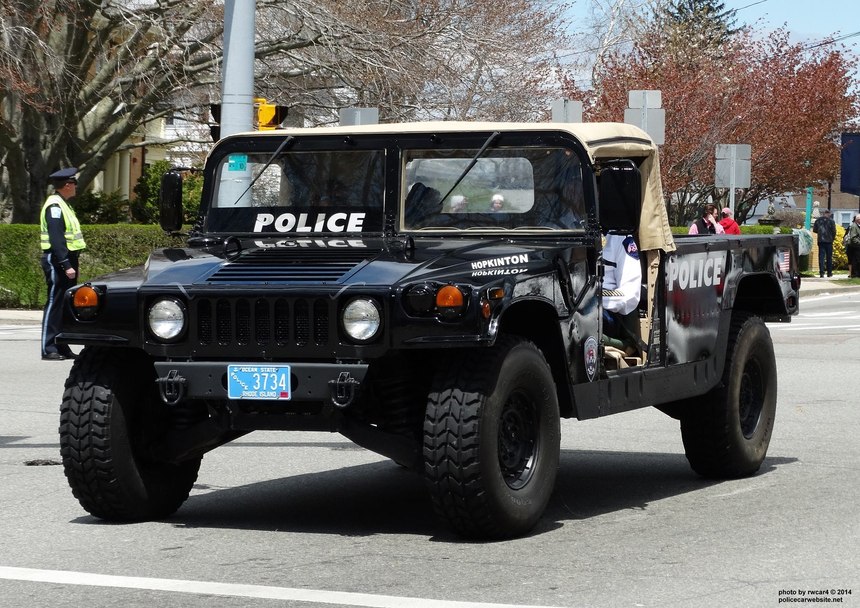 The Hopkinton Police Department acquired this humvee through the 1033 program. The 1991 AM General two-door pickup got a custom rebuilding in 2005. In 2019, the PD auctioned the vehicle off to a lucky new owner. 
10. Caparo T1 - UNITED KINGDOM
The Central Motorway Police Group in the West Midlands of England use this vehicle as a community policing tool to warn drivers about speeding. It can go from zero to 60 in 2.5 seconds and is capable of speeds over 200 mph. 
This article, originally published 4/30/2013, has been updated.