Ford launches 'no profile' light bar for new police SUVs
The visor has different settings for 'take down' and 'scene' situations
---
By Phil Nobile
Newsday
DEARBORN, Mich. — Speeders and lawbreakers beware: Ford's new light bar for its popular police SUV makes it harder to spot a police car than ever before.
Ford recently announced a new front interior visor light bar to replace the old clunky police lights of yesteryear. According to the company, older and bulkier light bars on police vehicles hindered officers' field of vision.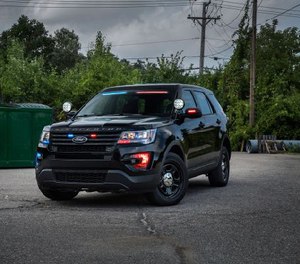 "Today, agencies typically use aftermarket interior visor light bars that are somewhat bulky and can obstruct the field of vision – especially for taller officers," said Stephen Tyler, Ford police marketing manager for North American fleet, lease and remarketing operations, in a news release. "This extremely low-profile unit is fully integrated where the headliner and top of the windshield meet, for tremendously improved driver visibility versus aftermarket alternatives."
The visor has different settings for "take down" and "scene" situations, according to the automaker, and can be programmed to display all red lights, all blue or a combination of the two that alternates.
Social media reaction to the sleek new lighting was largely negative, with many saying the new technology was implemented to catch speeders and give out tickets more often.
"I hate this so much," Sigmund Kramer said on Facebook. "The ONLY reason for a police vehicle with low profile lights and a lack of other identifying markers is for ticket revenue. And that's utter abusement of the public trust."
Copyright 2016 Newsday
McClatchy-Tribune News Service

Request product info from top Police Vehicles companies
Thank You!