How to Buy: Mobile command vehicles
Their tactical deployment may be infrequent — getting used mostly at parades and festivals — but on the day you really need one, these vehicles become crucially important, even invaluable, assets to law enforcement
---
Purchasing a mobile command vehicle for a law enforcement agency requires combining up-front decisions and long-term planning. The first decision entails how the agency defines the term "command vehicle." 
Bear in mind that in any law enforcement incident, from a traffic stop to a multiple homicide, there is always a command vehicle (the squad car of the officer in command at that scene). 
In this space, we are talking about an RV-sized vehicle that is purpose built for law enforcement use.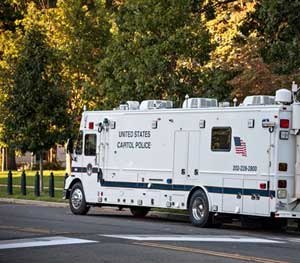 Your agency needs a camper-sized MCV when you:
1.    Respond to any incident where your agency has dispatch responsibility.
2.    Use specialty tools where independent command is necessary. These tools include robotic, MAIT, dive, HRT, Critical Incident, or HAZMAT response. 
3.    Participate in multi-agency responses frequently because of a local feature like an airport, military installation, or amusement park.
A mobile command vehicle often looks generally a like motor home, but for the presence (perhaps) of a bunk or two, that's just about where the similarities end. More than just a meeting room on wheels, the police MCV is a rolling communications center — some are used to communicate with RMS (Records Management System) and CAD (Computer Aided Dispatch) — equipped with the latest in P25 radio systems. 
These vehicles are frequently equipped with on-board WiFi systems as well as satellite communications equipment. Capabilities frequently include instant computer access to databases like property records and criminal records, including NCIC. These vehicles may even serve as mobile evidence labs and/or EOD (Explosive Ordinance Disposal) vehicles. 
Their tactical deployment may be infrequent — getting used mostly at parades and festivals — but on the day you really need one, these vehicles become crucially important, even invaluable, assets to law enforcement. 
Here are some things to think about when seeking to purchase a police MCV. 
Some Key Considerations
Some agencies may choose to retrofit a bus chassis or 5th wheel style unit can be retrofit, but a custom MCV is better. A custom MCV will prevent critical communications conflicts that render equipment useless. The walls of retrofit buses and motorhomes were not designed for constant torquing and the structural weight demands of an MCV.
Many models have walls with slide outs that open like drawers for more workspace. In a critical incident, one desirable quality is width, combined with private workspace. Look for reinforced slide outs. Motor homes slide outs are designed for sleeping compartments, not meetings or constant traffic. When they wear prematurely, they leak. Look for thick insulation in the walls. Most users will report that sound insulation in a MCV is more important than thermal insulation. 
Your MCV must be able to create privacy. At any given time, the vehicle will need to accommodate 2-3 meetings and 3-8 active workstations at a time. Mobile dispatching requires a workstation without thru traffic.
Storage is critical. Your MCV will carry a bank of chargers, at least one generator, comfort items like blankets and food, and ID items like vests and access badges. Any technology upgrade will affect storage space. Remember, many of the items stored in the MCV needs to be secured on a rack or in a cage.
Your MCV needs plenty of power. First, it needs sufficient engine power to haul a lot more weight than a standard tour bus chassis can handle. Second, the power generating capabilities need to be independent of the engine generation. Third, power options need to overlap. That is, the vehicle should be able to operate seamlessly "plugged in" or on its own. In many cases, the MCV may be the only power in an area. Look for around 12Kw per generator.
Here are some other considerations.
High-Tech "Must Haves"
•    Active mobile cell phone reception boost
•    WiFi
•    Radio/television/satellite communication
•    Bright, low fatigue lighting
•    Integrated CAD and RMS
•    Critical Incident equipment (throw phones, megaphones, night vision)
•    Several mounted operational viewing screens, including one briefing area
Low-Tech "Must Haves"
•    Awning that extends from the vehicle for outside weather protection
•    Briefing Board
•    External cameras and lighting for both security and documentation
•    Heavy duty walk up ramps
Financing Strategies
There are often grants which may not look on the surface as viable funding mechanisms for a MCV, but when you think outside the box a little, these grant opportunities can become quite feasible. The way to do it is to have overlapping objectives in the needs assessment. For example, a command vehicle, when not decisively engaged could double as a blood drive or resource management survey vehicle. 
An MCV that is used as a DUI processing station, mass casualty processing, combined public safety (fire, EMS, Utilities), or double for community purposes unit may tap into additional funding. 
Approaching the funding question in this way, you also create a pathway to get the most out of your investment. 
Finally, when budgeting for an MCV, remember to include routine training and deployment for all users.

Request product info from top Police Specialty Vehicles companies
Thank You!