San Jose PD releases 93-page list of military equipment per new law
The law requires California police agencies to disclose their inventories of military-grade equipment
---
By Suzie Ziegler 
SAN JOSE — The San Jose Police Department has released a 93-page list of all military equipment in its inventory, per a new California state law. The law requires every law enforcement agency in California to disclose certain military-grade equipment and adopt policies on how it can be used, according to KTVU. 
The list provided by San Jose PD includes drones, tactical robots, rifles, smoke grenades and tactical vehicles like the Lenco BearCat. See the complete list here.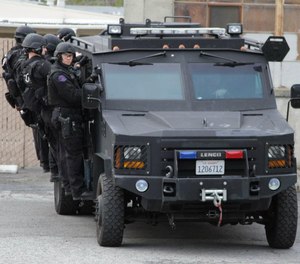 Chief Anthony Mata says he hopes that making the list available to the public will improve transparency. Mata says the equipment is necessary to keep officers and the public safe. 
"This is equipment used not only by San Jose Police – but by other departments – to keep our community safe, to keep our officers safe, and it is the only reasonable alternative when specific situations occur," Mata told KTVU. 
Under the new law, municipal governments are responsible for signing off on the policies that dictate when and how police agencies can use military-style equipment. 
See below for the full list of San Jose PD's military equipment. 
NEXT: Why cops need armored vehicles: 13 times BearCats saved lives 

Request product info from top Police Specialty Vehicles companies
Thank You!