Iowa ambush attacks raise officer safety reminders
The NLEOMF says that ambush attacks on police officers have increased by 167 percent this year — here are some thoughts on how to win these deadly encounters
---
This week, the state of Iowa lost two heroes — Des Moines Police Sergeant Tony Beminio and Urbandale Police Officer Justin Martin — in separate but related ambush attacks. Both officers were in their patrol vehicles when they came under sudden, unprovoked attack. 
In the first shooting, investigators believe the gunman walked up to the officer's car and fired more than two dozen rounds. Officers responding to the shots-fired call found Martin in his Urbandale squad car. Despite attempts to save his life, Martin later died. A short time thereafter and less than two miles away, Sergeant Beminio was ambushed during the search for the suspected cop killer. 
The 46-year-old suspect — who was arrested soon after his murderous attacks — had a recent confrontation with officers at a high school football game last month, had a history of racial provocations and other contacts with police.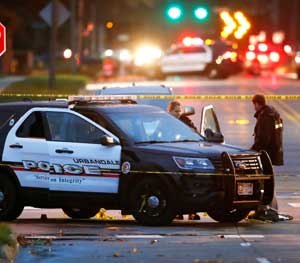 Ambush attacks on the rise
The ambush killings of these two officers in Iowa are the latest in an ugly trend. According to the National Law Enforcement Officers Memorial Fund, ambush attacks on police officers have increased by 167 percent this year, with 16 ambush-style killings so far this year.
In another troubling trend, many of these ambush attacks have claimed the lives of more than one officer in a single incident. Two Palm Springs police officers were murdered in an ambush in October. In early July, five officers were killed in Dallas while they were protecting a protest march. Three more were killed in ambush later that month in Baton Rouge. 
According to preliminary data supplied to Police1 by NLEOMF, police officers have also been shot and killed in ambush attacks in Salt Lake City (Utah), Danville (Ohio), Bel Air (Maryland), Prince William, (Virginia), Landover (Maryland), and Richmond (Virginia) this year.
Not all ambush attacks in 2016 have been fatal. In October, two Boston police officers who were responding to a report of a domestic disturbance were wounded in an ambush attack. University of Pennsylvania Police Officer Eddie Miller and Philadelphia Police Sergeant Sylvia Young survived a shooting rampage in September. In January, Philadelphia Officer Jesse Hartnett was shot three times in a brazen ambush. He survived that sudden attack, and even took the fight to his assailant. 
Thankfully those officers survived. However, those incidents were ambush attacks nonetheless. It is unclear how many officers have been shot in ambush attacks but saved by body armor and improved trauma care in recent years. We simply do not have that data — somehow, some way, we should.
Targeted in the patrol vehicle
Speaking about the loss of his officer, Urbandale Police Chief Ross McCarty said, "I don't think he may have even been aware that there was a gunman next to him," according to reports.
That statement offers the reminder that especially when the patrol vehicle is not moving, officers are particularly vulnerable to ambush attacks. When stopped, officers are more likely to be looking at their in-car computer and not at their surroundings. That brief lack of situational awareness can be fatal. And the practice of doing written reports in a stationary vehicle should be banned outright. Even taking up space at the kitchen table at the local firehouse is better than that (and you might even get a good meal out of that deal).
This not to suggest that Martin was staring at his MDT, doing a report, or was otherwise distracted — we presently don't know and will probably never know what happened in Urbandale — but the fact is that the more time you spend looking at something other than your surroundings, the more vulnerable you become. The more you keep your eyes on your side and rear view mirrors and keep 360 awareness, the harder a target you become. Suffice it to say, it is imperative that you not allow individuals to approach you while you are sitting in your car.
Another way to open yourself up to an ambush in the squad car is to have a well-worn patrol path. Vary your routes around your assigned sector and take note of the possible pinch points where an attacker might lurk in hiding. Do your when/then thinking about how you would respond should an attack occur there. Watch out for choke points and areas that have only one avenue of access and egress. Be especially on guard in those locations. 
Finally, remember that your vehicle can be used tactically to protect you. For example, an assailant in front of you can be run down — get as low as you can behind the engine block and attack the ambush. Conversely, slamming the transmission into reverse and making a hasty exit from the kill-zone can also save your life. You're sitting in a one-ton weapon — use it to your advantage. 
Ambush after an officer-down call
It is unclear whether or not the assailant in Iowa planned his attack on one officer in order to lure responders into a trap, but this incident does make us consider the prospect of the threat. 
It has been a tactic of terrorists in the Middle East for decades: commit an attack that lures others into a kill-zone, and unleash an even more catastrophic attack on that "second wave" of first responders. Because the ease with which such a thing could be pulled off, it's actually a little surprising that this tactic has not been successfully employed by anti-police individuals and groups here in America. 
That is not to say it has not been considered or planned. The Hutaree militia in Michigan allegedly planned to kill an unidentified member of local law enforcement and then ambush the law enforcement officers who gather in Michigan for the funeral.
Police1 Columnist Richard Fairburn has been teaching about countering ambush attacks for years, and has included the prospect of this tactic in his instruction. 
"I'm teaching everyone to stop responding to a potential ambush call individually," Fairburn told Police1. "Someone needs to take command of the response and designate a Rally Point some distance out. Then send in teams who are better able to deal with an attacker who may be using the first scene as 'bait' to draw in additional single victims."
Training for ambush attacks in patrol vehicles should be incorporated into and emphasized in EVOC training. Ambush attacks should be discussed regularly at roll call. 
Unhinged individuals and organized groups
Municipal cops, sheriff's deputies, tribal officers, state troopers, and federal officers are potential targets from organized criminal groups and as we've seen just this week, unhinged individuals — are equally dangerous. The gunman in Iowa reportedly had been facing intense money problems, had been found by a judge to be financially exploiting his mother and was ordered to move out of her basement hours before the shootings. 
As I have said previously about terrorism, ambush attack is a tactic, not a tribe. Watch for pre-attack indicators of an ambush attack and do everything in your power to win whatever confrontation you encounter. 
Stay safe out there my friends.