Cancelled NYPD academy class back on; 900 new cops expected
An academy class in March was cancelled due to the pandemic, and then another one in July amid budget cuts
---
By Rocco Parascandola
New York Daily News
NEW YORK — Nine hundred new cops are set to replenish NYPD ranks beset by a surge in retirements, Police Commissioner Dermot Shea said Friday.
The recruits are expected to enter the Police Academy next month, the first new officers since the 530 that joined the department in January.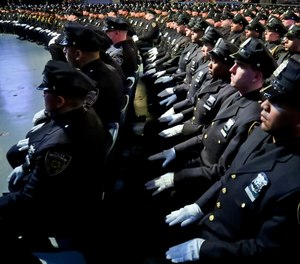 An academy class in March was cancelled because of the pandemic, and another was canceled in July because of a $1 billion cut to the police department budget approved by the City Council and sparked by the Defund the Police movement that sprung from the George Floyd protests.
The new class will bring the department's headcount to about 35,100, Shea said.
That's still less than the department's headcount of 36,900 at this time in 2019.
As of early October, some 2,171 officers had put in for retirement this year — a 72% increase from the 1,262 who left during the same period of 2019.
The number of retirements reported so far in 2020 already exceeds the 1,788 officers who retired in all of 2019 — and tops any full-year total since 2010, said the Police Benevolent Association, the city's largest police union.
The shortage of cops comes as the number of murders hit 362 according to NYPD statistics updated Oct. 18. That's 33% more than the 273 slaying reported in the same period of 2019.
Shootings are up in the city — police counted 1,235 shooting incidents this year as of Oct. 18, up 92% from the 642 reported in the same period of 2019.
"With the new class the NYPD will be able to ensure public safety as the City continues to face a pandemic-driven perfect storm," Shea said.
But Pat Lynch, head of the Police Benevolent Association, noted the recruits won't hit the streets for another six months.
"Our house has been on fire for almost four months, but City Hall and 1 Police Plaza are just now reaching for the garden hose," Lynch said.
"New Yorkers need to understand: this is the future that Mayor de Blasio and your City Council members have chosen for you."
It wasn't immediately clear how New York City's money-strapped government will fund the new class of recruits.
(c)2020 New York Daily News
McClatchy-Tribune News Service