Opinion: Why the next generation of cops need a criminal justice degree
Forging partnerships with faculty members at local colleges and universities can have a direct impact on the quality of officer candidates in your region
---
Author Dr. Janay Gasparini recently sat down with Policing Matters podcast host Jim Dudley to discuss why having a criminal justice degree helps those interested in a law enforcement career and also offers advantages for veteran law enforcement officers. Click here to listen.
The benefits of employing college-educated police officers for the departments and communities in which they serve is widely referenced in scholarly research. Yet when young people interested in law enforcement careers ask police veterans, "What should I choose as a major in college?" they are often met with what has become an industry-standard response: "Anything but criminal justice. That degree is useless. They'll teach you what you need to know in the police academy."
We would be hard-pressed to find professionals in other fields steering its future members away from an academic background in their craft and trade. More concerning, however, is missing out on a valuable opportunity to directly shape the future of the profession.
Contemporary criminal justice degree programs offer tremendous benefits not only to the future officer candidate but to hiring agencies as well. In light of nationwide calls for police reform and the evolving standards of what constitutes a "good hire," criminal justice degree programs deserve another look.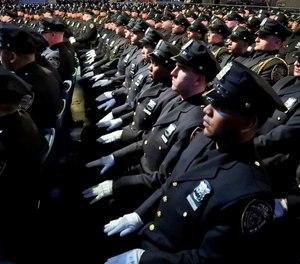 ACADEMY PREPAREDNESS
An academic preview to the field of criminal justice and a basic understanding of justice system parts and functions can significantly reduce the academic load for a recruit in the police academy.
One piece of consistent feedback I hear from my college graduates is how grateful they are to have had foundational knowledge before attending the academy. Possessing this knowledge allowed them to focus more on other academic areas and training challenges, thereby improving their overall academy performances.
Some graduates also reported feeling positive about being able to tutor fellow recruits and practice leadership skills early in their careers. Additionally, the successful completion of a degree program can bring a more mature and prepared candidate to the academy – one who understands various sides of an issue, the impact of justice system actions on the system itself, and on society at large.
FACULTY PARTNERS
Many criminal justice professors have on-the-job experience and are enthusiastic about mentoring future officers.
By beginning the process of preparing students for testing and recruitment while they are enrolled in a degree program, students are given the early advantage of having managed expectations for successful hiring outcomes. Conversely, students may realize the profession is not for them, clearing the path for more direct recruitment.
Another benefit to hiring agencies is that faculty members generally work with students for a minimum of two years; they can and do provide valuable longitudinal character references for background investigations.
Forging partnerships with faculty members at local colleges and universities can have a direct impact on the quality of officer candidates in your region. Conversations between faculty and recruiting officers, field training officers and supervisors serve to identify desired skill sets and specific hiring needs. In turn, these skills and needs can be addressed and then cultivated in future officers by faculty members. For example, two concerns about new hires from local agencies in my region included report-writing abilities and struggles with effective communication strategies on calls for service. To mitigate these challenges, we designed a career-specific communications course to directly address these deficits.
POLICE REFORM AND THE EVOLVING DEFINITION OF A "GOOD HIRE"
Conversations about police reform across the nation have spurred a renewed consideration of competencies, traits and skill sets with which the successful hire should be equipped. Effective communication and de-escalation methods, cultural competencies, empathy, critical thinking and a wider world view have been identified as desirable attributes.
Contemporary criminal justice degree programs encompass coursework that not only fosters these attributes but also moves beyond theoretical discussion to application within the criminal justice coursework. Courses in written and interpersonal communications, psychology and sociology are paired with field-specific courses on ethics, procedural justice, management and current issues in the field. The result is a comprehensive, inter-disciplinary approach aimed at forward-looking professional preparation.
Graduates are instructed and mentored with a terminal goal in mind: to effectively work with diverse populations as proficient communicators, arbiters and critical thinkers.
A RECRUITMENT REMEDY
Law enforcement leaders should feel empowered to forge inroads with local college programs for many reasons. Perhaps topping the list is the remedial effect these relationships can have on present-day recruiting challenges.
Police departments have been called upon to hire diverse candidates with skill sets that uphold modern expectations set forth by departments and community members. Where else can one find a pool of candidates more suited to meet these expectations? Colleges and universities can offer hiring agencies access to a wide array of diverse, age-appropriate, intellectually curious candidates beyond those solely enrolled in a criminal justice program.  
Faculty members are just as invested in connecting well-prepared students with career opportunities as police departments are invested in hiring them. By building a pipeline from degree programs to police departments, we can maintain a guided pathway upon which to develop educated officers who are wholly prepared to meet the goals of law enforcement in this century.
NEXT: Why police academies are letting recruits down (and how to fix it)