Tribal checkpoints block motorcycle rally attendees in S.D. amid COVID-19 concerns
The tribe's checkpoint rules say non-residents driving non-commercial out-of-state vehicles are never allowed through the reservation
---
By Arielle Zionts
Rapid City Journal, S.D.
CHEYENNE RIVER RESERVATION, S.D. — Tourists heading to the Sturgis Motorcycle Rally will not be allowed through checkpoints on the Cheyenne River Reservation.
The regulation is part of the Cheyenne River Sioux Tribe's COVID-19 prevention policies, said spokesman Remi Bald Eagle.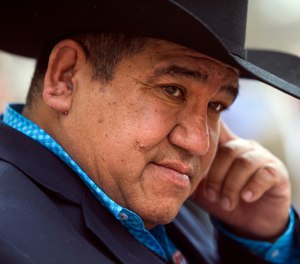 Commercial and emergency vehicles will be let through, he said.
The tribe's checkpoint rules say non-residents driving non-commercial out-of-state vehicles are never allowed through the reservation. But they say non-residents in non-commercial South Dakota vehicles are allowed through as long as the they aren't coming from a hot spot.
The latter vehicles are also not allowed through during the rally, Bald Eagle said.
The Department of Transportation has a map showing which roads are closed and open to the tourists. SD 34 on the southern edge of the reservation is open but the parts of U.S. 212 and SD 20, 63 and 65 on the reservation are closed.
The DOT also has maps of the Pine Ridge Reservation and Badlands National Park, which have COVID-19 checkpoints set up by the Oglala Sioux Tribe. Tourists will be let though the checkpoints if they pass a COVID-19 screening questionnaire, according to South Dakota's tourism website.
The tribes say they created the checkpoints since Native Americans have a higher risk of contracting and dying from the coronavirus.
The Oglala Sioux Tribe recorded 163 cases as of Tuesday, according to its COVID-19 Facebook page. There are 26 active cases and two deaths.
The Cheyenne River Reservation had few COVID-19 cases for several months before it quickly peaked to 79 total cases as of Thursday, according to the tribe's coronavirus website. There are 18 active cases and one death.
While the Cheyenne River Sioux Tribe is tightening checkpoint restrictions during the rally, it recently relaxed the rules by getting rid of a permit system, Bald Eagle said. Restrictions may change as the pandemic improves or worsens.
The tribe is currently suing the federal government to keep its checkpoints on state and U.S. highways after federal agencies and Gov. Kristi Noem said they are illegal.
©2020 Rapid City Journal, S.D.
McClatchy-Tribune News Service