Trooper Tracy: Making rural roads safer one social media post at a time
The Illinois State Police has a secret weapon for making country roads safer for drivers
---
How do you get across the importance of road safety to rural drivers who've gotten a little too comfortable with narrow roads and slow-moving vehicles? How do you make the same point with urban drivers heading to a state park, who have never seen a deer on the road?
Illinois State Police (ISP) has a secret weapon for this: the agency's statewide social media coordinator's alter ego, Trooper Tracy.
Trooper Tracy, aka Sgt. Tracy Lillard, has been serving with ISP for 21 years, and since 2015, her domain has been all things social media. She runs the department's main Facebook page with nearly 300,000 followers and created the 'little sister' page to fill a gap she saw in safety messaging.
"My dad's a farmer," Lillard told me. "I'm just a rural kid at heart." While the majority of Illinois residents are city dwellers, the majority of Illinois's acreage is rural. As Lillard explained, that means thousands of drivers encounter road hazards that are new to them, every time they head to a state park, travel to visit family or attend colleges in towns that bump up against the endless fields of corn and soybeans.
"As huge as ag is in Illinois, not everyone knows about tractors," said Lillard. " We have to explain when they ask 'What do you mean by a slow-moving vehicle?' This is a way to get out that safety message, teaching without being preachy. If I find it fascinating, other people will find it fascinating!"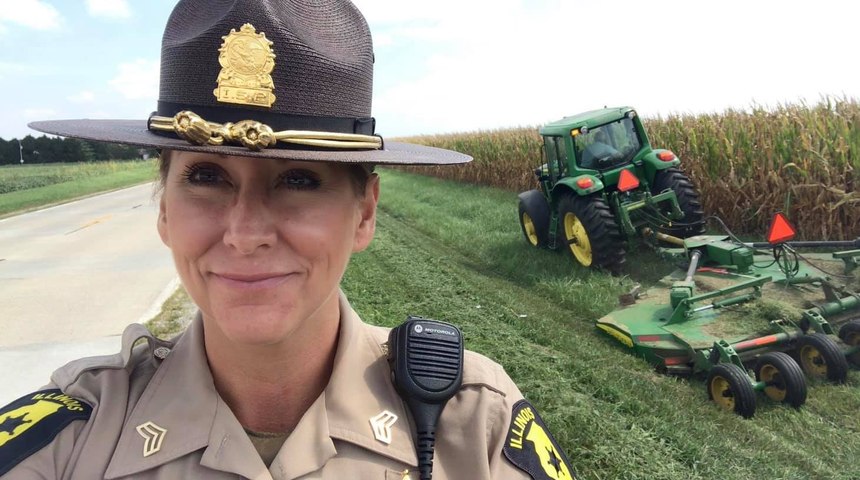 Lillard finds plenty of ways to make safety fascinating, and personal. Her dad's a farmer, a trucker and drove school buses in the off-season. Her brother is a farmer too, featured with his giant green "Transformer" harvester in a recent safety video.
It's common for Trooper Tracy's posts to generate hundreds of comments each, allowing a discussion to unfold about the real people and lifestyles behind the safety message.
"I use humor, informal language and silly hashtags to get people interested and involved," Lillard said. "When I tell stories – make it personal, compliment people on positives and what they're doing right to educate – it generates useful, positive feedback. My M.O. is letting drivers know when I see them doing things right through "Dear People" letters."
One example of a successful "Dear People" Facebook post addressed a semi driver with a load of soybeans swinging wide to make a right turn, signed 'Sincerely, a semi driver's daughter.' The comment thread was filled with grateful acknowledgment from truckers and messages of support from other drivers.
There are silly hashtags too, such as #cornycorners. My rural life has been spent in mountains rather than farmland so that one baffled me. Lillard explained the hashtag refers to intersections with cornfields at all four corners, making visibility nonexistent once the corn grows tall – oh, and sometimes there's no stop sign, either. Or maybe there are two stop signs, but cross traffic doesn't stop. Even locals can find themselves driving dangerously, simply because the roads are so familiar the risk fades into the background. 
"Complacency due to familiarity is a problem," Lillard said. "And driving skills don't translate. I come from a rural background but spent the first three years working for the state police in Chicago. That was a learning curve! Then I'd come back home to visit and think my headlights had failed because it was so dark. They worked fine; I'd just gotten used to streetlights. People get used to the interstate, and then forget about one-lane country roads."
Lillard tries to transition through different issues with the seasons, from bicycles and pedestrians, to snowplows and stranded vehicles. When we chatted, the current concern was school buses, cornfields and huge, slow-moving farm equipment. Next, she was preparing for hunting season and rutting deer on the move in twilight and fog. Seatbelts and visibility are recurring themes.
As she plans the next post, repetition and personalization are her tools.  "I reintroduce myself on a regular basis, explain my personal ties to the people in these vehicles – trucks, buses, combine harvesters, the tractors in the field," Lillard said. "My stories are specific to the community because I have a connection with farming communities."
She shares personal stories, too, and introduces her children and her husband, also an Illinois State Police officer. To make real connections, readers need to know she's human and relatable.
Lillard is a regular at public speaking and training events. She speaks for the Illinois Farm Bureau with the National Safety Council, and teaches senior driving safety classes.  She's won safety awards from the trucking industry for her work and taught at 19 conferences in 2019 alone. She is self-taught in her use of social media and advises officers new to the field to pay close attention to successful posts by other law enforcement agencies.
"There are trainings out there for using social media. I looked for those, but I also tried what was working for other agencies," Lillard said. "I share through social media because I've been at fatal accidents. We just had another ATV fatality. If I can save just one life this way, we've made a difference. If we get safety measures out in an innovative way, (through) storytelling, and I get feedback that says 'Thank you, I'm so much more aware now, you've made me a better driver' – maybe that's one life. I know I've done something right."