SHOT Show 2016: Angel Armor's new vest was built from real LEO feedback
What do you get when you ask 1,500 cops what drives them nuts about body armor?
---
What do you get when you ask 1,500 law enforcement officers what is important to them and what drives them nuts about body armor? Reed Doughty of Angel Armor asked LEOs these very questions, and the result is the company's new Rise concealable armor system, which was introduced at SHOT Show 2016.
One of the top gripes about body armor currently on the market is that there is no repeatability when putting it on every morning. You overlap the side panels and press down on the Velcro, then you realize that it's a bit too loose or too tight. Cops are forced to undo the Velcro and then redo it – perhaps more than a couple times. Angel Armor says they've fixed this problem through what they call "QuickLock" which is part of the vest's Quadcore Attachment System.
This unique system is based on a low profile laser-cut PALS/MOLLE carrier for the ballistics package, which comes in II and IIIa versions. The carriers also have adjustable pockets for trauma plates, including their Truth Snap magnetic system (which we'll get to in a moment).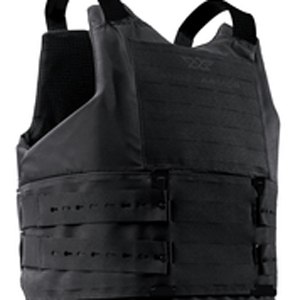 Rather than using wide Velcro straps, the Quicklock system is based on two exclusive Angel Armor-designed strips of high impact polymer which slip vertically through the carrier's front MOLLE slots. Two nipples  are used as attachment points for two belts attached to each side of the back panel.
Once your 100 percent USA-made, custom-fit vest arrives and you have tweaked the many adjustments to your liking, all you need to do is remember which belt holes you use to connect the front and rear panels of your body armor, resulting in what the company says is a perfect fit every time. Like the shoulder supports, these belts are made of Cordura nylon, high quality doubled up elastic, and reinforced synthetic rubber.
Speaking of shoulder supports, another common complaint from cops is that ballistic panels tend to jump up and down inside the carrier when you are running. Rise fixes this by connecting the shoulder straps to the panels themselves and not the carrier, so that they move with you instead of flopping around inside the carriers.
Inside the front and rear carriers are adjustable pockets that can hold Angel Armor's Truth Snap magnetic trauma plate system. This system is made up of two plates. The thinner plate is rated for multi-round full-on .44 Magnum while the second plate is rated for an AK-47. Put them together in the right order (rare earth magnets in the corners will correct you if you are wrong), and you have a system that is rated to protect you against a 5.56 round. The internal pockets are adjustable so that you can wear the plates high or low.
MSRP for the Rise system varies from $1,200-$1,500 depending on size and threat level. Both male and female versions are available and there are substantial agency discounts.