Are you wearing your armor? Ind. LEO becomes 2000th member of Safariland's SAVE CLUB
Do you don your armor even when it's hot and muggy outside? How about when you're running late?
---
Groucho Marx famously said, "I don't want to belong to any club that will accept people like me as a member." But for those of you who put your lives on the line every day, there is a club that wants you as a member and I guarantee that you would want to join it rather than the alternative.
For 45 years, the Safariland Group's SAVES CLUB has recognized officers who have survived a life-threatening incident while wearing the company's armor and/or protective equipment.
In this 2014 Police1 survey, 15 percent of 4,600 police respondents said they do not wear their ballistic vests 100 percent of the time. Luckily, three years after that survey on September 24, 2017, Officer Brandy Pierce was wearing her armor, and became Safariland's 2000th armor save.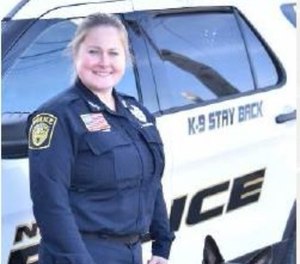 Pierce had responded to a call reporting a suspect maliciously breaking into vehicles. Upon arrival, the suspect quickly fled on a bicycle so Pierce released her K-9 partner Lex who tackled and detained the suspect.
As Pierce approached to remove the K-9 and take the suspect into custody, he produced a .45 ACP handgun and shot Pierce directly in the chest. Her Safariland ABA XT03 Level II armor stopped the round and enabled her to stay in the fight. She returned fire and fatally wounded the assailant. Pierce was treated and released from a hospital and has since returned to full duty.
Pierce, alongside fellow SAVES CLUB members paramedic Danielle Kamenar and police constable Adam Koch, will be recognized and share their stories at a special Safariland SAVES presentation on Wednesday, January 24, 2018, at SHOT Show, booth #12762.
Whatever your brand of body armor, it is money wasted unless you wear it. So please don your armor before every shift and stay safe out there!
Read more articles about the importance of body armor and how to select it on our Police1 products page, and watch for more armor reports on our 2018 SHOT show special coverage page.