SHOT Show sneak peek: 3 new products to check out
SHOT Show 2020 promises to be bigger and better than last year, and I plan to be right in the middle of it again
---
I have had an opportunity to get an early peek at some of the good stuff that will be on display at SHOT Show 2020.
Some of the press releases sent out ahead of the event come with an embargo until the product release date. I'll tell you about one product as soon as it comes out. Let's just say that a company well known for making sharp objects has a new sharp object for those who may need to transition to sharp objects quickly.
In the meantime, here are three companies debuting must-see new products: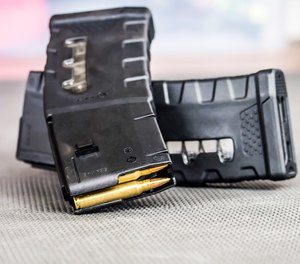 CMMG AR-15 5.7 x 28 conversion kit
CMMG has a new AR-15 5.7 x 28 conversion kit, and I'm anxious to check it out. Using CMMG's proprietary upper and new 40 round 5.7 AR magazine, this drop in conversion uses standard hardware, including your lower's lower receiver and original buffer. The magazines fit MIL-SPEC receivers.
The 5.7 cartridge has had a resurgence in popularity. Originally designed for the FN P90 PDW – which is basically a bullpup carbine – and the FN 57 pistol, the 5.7 allows for rapid, accurate fire due to low recoil. The 5.7 x 28 cartridges fire lightweight bullets, ranging from 23-30 grains around 2800 feet per second, which is effective for some applications.
Let me give you a "heads up" for SHOT Show 2020: There is at least one new 5.7 x 28 gun introduced recently, the Ruger 57 Pistol.
The CMMG 5.7 upper comes in its BANSHEE and RESOLUTE models, in 5, 8 and 16 inch barrels. The upper operation is similar to standard AR units, except it uses a radial delayed blowback operating system, which reduces recoil for a pistol caliber that generally is low recoil already. For law enforcement agencies that are already carrying 5.7 in their handguns, this product will be quite welcome in the patrol car.
Diamondback Firearms
Diamondback Firearms has promised a new release. I hope it is a new handgun. If anyone is familiar with Diamondback Firearms, they make high-quality handguns in extremely concealable packages, and carbines in calibers of confidence, like 6.5, 300 BLK and 224 Valkyrie. In 9 mm, the company's DB9 Gen 4 is a 6+1 9mm that is only 5.6" long and weighs 11 oz. The good news for me is that Diamondback Firearms will be at SHOT SHOW range day, and I plan to shoot their new product, whatever it is.
Mission first tactical ED 5.56 Polymer Mag
The third new product I'm excited about is Mission First Tactical's Extreme Duty 5.56 Polymer Mag for the AR 16/M4. I've actually had an opportunity to try this magazine out, and it is impressive. There are several advantages to having a polymer magazine, but foremost is the fact that they do not oxidize. The MFT magazine has dual-sided antiglare transparent windows with numerical markers and a very smooth anti-tilt follower.
MFT has thought of everything in this product. It has an oversized bolt catch, a dot matrix pattern on the side for marking with a paint pen for quick identification and toolless disassembly.
This is just a preview of the big show. I'm looking forward to it. If there is something I need to check out at SHOT SHOW, stop by the Police1 booth and leave me a message. I'm always delighted to hang out with our readers.