'Top shot' LAPD officer sues chief, department over social media demand
Officer Toni McBride, who's seeking more than $5 million in damages, alleges Chief Michel Moore blocked promotions because she refused to remove videos of her at shooting competitions and firing ranges
---
By Melody Gutierrez
Los Angeles Times
LOS ANGELES — A LAPD officer, whose sharp-shooter social media posts drew widespread attention after she was involved in a fatal shooting, filed a discrimination and retaliation lawsuit Tuesday against Police Chief Michel Moore and the department.
LAPD Officer Toni McBride alleges that Moore blocked her promotions because she refused to remove from her social media feeds videos of her at shooting competitions or training at firing ranges. In the lawsuit filed in federal court, McBride claims that Moore told her that she had to delete her social media accounts or "he would destroy her career."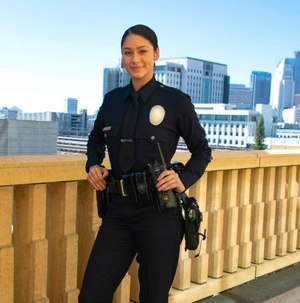 McBride, who is seeking more than $5 million in damages, has been on medical leave since November due to "severe physical symptoms caused by and exacerbated by the stress," according to the lawsuit.
A LAPD spokesperson declined to comment, citing pending litigation.
McBride's social media posts garnered attention in 2020 after she shot a 38-year-old man holding a box cutter six times, killing him. McBride and her partner had been responding to a collision on San Pedro Street near East 32nd Street involving several badly injured motorists whose vehicles had been struck by a truck driven by Daniel Hernandez. A toxicology report found Hernandez had methamphetamine in his system at the time.
McBride repeatedly commanded Hernandez to drop the weapon, according to videos captured by McBride's body-camera and by witnesses with smartphones. When Hernandez advanced toward her, she shot him twice, and then fired another two shots when he attempted to get up. Her final two shots came as he was rolling on the ground.
After the shooting, McBride told investigators she felt Hernandez posed a risk to bystanders in the area.
The Los Angeles Police Commission found McBride broke department policy by continuing to shoot Hernandez during the fatal encounter. The commission found McBride's first four shots were justified, but her fifth and sixth shots were not.
California Atty. Gen. Rob Bonta's office cleared McBride of wrongdoing based in part on the "expert opinion" of a controversial police use-of-force consultant. Bonta's office took over the review of the shooting after former Los Angeles County Dist. Atty. Jackie Lacey recused herself.
McBride's father, Jamie McBride, is one of nine directors of the powerful Los Angeles Police Protective League, the union that represents rank-and-file officers in labor and discipline issues. The L.A. police union has raised money for Lacey's campaigns.
The younger McBride earned "Top Shot" in the LAPD police academy and was the youngest in her class when she graduated at 20 years old, according to her lawsuit. She said in the lawsuit that she has competed — and won — target shooting competitions all over the country, which she regularly chronicled on her social media accounts.
In the lawsuit, McBride's attorney said it was not the Hernandez shooting that caused the police chief to block McBride's career advancement opportunities last year.
"Chief Moore told Officer McBride that he wanted her to cease posting videos on social media," according to the lawsuit. "He said that Officer McBride needed to 'choose between being an LAPD officer' or posting social media videos."
McBride contends her posts are "virtually identical to dozens of videos regularly posted by male officers. But when it comes to Officer McBride, Chief Moore told her he didn't like the 'image they present,'" according to the lawsuit.
©2023 Los Angeles Times.
Visit latimes.com.
Distributed by Tribune Content Agency, LLC.
RELATED: LA Police Commission: Officer broke policy with final two shots in fatal encounter
McClatchy-Tribune News Service