40% of crime in Atlanta is caused by the same 1,000 people, police say
Atlanta PD has launched a new unit to crack down on repeat offenders
---
By Suzie Ziegler 
ATLANTA — The Atlanta Police Department is cracking down on career criminals with its new Repeat Offender Tracking Unit. 
At a press conference on Tuesday, police and court officials announced they would be joining forces to keep track of repeat offenders, the Atlanta Journal-Constitution reported. The new unit will share information with prosecutors and judges who can choose to keep offenders in jail longer instead of bonding out.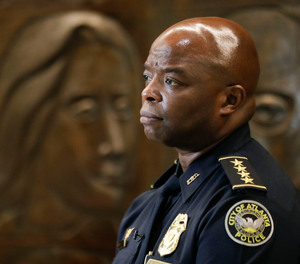 "Better decisions begin with better information," Judge Christopher Brasher told the Journal-Constitution. "It helps the officers on the street, it helps the prosecutors and of course it helps the judges make better decisions." 
According to the report, 30% of weekly arrests in Atlanta are individuals who have already been convicted of at least three felonies. What's more, Mayor Andre Dickens says just 1,000 people are responsible for about 40% of the city's crimes. 
"That's pretty much a textbook definition of a life of crime," said Dickens. "We catch them, we arrest them, we convict them. But somehow they're back on our streets and often they're back to criminal behavior." 
Atlanta Police Chief Rodney Bryant says his department will be aggressive in going after repeat offenders. 
"We are being very intentional about addressing our repeat offender issues," Bryant said. "We have to really start being aggressive. This is a little different than where we've been before." 
Bryant says in the last four weeks officers have charged 75 people with more than 1,800 combined arrests. 
"That lets you know there's a significant problem in the city of Atlanta," Bryant said.