1 hostage released from Texas synagogue; rabbi among 3 still held inside
A man took four people hostage at a Colleyville synagogue during services; shortly after 5 p.m., a male hostage was released uninjured
---
By Jessika Harkay, James Hartley and Domingo Ramirez Jr.
Fort Worth Star-Telegram
COLLEYVILLE, Texas — Authorities northeast of Fort Worth were negotiating Saturday with a man who took a rabbi and three other people hostage at a Colleyville synagogue during services.
Shortly after 5 p.m., a male hostage was released uninjured, Colleyville police said. The man will be reunited with his family soon and doesn't require medical attention, police said.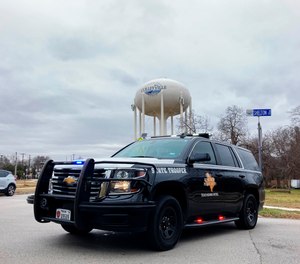 FBI crisis negotiators had been at the synagogue and in communication for several hours with the hostage-taker, according to a statement from Colleyville police about 6:30 p.m. Saturday.
Police said they have no information suggesting anyone inside the synagogue had been injured.
Police said they responded to the Congregation Beth Israel, at 6100 Pleasant Run Road, after they received a call around 10:41 a.m. Saturday, but did not specify what information was shared in the call or who the caller was.
Officers evacuated the area upon arrival, calling for assistance from the FBI Dallas Field Office, Tarrant Regional SWAT Team, Texas Department of Public Safety and other local agencies, according to the news release from Colleyville police.
"Law enforcement has confirmed there are others inside but no injuries have been reported," police said.
The service was being livestreamed on Facebook, and the live recording, which was taken down shortly before 2 p.m., captured muffled audio of what sounded like negotiations with police.
A source on the scene told ABC News that an armed suspect took a rabbi and three others hostage and claimed to have bombs in unknown locations.
A U.S. official briefed on the matter told ABC News that the suspect referred to a known terrorist, Aafia Siddiqui, as his sister.
Siddiqui is incarcerated at Federal Medical Center Carswell, a women's prison in Fort Worth, and the hostage-taker was reportedly demanding that she be freed from prison.
According to ABC, the FBI has not confirmed the hostage-taker's identity. Anyone who supports Siddiqui's cause might call himself her brother even if they're not related.
The Star-Telegram spoke with an attorney who previously represented a brother of Siddiqui.
The attorney said she talked to that brother Saturday and he is not the hostage-taker.
Law enforcement had visuals on the hostage taker and were both comparing it with photos of her brother and using it against their own databases, according to a source familiar with the investigation.
Aafia Siddiqui is a Pakistani woman who is imprisoned on charges related to the attempted murder and assault of United States officers and employees in Afghanistan.
Aafia Siddiqui was transferred to FMC Carswell for medical reasons and is serving an 86-year sentence.
The Pakistani government lodged a complaint against U.S. authorities after she reported she was assaulted by another inmate in July.
Aafia Siddiqui told her attorney she was attacked in her cell on July 30, the Dallas-Fort Worth sector of the Council on American-Islamic Relations previously told the Star-Telegram.
Another woman reportedly smashed a coffee mug with scalding hot liquid into Siddiqui's face. After the attack, Siddiqui was taken out of her cell in a wheelchair and then forced into solitary confinement, CAIR Executive Director Faizan Syed has said.
U.S. authorities say Siddiqui is a dangerous terrorist with ties to the ringleader of 9/11. Counter-terrorism groups have dubbed her "Lady al-Qaeda," and U.S. officials once described her as "the most wanted woman in the world."
The U.S. government has refused to trade her for American hostages multiple times, including for journalist James Foley before his execution by ISIS.
According to the Department of Justice, Siddiqui was detained in Afghanistan in 2008. Officers who searched her found documents about the creation of explosives, descriptions of American landmarks and sealed bottles of chemicals, according to a press release about her arrest.
While in the Afghan facility, U.S. Army officers said, Siddiqui grabbed a rifle from an officer, pointed it at a captain and yelled, "May the blood of (unintelligible) be directly on your (unintelligible, possibly head or hands)."
An interpreter lunged at her and pushed the rifle away as Siddiqui pulled the trigger, according to the DOJ. Siddiqui fired at least two shots but did not hit anyone.
An Army officer shot Siddiqui in the torso. In Pakistan, she is widely portrayed as a heroine and martyr.
Her family and supporters say the mother of three was falsely accused and used as a scapegoat in the "war on terror" after 9/11, according to a profile in the Guardian.
In 2018, the Senate of Pakistan unanimously passed a resolution to take up the matter of Siddiqui's freedom with the U.S., referring to her as "the Daughter of the Nation." The Council on American-Islamic Relations condemned the hostage-taking incident in a statement.
"This antisemitic attack against a house of worship is unacceptable," CAIR's Houston chapter said in the statement.
"We stand in solidarity with the Jewish community, and we pray that law enforcement authorities are able to swiftly free the hostages and bring them to safety. "We want to make it very well known that the hostage-taker is NOT Dr. Aafia Siddiqui's brother, who is not even in the same region where this horrible incident is taking place," the CAIR statement said.
"We want the hostage-taker to know that Dr. Aafia Siddiqui and her family strongly condemn this act and do not stand by you. Dr. Aafia's family has always stood firm in advocating for the release of their sister from incarceration by legal and non-violent means only."
On the Facebook livestream of Saturday's service at the synagogue, an angry man could be heard ranting, at times talking about religion.
The video did not show what was happening in the building. The man repeatedly mentioned his sister and Islam and used profanities. He was heard asking for his "sister" to be released from prison.
At one point, another voice can be heard apparently talking on the phone to police. The man said a few times he didn't want anyone hurt, and he mentioned his children. He also said repeatedly he believes he is going to die.
Commenters on the livestream offered prayers for Rabbi Charlie Cytron-Walker. More than 8,000 viewers were watching the livestream.
Shabbat morning service began at 10 a.m. Saturday, according to the Reform Jewish congregation's calendar. As of about 6:30 p.m., the standoff continued. Reporters at a media staging area near the scene said traffic continued to pass by as police circle the area, but no one was being allowed near the synagogue.
"We are pretty upset," said Eugene Posnock of Colleyville, a member of the synagogue. He referred all questions to the president of the synagogue, Mike Finfer. Finfer was at a command center near the scene Saturday afternoon and could not be reached for comment.
The temple's rabbi, Cytron-Walker, is 46. He has lived with his wife in North Richland Hills since 2006, according to public records.
He attended the University of Michigan. "All we can do right now is pray for those members inside the congregation, for the whole community, and for our friend, Rabbi Cytron-Walker and his wonderful family," Rabbi Brian Zimmerman and President Russ Schultz of Beth-El Congregation in Fort Worth said in an email message to members of their congregation.
"Some of you asked about security. President Russ Schultz and I want to assure you that all of our Tarrant County Jewish Congregations work closely with the Jewish Federation, local police departments, the Department of Homeland Security and a host of other professional groups to constantly evaluate our security procedures," the email said.
"Following what we pray is a safe resolution, those groups will certainly meet and learn from this situation for the future." Jawaid Alam, president of the Islamic Center of Southlake, told the Star-Telegram that Cytron-Walker is a personal friend and a friend of the Muslim community who has promoted peace and cooperation across faiths.
"He is a peace loving person, a Rabbi and Jewish leader, but a true friend of the Muslim community," Alam said. "He and his family are considered part of the Muslim community, and he considers us part of the Jewish community."
Alam said it is "unthinkable that this would happen at the synagogue of a peace-loving rabbi who has promoted interfaith talks." Cytron-Walker has been a teacher to the Muslim community in the region, not just to his Jewish congregation, he said.
"He has taught us how to live with people different from you and love each other," Alam said. He added that the Islamic Center of Southlake has not yet made contact with Cytron-Walker's family to respect any space they may need, but wants them to know the community is there for them.
"The Muslim community is with them and we will do anything we possibly can for them."
Jacy Phillips of Colleyville said her neighborhood group was alerted by Colleyville police. "It was posted that police were evacuating some homes," Phillips said. Her family lives a half mile from the synagogue.
Some residents who were evacuated told the Star-Telegram they couldn't go back to their homes Saturday afternoon.
The Texas Department of Public Safety had state troopers from the highway patrol division and special agents from the criminal investigations division at the scene, a DPS spokesman said.
They were assisting at the command post and providing perimeter security. The Anti-Defamation League tweeted Saturday afternoon that it "is aware of the ongoing situation in Colleyville, TX and is engaged with local and federal authorities and the community's leaders." Congregation Beth Israel began in 1998 as a community Chavurah whose members had relocated to northeast Tarrant County from other areas of the country, according to its website.
Congregation Beth Israel was officially established on July 18, 1999, with 25 member families and affiliation with the Union of American Hebrew Congregations, now the Union of Reform Judaism.
A new building with a 160-seat sanctuary opened in 2005. Cytron-Walker joined as rabbi in 2006. The synagogue also operates a religious school.
(Staff writers Kaley Johnson and Emerson Clarridge and McClatchy senior national security and White House correspondent Michael A. Wilner contributed to this report.)
©2022 Fort Worth Star-Telegram. Visit at star-telegram.com Distributed by Tribune Content Agency, LLC.
McClatchy-Tribune News Service