The 3 components of effective tactical team leadership
From balancing budgets to ensuring officers train on the latest tactical concepts, good leadership occurs before, during and after the call
---
I was extremely fortunate to attend Lt. Dan Murphy's "Survival for the Tactical Team Leader" class at the National Tactical Officers Association (NTOA) annual tactical training conference in September 2018.
Murphy is a lieutenant with Fort Collins Police Services – currently assigned to the Special Operations Unit as the SWAT Commander – and is also the Western Region NTOA Director. In his class, Murphy took a deep dive into the leadership skills a Tactical Team Leader (TTL) must master to ensure the team's operational success and safety.
Drawing from his own operational experience and from MSG Paul R. Howe's book, "Leadership and Training for the Fight," Murphy focused on three areas of TTL leadership: administrative leadership, training leadership and tactical leadership.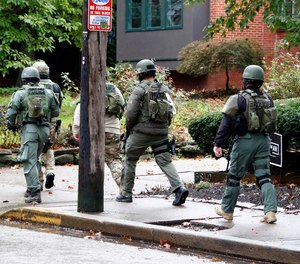 Administrative Leadership
Murphy describes administrative leadership as the leadership necessary to guide the daily, non-emergency activities of the team. This includes such functions as personnel management, reporting, documentation, debriefing operations, budgeting and unit inspections.
While these tasks lack glamour, they are essential to ensure the proper function, readiness and discipline of the unit. A leader who ignores these areas to favor more "tactical" concerns will soon discover the team's effectiveness is hindered by complications arising from these administrative burdens. For example, budgetary problems can hamper the team's ability to train or obtain the necessary equipment, and unattended personnel issues can drain the team of necessary manpower during a callout.
Murphy cautions that some new supervisors tend to focus too much of their effort on this area of leadership. It's important to attend to the administrative burdens of leadership, but a leader who devotes too much time to these can jeopardize the team's readiness to execute the mission through a lack of attention to training and operational needs.
On the flip side, Murphy cautions that some new supervisors write off the administrative tasks as "the easy part," and do not focus enough on them. Administrative leadership can be difficult. It can be tough for a leader to hold troops accountable to standards, and provide guidance, corrections and critiques. Good people can become sloppy and inattentive, and it's the leader's job to identify and correct these problems to ensure the proper regulation and discipline of the team.
Training Leadership
This area of leadership focuses on the maintenance of the team's people, systems and skills, and Murphy thinks it may be the most important focus for a TTL.
A poorly trained team is a team that's unprepared to execute the mission. Such teams lack the skills and experience necessary to make good and timely tactical decisions, and they often make a bad situation worse. A lack of preparation leads to equipment failures, personnel failures, tactical failures and increased risk for all involved – including hostages, innocents, officers and suspects.
Murphy advises that "Training requires constant work and effort, and you never 'get there' – there's always another challenge ahead, another plateau to reach, another wrinkle to add." He cautions team leaders that they can never rest in training and must constantly push the team to achieve higher levels of coordination, skill, communication and teamwork. There's a certain baseline of skills every tactical team must possess, and once that baseline has been achieved, it's the TTL's job to increase that baseline, improve the standard and raise expectations. "If you think they have it down, it's time to make it tougher," Murphy advises.
A TTL must ensure that individual skills are taught and maintained, and that team members can integrate, communicate and operate effectively as a team. A team leader also must ensure that equipment is kept in serviceable condition – properly maintained, outfitted and adjusted. Sights must be regulated, radio batteries must work, personal protective equipment must be fitted and guns must go bang.
Importantly, a TTL must also ensure the team is practicing the right things. SWAT tactics have evolved through the decades, and what used to be considered the state of the art may now be unacceptable due to its unnecessary risk or a low probability of success. Some teams get into a mindless rhythm and do things a certain way because that is how they have always been done. A good TTL stays abreast of advances in SWAT tactics and constantly challenges his team's Tactics, Techniques and Procedures (TTPs) to ensure they are the safest and most effective protocols available.
Tactical Leadership
Murphy describes this as "the first line of fighting leadership." Tactical leadership deals with a leader's ability to make good, timely decisions with imperfect or incomplete information in moments of stress, and it's essential to the successful resolution of a tactical emergency.
Murphy places significant importance on the development and use of an appropriate Tactical Decision-Making Model (TDM) to help aid the TTL with the process. If a TTL doesn't have a structure of some sort to help make tactical decisions, then important information may not be considered, and priorities may become skewed, leading to poor decisions.
Murphy favors the "PIETO" model of his creation for TDM:
Apply the safety priorities. The safety priorities dictate that decisions and actions must consider the safety of hostages, innocents, officers and suspects in descending order to ensure that proper risk assessments are made. "The safety priorities dictate the mission," according to Murphy, and will help a TTL make sound tactical decisions.
Consider facts and/or intelligence. Tactical leaders need to identify what is known about a tactical situation and separate this verifiable information from mere speculation.
Evaluate the environment or terrain. Each of these has an influence on the tactics that will be used to resolve the situation.
Use the appropriate police tool or tactic. The safety priorities, known facts and intelligence, and the environment or terrain will combine to dictate the proper tactic for the situation. It's important for a TTL to not only consider the tactic that will be used by the team, but to also consider how the suspect will react to the use of this tactic, and what the team will need to do to counter the suspect's reaction to the tactic. A good TTL is always thinking in advance and several moves ahead of the suspect. A good TTL anticipates the suspect's moves and already has a plan in place to address them.
Use your officer instincts. Team leaders should consider and trust their instincts as part of TDM. Your instincts are the result of past experiences and knowledge and are powerful contributors to good decision-making.
Balance
Murphy emphasizes that a good TTL is skilled in all three of these leadership areas – administrative, training and tactical – and maintains a proper balance between them. There may be times where a leader is temporarily forced to focus more effort on one leg of the triad than others, but the overall objective is to keep the three areas in balance so that one is not neglected for the others.
"Good leadership occurs before, during and after the incident," says Murphy. By focusing and balancing his efforts on administrative, training and tactical leadership tasks, a good TTL will ensure this continuity of leadership for his team and maximize their ability to achieve mission success.
Additional training
I'd like to thank Dan for his outstanding instruction and for allowing us to share these important lessons with the Police1 audience.
For more information about training opportunities with Lt. Dan Murphy and the rest of the NTOA cadre, including the week-long SWAT Team Leader Development Course, please consult the NTOA website. 
Train hard and be safe out there!