Teen arrested in ISIS-inspired plot to commit mass shooting at Texas mall
Matin Azizi-Yarand, 17, faces charges of making a terroristic threat and criminal solicitation of capital murder of a Texas peace officer
---
By Valerie Wigglesworth
The Dallas Morning News
DALLAS — A Plano West Senior High School student has been arrested on suspicion of plotting an ISIS-inspired mass shooting at Frisco's Stonebriar Centre mall, authorities announced Wednesday.
Matin Azizi-Yarand, 17, faces charges of making a terroristic threat and criminal solicitation of capital murder of a Texas peace officer. He was taken into custody at school just before noon Tuesday and transferred Wednesday to the Collin County Detention Center, where he was being held on $3 million bail. If convicted, he could be sentenced to life in prison.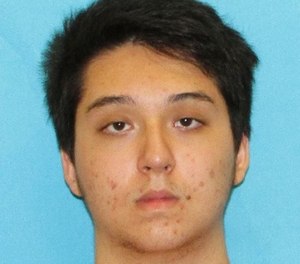 Authorities say Azizi-Yarand planned to carry out the attack in mid-May with other participants. He had sent more than $1,400 to others to buy weapons and tactical gear, they allege, and had written a "Message to America" explaining his reasons for the attack. 
The teen discussed his plans online with FBI confidential sources and an undercover employee, mulling over attacks at a school and a Hindu temple before settling on Stonebriar Centre, according to a probable cause affidavit. He allegedly told the sources that he had learned the layout of the mall and had been observing patrons and security there.
During one conversation, he allegedly stated: "I'd actually like to make a cop surrender and drop his gun // Then douse him with gasoline and burn him // record it."
The case was investigated by Plano and Frisco police and the FBI. It will be prosecuted by the Collin County district attorney's office.
"We are fortunate that the brave men and women of local and federal law enforcement work around the clock to prevent acts of terrorism and mass shootings," District Attorney Greg Willis said in a news release. "I'd like to thank the FBI's North Texas Joint Terrorism Task Force and the Frisco and Plano police departments for their efforts in this case and their vigilance in protecting the citizens of Collin County."
Eric K. Jackson, special agent in charge of the FBI's Dallas office, said in a news release that the agency knew of no other threats related to the case.
"The American people can take comfort in knowing that we continue to work diligently to protect and defend the United States and to ensure the safety of the communities we serve," Jackson said. 
The U.S. attorney's office for the Eastern District of Texas explained that the case would be prosecuted at the state level, not federal, because Azizi-Yarand is considered a juvenile under federal law but an adult in the Texas court system.
U.S. Attorney Joseph D. Brown said the seriousness of the plot merited ensuring the teen is prosecuted as an adult.
His office plans to appoint one of its attorneys to help prosecute the case in state court.
The attack was being planned to happen during Ramadan to limit the number of Muslim casualties, the teen allegedly told one of the sources. Ramadan is Islam's holiest month and includes prayers, fasting from dawn to dusk and nightly feasts. This year's observance begins May 15.
"The facts of this case, though alarming, serve as an example of the power of cooperation and the importance of each individual remaining vigilant in the spirit of 'see something-say something,'" Frisco Police Chief John Bruce said in a news release.
During an interview from jail with KDFW-TV (Channel 4), Azizi-Yarand said that he had never shot a gun before and did not plan to carry out an attack at the mall. He responded to several other questions with "no comment." Asked his thoughts about the charges, he said: "They seem a bit extreme, yeah."
Talk of hostages
The teen stated that his plan was to cause financial damage, "setting stores on fire // gasoline // match // we won't suffocate to death lol we can shoot open weapons," according to the affidavit.
There was also talk of taking hostages, authorities allege. "We can be even more careful if you'd like and take hostages and assess which ones we can kill letting go the elderly and the children," he reportedly messaged one of the sources.
Neighbors who live near Azizi-Yarand and his family were shocked at news of his arrest.
"It's absolutely crazy," said Michelle Prevette, 45, who lives next door. "We just moved in two weeks ago. That's what tripping me out."
Prevette, an Uber driver, said she had just come home from work about noon Tuesday when she saw agents in FBI vests removing evidence next door. 
"This whole street was packed with their cars," Prevette said. "They were tight-lipped. They wouldn't say nothing."
Jessica Schlagal, 25, who lives nearby, said she knew little about the suspect. "He always kept to himself. I just seen him run out to his car at night," Schlagal said.
Neither neighbor had seen the family since Tuesday's raid, and no one answered the door Wednesday at the family's one-story red-brick home. 
The family could not be reached for comment.
'He doesn't represent us'
Khalid Y. Hamideh, a spokesman for the Islamic Association of Collin County, said he had heard that Azizi-Yarand recently converted to Islam. He said the teen may have visited a mosque in Frisco or Plano, but he wasn't sure because the mosques have an open-door policy and don't require membership.
He said the acts of hate allegedly planned by the teen "have no place in any faith."
"He doesn't speak for us. He doesn't represent us," Hamideh said. "And he definitely doesn't speak for our children."
He emphasized that ISIS does not represent the Islamic faith.
"We will continue to reiterate that their actions and ideology have no basis in the teachings of Islam," he said in a news release. "Their actions and teachings represent extremism, hate and murder — all of which are antithetical to what Muslims believe and practice."
Incidents like this are devastating to the Muslim community, said a group of leaders who gathered at a Plano mosque with Hamideh on Wednesday to address the threats.
"We know all right-thinking Americans understand that Islam and its followers cannot be held responsible for the irrational acts of violence and hate by individuals who purport to act in its name," said Dr. Adeel Haq, president of the Islamic Center of Frisco.
A quiet teen
Several juniors at Plano West Senior High said they knew Azizi-Yarand as a quiet teen who kept to himself. They said the only time they had seen him excited was during their freshman year, when he talked about converting to Islam. 
Two students said that it was well known at Jasper High School, where they had been sophomores together, that the teen had been shopping for a gun. 
A third classmate, who asked that his name be withheld to protect his privacy, said Azizi-Yarand had approached him their sophomore year to ask how to get a gun. The classmate said he had told Azizi-Yarand that he wasn't going to help him.
"He looked sad, and he just walked off," the student said. "He had his head down."
Another classmate said his friends submitted a tip to school officials to tell them Azizi-Yarand had been asking about acquiring a gun. But that student didn't know if the teen had gotten in trouble as a result. He said he continued to see him in class. 
A spokeswoman for Plano ISD said she didn't have information about the students' claims and declined to comment further, citing student privacy and the criminal investigation.
'The lone wolves'
The teen began communicating online in December 2017 with "an FBI confidential human source" about his desire to either "make hijrah [travel]" or to do a terrorist attack within the United States, according to the probable cause affidavit. 
Azizi-Yarand's messages often referred to his contacts as akhi, Arabic for "my brother."
"Look at all the other lone wolves // What training did they have yet they simply killed the kuffar?" he wrote, using a derogatory Arabic term for disbelievers. "The brothers in Europe the brother in Spain the brother in New York? Had no limitary [sic] training // it's not about numbers it's about getting a message across to these taghut countries // it's dangerous tho akhi we have to be careful some have gotten arrested // so we good brother?"
After the confidential source replied "OK," Azizi-Yarand allegedly said he wanted to wait until he was 18 so he could buy a rifle himself. 
"But I swear I want to achieve Allahs [Gods] pleasure and kill the kuffar," he said, according to the affidavit. "I've only been reading ISIS magazine guides for performing operations and making bombs."
He allegedly also told the source that he had learned about Islam and ISIS on the Internet. 
In a Jan. 29 message, he said he had settled on a local attack. "The isis guy said // We should attack America ... Are you fine with killing some Americans," he wrote, according to the affidavit.
During the online conversation, the teen was asked whether he had a target. "Yeah, I've played some scenarios in my head akhi, lol I don't plan to go in blind," he allegedly said. 
References to massacres
His messages include references to attacks in Paris, Las Vegas, New York and Parkland, Fla. At one point, he commented, "how hard can it be to spray down a big crowd of people," the affidavit states.
The teen also allegedly sent the source several types of ISIS propaganda. There were links to videos about life in the Islamic State and about being a martyr, as well as an image with the ISIS flag and a gun and the text "Jihad [Struggle/Fight] and the rifle alone. NO negotiations, NO conferences and NO dialogue," according to the affidavit. 
Azizi-Yarand also allegedly sent a document written by Eric Harris, one of the teen killers in the 1999 Columbine High School shootings, that detailed how to build pipe bombs.
Conversations soon turned to gathering money to buy weapons and tactical gear. He sent the sources photos of the mall in Frisco as well as gear needed, authorities allege. 
"Firstly is guns // then ammo and magazines // second is a decent plate carrier that holds a lot of magazines // if we have enough money you can get a bullet proof mask // I wear glasses so that won't work," he wrote in late March, according to the affidavit.
Plate carriers "are military-style apparel that contain a metal plate and can be worn as a type of bullet-proof vest," the affidavit says. 
In one message to the undercover employee, Azizi-Yarand allegedly said, "I'm expecting each of us having 10 mags minimum // So for that you'd need 900 rounds."
Push to be in shape
On April 24, the affidavit says, he messaged that he had gotten contact lenses so his glasses wouldn't impede their operation. 
There also allegedly was talk about getting in shape physically for the attack. The teen told his confidential source to "take note of increasing cardio // try going to the gym // increasing stamina // can't shoot out of breath and shaking // because remember we ain't shooting paper targets," the affidavit says.
In late March, the affidavit says, Azizi-Yarand sent a copy of a speech he had written to the undercover employee. It read in part: "before you call us evil people look your selves this is only revenge you have started this war with us it will never end. We target your people as revenge for ours who were slaughtered ... You can move to another country that is not fighting the muslims but of course you want your easy lives in America so we will cast terror into your hearts as Allah commanded us."
The undercover employee got a post office box, and the teen allegedly later mailed a prepaid credit card with $500 to the address. On April 13, the undercover employee sent photos of the items that the officer had claimed to have purchased with the card. The next day, authorities allege, the teen sent two envelopes to the post office box. One had $590 in cash, and the other had $400.
'Just run and gun'
On April 14, authorities allege, Azizi-Yarand met with one of the confidential sources at a hotel. When asked about the plan, the teen said that it was  "not too in depth" and that they would "just run and gun," the affidavit states.
At the teen's suggestion, the pair then walked to Stonebriar, which was less than a mile from the hotel. Azizi-Yarand exchanged messages and photos with the undercover employee as the two were walking around the mall and talking. 
In conducting surveillance, the teen allegedly told the undercover employee that the mall's security guards "don't even have guns lmao ... They just have some pepper spray." He also allegedly noted: "Movie theater stays open until 12 // And they have a restaurant that stays around later // It's biggest attraction in my city."
Several of Azizi-Yarand's conversations centered on killing a police officer, the affidavit says. His plot to shoot up the mall allegedly relied on the officer there on patrol being killed first.  
"The way I have it envisioned is we first go in [probably not with the rifles] glock in waist holster or whatever determine wherever the cop is and then one stays which is the one who will kill him...," the affidavit states.  Azizi-Yarand allegedly said he would be the one to kill the officer.
During an April 18 conversation with the undercover employee,  the affidavit says, the teen sent a link to a video of a person shooting an AR-15 rifle. Part of his message allegedly stated: "My rifle needs to be pretty and cool looking // put an I love America sticky on the side."
Plano Police Chief Gregory W. Rushin said it's unfortunate that terrorism "has become a concern in our lives."
"This case exemplifies the wide reach terrorist groups have through social media and other means to radicalize others in communities across our country," he said in a news release. "But more importantly it demonstrates the high level of collaboration that exists between law enforcement agencies to prevent such plots from being carried out."
Staff writers David Tarrant and Julieta Chiquillo contributed to this report.
©2018 The Dallas Morning News
McClatchy-Tribune News Service