Good Samaritans help detain man who assaulted LEO
Two passing motorists pulled over to help as the suspect was trying to take the trooper's firearm
---
By Suzie Ziegler
HENRICO COUNTY, Va. — A traffic stop turned violent this week for a Virginia State Trooper when a man punched the trooper and tried to grab his firearm. If it weren't for two good Samaritans, officials said, the situation could have become much worse. 
The encounter unfolded Wednesday morning when Trooper Deus pulled over a speeding vehicle, the Virginia State Police wrote in a Facebook post. During the traffic stop, the trooper noticed a strong smell of marijuana coming from the vehicle. The suspect, identified as 23-year-old Jessy Jimenez Remigios, exited the vehicle at the trooper's request.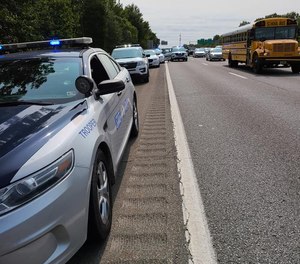 When Deus went back to his patrol car, he saw Remigios return to his car and throw something into the woods, according to State Police. The trooper went back over to the suspect, who then turned combative. Remigios punched the trooper in the face and, as the pair were scuffling on the ground, tried to grab the trooper's firearm. 
That's when two passing motorists noticed the struggle and pulled over, State Police said. They pulled Remigios off the trooper and held him until police arrived moments later. 
"We are greatly appreciative of the valiant actions put forth by the two men who came to the aid of Trooper Deus," said Captain Ted E. Jones, Virginia State Police Richmond Division commander. "There is no telling how this situation may have ended had these men not arrived when they did and had the suspect taken possession of the trooper's firearm." 
Deus was treated at a hospital for facial injuries and released. Investigators later learned the object Remigios threw into the woods was a bag of marijuana, according to State Police.