Police in NM city upset at 'point system'
Las Cruces Police Chief Richard Williams objected to characterizing the directives as a quota system
---
By Ashley Meeks
Las Cruces Sun-News
LAS CRUCES — A "point system" at the Las Cruces Police Department directs patrol officers to make a certain amount of arrests and write a certain amount of tickets every month, or face disciplinary action.
Internal memorandums obtained by the Sun-News detail a "patrol plan" instructing officers to "meet or exceed a 90-point rating every calendar month" through "a combination of predetermined point-valued activities." Written and weighted by Lts. Walter Jackson and Mark Nunley, the system in West Area Command has been in place since April 10, and in East Area Command since March 30.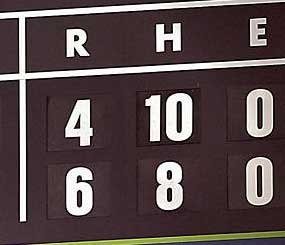 Officers on the streets are angry about the new system, according to Las Cruces Police Officers' Association President Todd Froats, and the union's attorney is challenging its implementation.
"What you're doing is taking our discretion away from us," Froats said he told Jackson this week." Before, we had the discretion for a verbal warning on a traffic stop."
Police Chief Richard Williams objected to characterizing the directives as a quota system.
"These are performance standards," he said. "In every business that you work in, they develop performance standards ... but to call them quotas, they're not quotas because 'quota' implies a financial component along with it."
Officers disagree, Froats said.
"We have to meet those numbers now," he said. "We have no choice. The public has no choice, if enforcement has to be taken. Anyone who knows any definition of the English language, that would make that a quota."
Verbal warnings aren't the only thing residents can expect to vanish, Froats said.
"We've been told not to even write written warnings," he said. "It's pretty much common practice now. We're not to write written warnings. It's a 'waste of time,' because the paperwork has to be entered into the same municipal court system. We're held to that quota."
Officers are not happy about the new directive, and morale is "pretty low," Froats said.
"I don't know how they can put a number on how many people you arrest a month," he said. "If you run across a person who's committed a crime and should be arrested, you're going to arrest them. If you don't run across somebody who's got a warrant or committed a crime, you're not going to have the numbers for arrest (as required by the point system) ... People are going to be going to jail for stuff we would normally write them a ticket for."
The Do?a Ana Sheriff's Office, which patrols the areas outside Las Cruces city limits, does not have such a system, officers and supervisors said. A similar "performance standard" for some officers in the New Mexico State Police was uncovered in 2010, directing officers in Santa Fe to write 100 citations and make three drunken driving arrests a month. Williams was an 18-year veteran of the State Police when he was chosen to head the city police agency.
There is no financial motivation behind the LCPD directives, Williams said, which are aimed at officers "proactively" seeking out law-breakers and citizen contact instead of merely "reacting" to calls.
"We realize that there may be times they're obligated, and time does not allow them to do some of the things they need to do, but ... unobligated time provides them a way to do it," Williams said.
But there are times when officers are required to be pulled off the streets, such as if they arrest a suspect who is ill - perhaps with a staph infection or Hepatitis C - and must wait at a hospital, sometimes for eight hours, before he is cleared to be booked into the detention center. Or, responding to a suicide, a stabbing or a shooting, officers stay in a single place, directing traffic for perhaps six hours.
Should that officer be penalized if such activity takes him or her away from completing the 15 field interviews or making the full 200 "citizen contacts" required every month in the West Area Command? Won't officers just scramble to make their numbers at the end of the month?
Supervisors "are going to be watching throughout the entire month" to make sure their officers are working toward their numbers, Williams said. "We owe our citizens a full month's worth of work."
There have been "performance standards" for "at least 13 years," said Williams, though he said that did "not necessarily (mean) a point system."
"What this does is give our officers the opportunity to get credit for all the things they do and not just some of the things they do," Williams said.
It also places officers at risk of verbal warnings, written reprimands, even termination if they're "not doing their job," Williams acknowledged. He also recognized that the department, with 166 patrol officers, is not fully staffed to its funding level of 191 officers, but said even short-handed, officers should be able to find enough "unobligated time to be proactive."
"If you work at Walmart and you're tasked with stocking five aisles today and you don't do that, I think ultimately, at the end of the day, your organization might be concerned and coach you and mentor you and counsel you along the way to help you get there," Williams said.
"That's what we're doing."
Copyright 2011 El Paso Times, a MediaNews Group Newspaper