Calif. BART to double the number of officers in a 'radically new deployment plan'
Transit authority will increase the number of patrol officers on trains and at stations as it tries to bring back riders after the pandemic
---
By Eliyahu Kamisher
Bay Area News Group
OAKLAND, Calif. — Amid a worsening financial outlook and slumping ridership, the Bay Area Rapid Transit System is embarking on a new plan to get passengers back on the rails: Improve cleanliness and make riders feel safer.
In mid-March, BART will more than double the number of police officers on dedicated foot patrols each shift in what Janice Li, the BART board president, called a "radically new deployment plan" that will "increase presence on trains more than we've ever done before."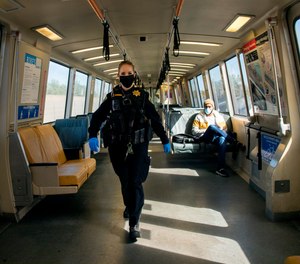 Previously there were a total of 10 officers on foot patrol, split among various shifts. Now there will be an additional eight to 18 BART police strolling stations and trains each shift, according to BART spokesperson Alicia Trost.
"We had baked-in ridership before the pandemic, people had to go to work and they didn't want to be in the cars," said Trost. "That is no longer the case and we now have to fight for ridership and market for ridership and be responsive to the needs of potential riders."
BART's push to win back riders comes as the agency eyes what it calls a "fiscal cliff" — when BART spends the last of $1.6 billion in pandemic relief money. New projections, which the BART board will review Thursday, show that date will be six months sooner than previously expected, now in January 2025. Lagging ridership recovery tied to the economic health of downtown San Francisco is the main driver of BART's fiscal woes. Nearly three years after the pandemic shook the entire country, BART's passenger count is still down by over 60% and has been on a steady decline since October.
The boosted police patrol is in part spurred by a survey of over 3,000 riders, which found personal security and cleanliness to be among riders' top concerns. Some responded that BART "is too scary" and "not safe."
"As I fill out this survey, I'm sitting next to a piece of aluminum foil that was used to smoke heroin," one rider said.
Still, being a victim of violent crime while riding BART is extremely rare – there are about nine instances for every million trips. Partly because of lower ridership, the likelihood now of being the victim of a violent crime on BART has increased from 3.53 incidents per million in 2018.
Along with the law enforcement staffing, BART has doubled the cleaning hours on its new trains and some legacy trains. The agency is also planning to triple the staffing of its station deep cleaning team known as "Scrub Crews."
But increasing police presence, especially focused in Oakland and San Francisco, will likely be the most visible impact of the new customer experience program. While it may earn approval from many riders, the plan is also causing some concern about police being too aggressive.
Policing is a perennial issue at BART – a rare transit operator with a dedicated law enforcement department. In 2018, the agency instituted "emergency" foot patrols following the stabbing death of 18-year-old Nia Wilson at Oakland's MacArthur station. In 2009, BART saw intense backlash after an officer shot to death Oscar Grant at Fruitvale Station in one of the most high-profile police killings in Bay Area history.
Grant's uncle Cephus "Uncle Bobby X" Johnson slammed the agency. He said beefing up police would lead to small disturbances escalating into conflict. "Officers are going to be bored to death. So they're going to say something out of line to somebody that is going to create, sadly, some really stressful situations," he said. "Those that might be just having fun as children are now being harassed and accosted and criminalized for taking the BART."
Lateefah Simon, a BART board member and police reform advocate, supported the restructuring and pointed to BART police officers' de-escalation training, which exceeds California standards. The train operator is also a national leader among transit agencies in shifting some police responsibilities to a team of unarmed crisis intervention specialists.
"People don't want to feel alone in a system that is not deeply populated. We need to put all of our staff on deck. It's not just our police, it is all of our staff that needs to be very visible," said Simon. "We're saying to BART police, instead of being in your car hanging out, be in the system – walk and say hi to people."
The boosted foot patrol is also supported by BART's police union, although there have been grumbles among some officers, said Shane Reiss, president of the agency's police union. Among the reassigned teams that will be on train patrol is BART's K-9 team. "Some people don't like change. But the majority overwhelmingly will support it and try and make it succeed," he said. "We are going to saturate every train and hit every train in Oakland and San Francisco."
While Reiss backs the new train-oriented deployment plan, he said the department lacks the staffing needed to patrol the vast five-county system. BART has 173 total sworn officers, 16% less than staffing in August 2018.
"We don't have enough bodies to patrol the system the way it needs to be done," said Reiss, adding that there are roughly 60 open patrol spots currently. "It's basically all hands on deck because we're so short."
©2023 MediaNews Group, Inc.
Visit at mercurynews.com.
Distributed by Tribune Content Agency, LLC.
McClatchy-Tribune News Service