NYC to fight homeless 'crisis' in subways with more cops, social workers
The teams will patrol trains and stations and attempt to convince homeless people living there to move into shelters
---
By Chris Sommerfeldt
New York Daily News
NEW YORK — Gov. Hochul and New York City Mayor Adams are joining forces to fight homelessness in the city's subways, announcing Thursday that they will flood the transit system with more cops and teams of social workers in an effort to get vulnerable people into shelters.
In a press conference at the Fulton Street station in Manhattan, Hochul said she had signed an order requesting cost proposals from private contractors for five "Safe Options Support" — or "SOS" — teams, which will each be made up of between eight to 10 social workers and medical professionals.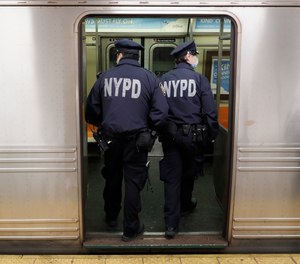 The teams will patrol subway trains and stations across the city and attempt to convince homeless people living in the system to move into shelters in hope that they can eventually secure permanent housing, Hochul said.
"This truly is a humanitarian crisis," Hochul said, noting that nearly 4,000 New Yorkers sleep in the city's subways and streets every night on average. "Our ultimate goal is to make sure that every New Yorker has a roof over their head and that they are safe."
In addition to SOS teams, Adams and newly-minted NYPD Commissioner Keechant Sewell announced they're deploying "hundreds" of more officers into the system, in part by sending desk duty cops into the field.
But the additional officers coming to the subways will not focus on interacting with homeless individuals, but rather alert SOS teams if they encounter them, Adams said.
"This new plan also frees up our police officers to focus on crime and not be the street sweepers of sweeping men and women who are homeless off the system," Adams said, citing an uptick in slashings and other violent crimes in the subways during the pandemic.
[RELATED: Reducing homelessness: Police collaboration with transitional shelters may be key]
The mayor, whose campaign focused heavily on public safety issues, said the NYPD needs to get back to the sort of "omnipresence" in the subway system that he recalled from his time as a transit police officer in the 1980s.
"That's the omnipresence that I knew as a rookie cop. When you walk through the train, and the public sees you, they feel the level of confidence that the system is a safe place to be," he said. "Riders will see how officers on that patrol are ready to respond if needed."
The city Department of Homeless Services has already been deploying teams of outreach workers to the subways during the pandemic. Hochul said the SOS teams will "work hand in hand" with DHS outreach staff, though it was not immediately clear if they will play any distinctly different function.
In contrast to the joint announcement from Hochul and Adams, advocates have long said that homeless people are choosing to sleep in the streets and subways because of dangerous conditions and high crime rates in shelters.
Adams admitted the city needs "to do a better job" at increasing confidence in the shelter system, but did not immediately roll out a plan for how to do so.
Adams also called on courts to make more use of "Kendra's Law," which allows judges to order severely mentally ill people committed for psychiatric treatment, as a means for driving down homelessness.
With her eyes trained on getting more people into permanent housing, Hochul announced a new tax abatement program to incentivize developers to build more "deep affordability" apartments and said she'll be asking state legislators to pass bills that would make it illegal for landlords to turn away prospective tenants on the sole basis of poor credit score or interactions with the criminal justice system.
Still, criminal justice reform advocates said the announcement from Hochul and Adams is misdirected in that it relies on cops.
"Governor Hochul and Mayor Adams have unabashedly emboldened the NYPD when New Yorkers have taken to the streets and the polls to fight for exactly the opposite outcome," said Donna Lieberman, executive director of the New York Civil Liberties Union.
"The NYPD should not, under any circumstances, be first responders to people in need of clinical expertise. Mental health crises should be addressed with a trauma-informed response, not an approach that inflicts further trauma and endangers the lives of the very people the NYPD is supposed to serve."
[NEXT: Putting a face on the homeless: Dave's story continues]
©2022 New York Daily News. Visit nydailynews.com. Distributed by Tribune Content Agency, LLC.
McClatchy-Tribune News Service