Intersections: New technologies help improve officer training
Some very bright people in the technology field are having a positive effect on officer safety behind the wheel
---
As I stated in part two of this series, intersections remain an enemy capable of injuring, disabling, and killing law enforcers across the country. The good news is that we have seen a number of trainers create programs that address the issue. What's more, we also have some very bright people in the technology field who are also having a positive effect on officer safety behind the wheel.  
EVOC-101 Web
An engineer by trade and pioneer in the driving simulation industry, Reginald Welles knows the importance of preventing intersection related collisions. He is the President of Applied Simulation Technologies and his motto says it all: "Saving lives, time and money."
"Intersections are one of the most dangerous areas to negotiate because of the many things that can go wrong. The intersection focuses all the issues that compete with a driver's attention. If you can master the intersection, other venues will be easier to negotiate."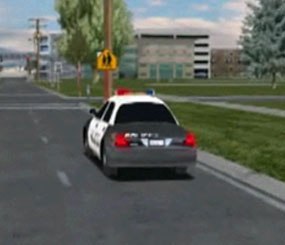 There is a lot of truth in what Welles is saying. When it comes to driving, there is not a more tenuous or intense action than maneuvering through the intersections in any given community. That was the drive behind the development of EVOC 101 Web.
EVOC-101 Web is a training tool that provides comprehensive training through any computer that can access the Internet. Each of the four lessons focus on emergency vehicle survival techniques and how they relate to driving through intersections. The lessons consist of the intersection approach, assessment, clearing and intersection departure with each course being divided into short lessons of 20 to 30 minutes each. The training is detailed, consistent, and very comprehensive.
Welles states that EVOC-101 Web "provides the foundation for an understanding of the dynamics of hazard evolution. That is, how an object becomes a hazard as you approach it — a concept that should be understood in all driving. EVOC-101 Web was designed to provide a comprehensive yet basic set of knowledge that refreshes past training, provides consistent information with latest policy, and allows the EVO instructor to use a common base of vocabulary and jargon that the student has been elevated to understand. In other words, EVOC-101 Web is an advanced driving primer that helps the student be teachable. Whether it is used in conjunction with a specific training regimen or by itself, students who seriously take it have all benefited in one way or another."
Utah DPS Sergeant Doug Larsen has used the product designed by Welles and his team and he is convinced that it will give any driver an edge when it comes to intersection clearance. "Data supports that EVOC 101 Web provides officers with the tools necessary to clear intersections safely and effectively."
The product that Welles has pioneered is exactly what is needed and there are others on his heels.
The Squad-Sim
The Squad-Sim Tactical Driving Simulator is the latest simulator from Simulator Systems International (SSI), which has been an innovative leader in driving simulation since 1976. Todd Roberts has worked diligently to bring the law enforcement driving simulator to the market and in doing so he quickly recognized the most pressing need.
"We spoke to law enforcement including police chiefs and driving instructors and it was apparent that intersection clearance was a top priority for them. We have responded to their needs and have built the 'Squad-Sim' as an economical and safe way for law enforcement to train in vehicle operations and intersection clearance."
The 'Squad-Sim' looks to take law enforcement driving simulation where it has not gone before. A comprehensive computer-based training curriculum that integrates simulation exercises along with narrative feedback and performance reports so the student can immediately see where they need improvement.
The Human Factor
These technologies are excellent new tools for law enforcement, no doubt about it.  But we cannot ever lose sight of the fact that the best computer available to a police officer is the one between the ears, and the finest equipment we have is our physical being (our bodies). For important tips and reminders on keeping these in top shape to handle the enemy in intersections, check out part one of this series.