50 states, 50 police heroes: How cops made an impact in 2019
From small acts to big ones, police officers did good all over this country every day in 2019
---
By Police1 Staff
Police heroism comes in many forms. From the small acts, like a cop taking a few moments from their duties to have a snowball fight with a group of local kids, to the big ones, like a group of LEOs saving countless lives by taking down an active shooter, police officers did good all over this country every day in 2019. Just as we did last year, we've rounded up one act of police heroism from each of the 50 states (plus D.C.!) – just a small sample of the great work America's finest put in every day. Tell us your favorite moments of heroism from the year in the comments section, and remember to always share the good work that's happening in your agency with the public; proactively telling your stories can go a long way toward combating negative narratives.      
Alabama
Deputies praised for driving veteran to doctor across county lines
A group of deputies from different counties worked together to make sure a disabled veteran didn't have to walk to his doctor's appointment. FULL STORY
---
Alaska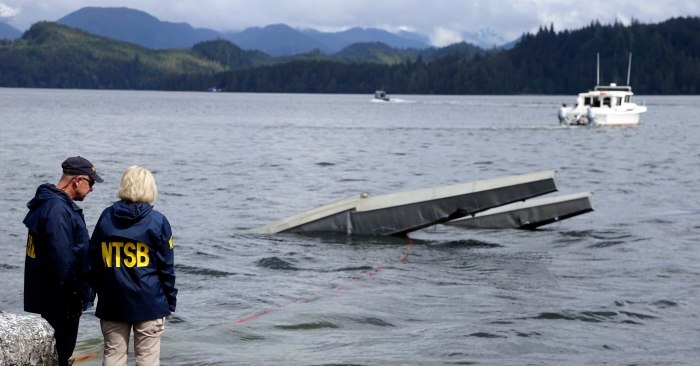 Retired cop in Alaska plane crash rescues victims while injured
Retired cop Kim Castro swam into frigid waters and pulled people to safety during a tragic, deadly plane collision. FULL STORY
---
Arizona
LEO brings child Happy Meal after mistaken 911 phone call
Officer Randolph "Scott" Valdez was sent to the home of 5-year-old Charlie Skabelund after Charlie called 911 asking for a Happy Meal. FULL STORY
---
Arkansas
Ark.'s oldest active LEO turns 90
Sometimes heroism is just simply spending a lifetime in service of others, like Leonard Charles Smith, who has worked in law enforcement for 56 years. FULL STORY
---
California
LEOs donate their own money to landscaper whose car, tools were stolen
The officers donated and raised money to help the man get back to work. FULL STORY
---
Colorado
How an SRO is helping give a little boy the strength to walk
School Resource Officer Brad Gagon is going above and beyond to help Roman, a 7-year-old with cerebral palsy. FULL STORY
---
Connecticut
Conn. LEO honored for role in capture of suspect who fatally stabbed NYPD police explorer
Trooper First Class Jason Cassavechia apprehended the 14th suspect in the slaying of Bronx teen Lesandro Guzman-Feliz. FULL STORY
---
Delaware
Cops carry Special Olympics torch
Officers participated in a three-day, 160-mile torch run. FULL STORY
---
Florida
Officers gift new bike to elderly man after his was stolen
Two officers went above and beyond for an 80-year-old man who lost his mode of transportation. FULL STORY
---
Georgia
Cops throw birthday party for boy with cerebral palsy
Officers baked a cake, allowed children to check out police vehicles during the surprise event. FULL STORY
---
Hawaii
Cops honor 'donut boy' as he completes mission to deliver sweet treat to cops in all 50 states
Kauai Chief of Police Todd Raybuck presented Tyler Carach with a number of gifts in recognition of his accomplishment. Hawaii was Carach's last stop on his mission to deliver donuts to cops in all 50 states. FULL STORY
---
Idaho
Cop's quick-thinking saves disabled man
"He gave him a chance to make it. He's a hero to us." FULL STORY
---
Illinois
Chicago cop joins street performer for impromptu performance
Video shows a crowd gathering to hear the surprise collaboration. FULL STORY
---
Indiana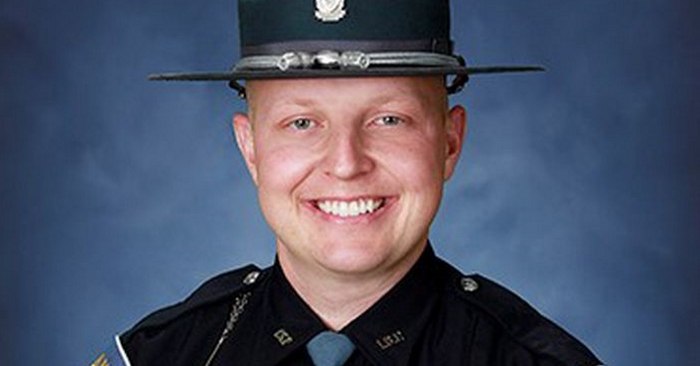 Trooper saves choking child
State Trooper Ben Reason performed the Heimlich maneuver inside the family's minivan. FULL STORY
---
Iowa
Police rescue 2 people after raft overturns in downtown Des Moines
The dramatic rescue was captured on a bodycam. FULL STORY
---
Kansas
Four hours as a hostage leads man to career as an officer
A life-or-death encounter inspired the man to start a career in law enforcement. FULL STORY
---
Kentucky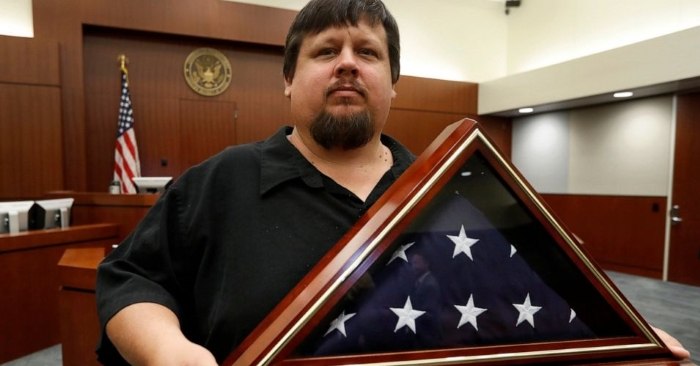 Slain Ky. marshal honored over a century later in Texas
The marshal's death until recently had been a lost part of history. FULL STORY
---
Louisiana
Video shows cops' intense gun battle with robbery suspects
Two men trying to steal a trove of pills from a drugstore demanded that New Orleans police blocking the exit "back up" before opening fire and striking an officer. FULL STORY
---
Maine
Detective killed while aiding motorist
Ben Campbell's final act was helping someone in need. FULL STORY
---
Maryland
Officer honored for bravery during methadone clinic shooting
Sgt. Bill Shiflett received the department's highest honor for his bravery during the active shooter incident. FULL STORY
---
Massachusetts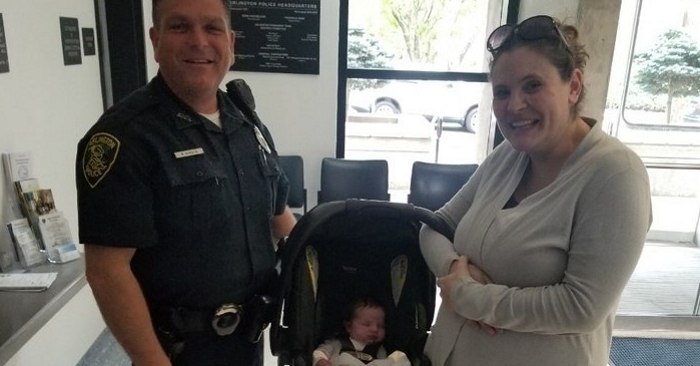 Officer helps couple deliver baby at home
"Normally the EMTs or Fire Department would handle a situation like this, but I just happened to be there first," the LEO said. FULL STORY
---
Michigan
Cop helps homeless man trying to shave in puddle
"I just went over there, threw a pair of gloves on, took my water bottle out, dumped it in his cup and tried to help him shave." FULL STORY
---
Minnesota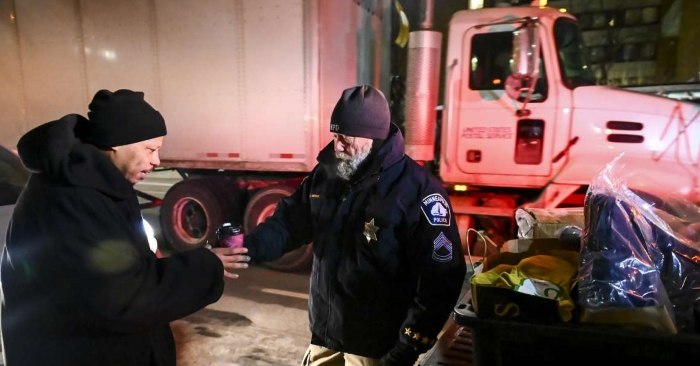 LEO hands out cold weather gear to homeless during big freeze
Over a 48-hour stretch, he handed out more than 100 pairs of donated hats and gloves to people on the streets. FULL STORY
---
Mississippi
LEO helped at wreck shortly before he was shot to death
Patrolman Robert McKeithen's final act was in service to others. FULL STORY
---
Missouri
Officer praised for helping fix upside-down American flag at local business
The officer stepped in along with the help of some firefighters. FULL STORY
---
Montana
LEO makes woman who used hair dryer to slow speeding drivers honorary trooper
"The best thing I could think of was (to) give her a trooper hat and a badge to make her look a little more official." FULL STORY
---
Nebraska
Cops rescue suicidal man
While cops were talking to the man, he set the garage he was in on fire and locked the unit. FULL STORY
---
Nevada
Las Vegas officers honored for heroic acts were just 'doing their job'
The seventh annual "Best of the Badge" commendation ceremony recognized 70 cops for their good work. FULL STORY
---
New Hampshire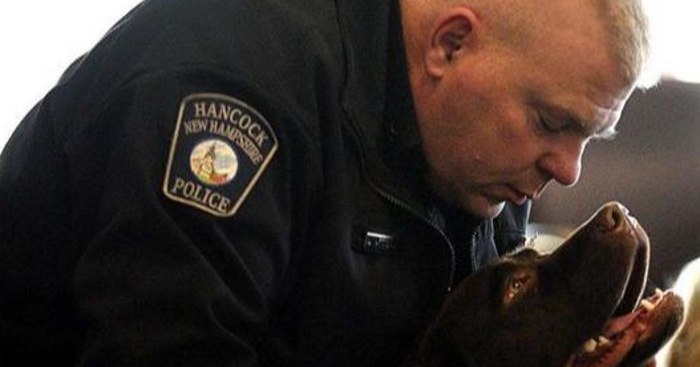 PDs use 'comfort dogs' to build community connections
These departments are taking on dogs trained to provide comfort to crime victims and trauma survivors. FULL STORY
---
New Jersey
Jersey City LEO praised for rushing to assist officer shot during gun battle
Sgt. Majorie Jordan abandoned her cover to assist an officer who was shot in the shoulder. FULL STORY
---
New Mexico
Cops rescue ducklings from storm drain
The 11 ducklings were stuck in the drain. FULL STORY
---
New York
Detective who fought for 9/11 compensation funding dies
Detective Luis Alvarez fought for what was right until the very end. Thanks in part to his efforts, a bill ensuring that the 9/11 victims' compensation fund never runs out of money was signed into law.  FULL STORY
---
North Carolina
Police thwart mass shooting plot
The student was arrested with guns and ammunition in his dorm room. FULL STORY
---
North Dakota
Officer honored with Thunderbirds flight for community policing work
Matt Niemeyer works with kids to build bonds between law enforcement and the youth. FULL STORY
---
Ohio
LEOs take down mass shooter
Officers stopped the suspect moments before he entered a bar. FULL STORY
---
Oklahoma
Okla. LEO plays drums with band while responding to noise complaint
When the LEO responded to the complaint, he decided to play the drums with the band before telling them to turn down the music. FULL STORY
---
Oregon
Officer shot multiple times applied tourniquet to herself
Dispatch audio captured the moment a shot and wounded Oregon officer administered aid to herself while waiting for paramedics to arrive. FULL STORY
---
Pennsylvania
Pa. cops use karaoke to build community relationships
The officers started hosting events in the neighborhood they patrol to address negative police perception. FULL STORY
---
Rhode Island
Quick-thinking LEOs save choking baby's life
The baby's mother thanked God the officers were there. FULL STORY
---
South Dakota
Cops raise money to help needy children have a better Christmas
The money helped 115 children. FULL STORY
---
South Carolina
Deputy saves infant's life
Deputy William Kimbro took the limp baby from her mother and performed first aid to save her during a traffic stop. FULL STORY
---
Tennessee
Dispatcher takes dad's final sign off 'I love you daddy'
Lt. Austin Garrett retired from his PD after 25 years of service. But his service continues: he became a chief deputy at another PD shortly after. FULL STORY
---
Texas
Officer in viral photo praised for compassion
"He started crying. I almost cried too. I tried to keep the composure." FULL STORY
---
Utah
Cop pulls man from train's path in close-call rescue
The train collided with the man's vehicle seconds after the trooper pulled him free. FULL STORY
---
Vermont
Agencies across Vermont collect toys for ill children
A firefighter and trooper collectively came up with the idea to give back to the community and launched "Operation Fire Cuffs," now in its ninth year. FULL STORY
---
Virginia
Officer plays dolls with girls in street
The officer decided to take a moment with the girls after responding to a gas leak in their neighborhood. FULL STORY
---
Washington
Police get in snowball fight with kids during snowstorm
Officers grabbed a tactical shield and had fun with local kids during a winter storm. FULL STORY
---
West Virginia
Cops save kid's birthday party after no one shows up
Cops saved the day for 5-year-old Cameron. FULL STORY
---
Wisconsin
Terminally ill girl visited by almost 40 PDs, K-9s
A terminally ill Wisconsin girl who loves dogs was able to spend a day with K-9 officers. FULL STORY
---
Wyoming
Deputies use lasso to rescue deer from frozen pond
The LEOs lassoed the deer and brought it up to the surface. FULL STORY
---
Washington D.C.
Thankful mom reunited with transit cop who calmed her autistic son on train ride
Noisy train platforms can get overwhelming for anybody, but for 4-year-old Andrew, who has autism, a recent ride put him over the edge. FULL STORY