Mass. officer helps couple deliver baby at home
"Normally the EMTs or Fire Department would handle a situation like this, but I just happened to be there first," the LEO said
---
Jesse Collings
Wicked Local Metro, Needham, Mass.
ARLINGTON, Mass. — Arlington police officer Brandon Kindle probably didn't expect to be playing the role of doctor during his early-morning patrol on Wednesday, May 1, but through proper training and a calm demeanor, Kindle was able to safely assist in the delivery of a healthy baby girl.
Kindle was on patrol when he received a 911 call about a woman going into labor shortly before 5:30 a.m. At the time Kindle was only about a block a way from the home of Audra and Ed McKinnon on College Avenue and he arrived first on the scene.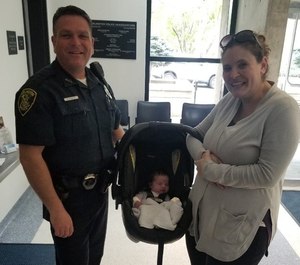 "I got there and the grandmother was standing outside the front door waving me in," Kindle said. "Normally the EMTs or Fire Department would handle a situation like this, but I just happened to be there first."
Kindle entered the home and spoke with Audra, who was in labor in her kitchen.
"I just introduced myself and tried to keep everyone calm. They had planned on going to the hospital, but when I got into the kitchen the baby was already coming. I asked if this was her first child and she said this was her third; I said that I had four kids so this was going to be my fifth," Kindle said. "I put on my gloves and I could see there was already a bit of crowning. Mom gave a great big push and a baby girl came out, she was cute as a button."
Every year members of the police department go through mandatory medical training, which handles dealing with emergency births.
"I just remembered my training, the umbilical cord was wrapped around her head, so I was able to get it loose, I patted her on the back and got her to cry. Dad handed me a nice new towel and wrapped her up," Kindle said.
Shortly after the fire department and Armstrong Ambulance arrived and transported the baby and Audra to a nearby hospital, where they were later released and are doing well.
The eight-and-a-half pound girl was named Maeve, and she visited Kindle with her mother on Friday, May 10 to thank the officer.
"This was not a planned home delivery, so it was a kind of a scary situation," Audra McKinnon said. "Officer Kindle was able to remain calm and professional, which was really needed. We're very thankful he was there with us."
"Officer Kindle did an outstanding job on scene," Acting Police Chief Julie Flaherty said. "It was his professionalism, knowledge, training and quick response that ensured mom was able to safely deliver Maeve and keep both mom and baby safe until paramedics could arrive. He went above and beyond the call of duty and we're extremely proud of the job he did."
Kindle was awarded a pink stork pin, which is given out to officers who help in the delivery a baby, pink for delivering a girl and blue for delivering a boy.
"I'm the third one in the department, Sgt. Bryan Gallagher and Chief Flaherty also have stork pins. I guess Arlington is a good town to live in if you need a police officer to help deliver a baby," Kindle said.
———
©2019 Wicked Local Metro, Needham, Mass.
McClatchy-Tribune News Service