5 things to know about Md. SRO Blaine Gaskill
Deputy Blaine Gaskill is credited with stopping Tuesday's shooting
---
By Police1 Staff
A shooting at a Maryland high school Tuesday morning was stopped by an armed school resource officer who intervened by confronting the gunman.
After news came out about Deputy Blaine Gaskill, many drew comparisons to the school resource officer who failed to respond to an active shooter in a Florida school. His inaction drew nationwide criticism and sparked questions about the effectiveness of SRO programs.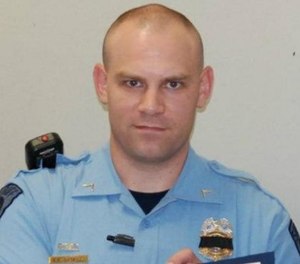 Here are five things to know about Gaskill, the SRO credited with preventing further bloodshed in the city of Great Mills, Maryland.
1. Who is Blaine Gaskill?
Gaskill, a six-year veteran with the St. Mary's County Sheriff's Office, is credited with stopping Tuesday's shooting that left two students wounded and the teen gunman dead. The LEO is in his first year at Great Mills High School, and also works as a SWAT team member for the agency.
Sheriff Tim Cameron said Gaskill, 34, covered "significant ground" rushing to the sound of gunfire and engaged the shooter, firing one round while the gunman "simultaneously" fired a shot as well. While it isn't clear if Gaskill's bullet stopped the shooter, the gunman was fatally wounded in the confrontation. Gaskill was unharmed.
Cameron said there was "no question" that Gaskill's quick actions saved lives.
2. The SRO may be in rare company. 
According to school shooting research conducted by the Washington Post, if Gaskill's bullet hit the attacker, he'd be only the second SRO to gun down an active school shooter since Columbine.
3. This isn't Gaskill's first encounter with an armed suspect.
In 2016, Gaskill made headlines after he arrested a suspect who pointed a gun at him in an incident that could have had a very different ending.
"In that split second, a decision has to be made," Cameron told The Enterprise at the time. "In this case, the officer used exemplary judgment."
Gaskill was able to end the situation without a shot fired. The entire encounter was captured on body camera.
4. The St. Mary's County SRO program was implemented in 1998.
The SRO program in St. Mary's County, Maryland isn't new. It began during the 1998-1999 school year, where each high school was assigned one sheriff's deputy. In the 2005-2006 school year, the program was expanded to include two deputies who split their time between all of the county's middle schools. Like most SROs, St. Mary's County school officers serve a variety of functions, including running the D.A.R.E. program and acting as mentors for students. All SROs are trained and certified through the National Association of School Resource Officers, according to the agency.
"This is what we train for. This is what we prepare for and this is what we pray we never have to do," Cameron said. "And on this day we realized our worst nightmare that our greatest asset — our children — were attacked in a bastion of safety and security, one of our schools."
5. Gaskill's bravery underscores the importance of solo-officer response.
Gone are the days of waiting for backup and setting up a perimeter in the event of an active shooter. Solo-officer response has been proven as a key tactic to preventing further bloodshed during an attack on a soft target. Gaskill's actions were in stark contrast to the actions of SRO Scot Peterson and other LEOs on the scene in the initial minutes of the Feb. 14 massacre in Parkland.
"He responded exactly how we train our personnel to respond," Cameron said.
While the mistakes made in Parkland are still the subject of an ongoing probe, one of the released details that sparked widespread criticism was that Peterson waited outside for at least four minutes after the gunfire began. In Great Mills, Gaskill engaged the shooter in less than a minute.
P1 Columnist Todd Fletcher broke down why time is of the essence in his article about the importance of solo-officer response training, which you can read in full here.
If officers are trained to wait for additional personnel to arrive to form a hunting cell, then more innocent people will be hurt or killed. Ron Borsch, PACT Consultant Group, was perhaps the first person to introduce me to the solo-officer response concept. He believes time is the number one enemy facing officers and innocent victims during active shooter incidents. His statistics show active shooters target most of their victims inside the first several minutes. He says the average time for calls to be made to 911, the information dispatched to officers, and officers to arrive on scene could be five to seven minutes or longer.

What this means is we have between one and three minutes to locate and stop the killing. It's a race against the clock to save innocent lives.  Just look at the September 28, 2016, incident in at Townville Elementary School in Townville, SC. The first officer arrived on scene seven minutes after the first call to 9-1-1.

Ask yourself this question: How many rounds can I fire accurately in one to three minutes? The answer probably depends on how much ammunition you can carry. The same is true for these murderers.