Churches work to balance security with welcoming the public
An armed and trained security team is present at the First United Methodist Church of Fort Worth anytime the building is occupied
---
By Nichole Manna
Fort Worth Star-Telegram
FORT WORTH, Texas — Chuck Chadwick has trained volunteer security teams for Texas churches and faith-based organizations for 13 years. During that time, he has never been aware of a church security guard having to shoot someone.
That changed Sunday, after a man in a church service in White Settlement fatally shot two church members. Then, an armed member of the church's security team shot back, killing the gunman.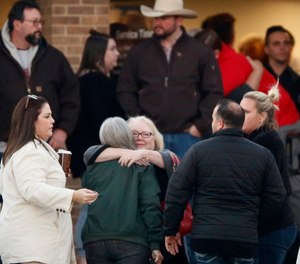 Chadwick runs the National Organization of Church Security and Safety Management in Krugerville — just outside of Denton. His organization trains volunteer church security teams for a potential mass shooter in their buildings.
"We train them to the state standards for professional security then dispatch them back into churches," Chadwick said. "They're not just licensed-to-carry people, which is four hours of training, but they have professional security credentials."
Chadwick believes trained and armed church members should be part of the equation for church safety, equating them to the gatekeepers of the Bible. But many churches struggle to find the balance between security and being open and welcoming to all people.
Bishop Michael Olson and his leadership teams in the Catholic Diocese of Fort Worth tried for years to find the right mix between security and being open to the public.
"It's hard because you don't want to overreact, and you do want to be welcoming," said Steve Becky, the diocese's director of property management and security. "That's why the armed folks are being closely vetted with background checks, psychological tests, because we need level-headed mature people."
At the same time, the diocese wants people to recognize that they're welcome to join their services.
"We want more people to come in, and it doesn't matter where they come from. We want them to come in and learn about Christ," Becky said. "There's no real clear answer, everything is gray. … That's the whole idea of Christianity, to accept people."
Following the shooting at West Freeway Church of Christ in White Settlement, Olson said the diocese will continue efforts to strengthen security and safety at parishes and schools. They have recruited and trained volunteer teams that work closely with law enforcement to provide safety during Masses or other large events.
The diocese trains its security teams through Guardian Response security consultants and has a welcoming team of church members who have been trained to watch for certain behaviors.
Through their consulting with Guardian Response, the parishes and schools took down gun-free zone signs, though a directive that bans guns on church property and school campuses remains in effect.
Those who have permission to carry firearms on church property include active police officers and vetted and trained members of the protection team ministry, the diocese said.
Jason Kennedy, the lead pastor at Abundant Life Church in Grapevine, said the need for security outweighs the desire by some to keep guns out of church.
"The challenge is you're trying to reach people who are hurting and broken and have made messes of their life, so you want that in the church," he said. "You don't want the church to look monochromatic in any way or homogeneous, so you're trying to reach people who are desperate, and that really is the challenge of how do you do that and keep everybody safe."
Over the last decade, Abundant Life Church has made moves to secure its building. All doors to the building are kept locked. Visitors have to go through the office and receive a name tag. Volunteer armed security guards (who are also members of the church) walk around frequently. And a uniformed police officer (who is also a member) acts as a deterrent.
In the upcoming weeks, Kennedy said, he'll meet with his security team to discuss if they need to implement new measures, such as banning backpacks and bags from the building, which serves about 250 church members.
"We live in an age where it can happen at any time, any moment," he said. "You just have to take basic safety precautions. You have to be vigilant but (as) gracious and kind and welcoming as possible."
At the First United Methodist Church of Fort Worth, anytime the building is occupied, an armed and trained security team is present, Dr. Tim Bruster, the senior pastor, said. The team also leads security drills with the congregation.
Bruster said those security measures and several others "allows our congregation to focus on worship and sharing God's love with our surrounding community."
Chadwick, the church security trainer, said it has been common in the past for churches to not want guns in their facilities.
"I just go back to the Bible and look at the role of gatekeepers," he said. "Do you want no security at all or someone who is professionally trained?"
Before, churches struggled with the idea of liability. But with trained guards, he said, that liability diminishes.
"The tide has changed a little bit, where people are willing to take that liability, but I don't know why anyone who wants to do that would do it without training or background checks," he said. "We even have them go through a psychological evaluation. None of that is required by the state right now."
More than 500 officers have been trained by Chadwick's team and are stationed in about 100 Texas churches. All are members of the churches they serve.
Kennedy, of Abundant Life Church, said he's felt the discomfort about guns in churches.
"There will always be a tension to it, but I would rather have responsible people in our building carrying firearms to protect our people and have a little discomfort with it than be naive to threats," he said.
What is church security?
Volunteer security guards who go through Chadwick's training learn more than just how to use a firearm.
"In the day and age that we live, there's nothing new about people getting shot in churches," he said. "To have somebody there that can address the threat, whatever it may be, it's not always a guy with a gun, a lot of times it's just a domestic dispute or mental illness."
According to the Faith Based Security Network, which tracks threats in churches, there have been more than 1,700 incidents of force, not always involving guns, at faith-based organizations across the country since 1999. During those incidents, 623 people have been killed and 954 injured.
The No. 1 motive behind deadly force incidents has been robbery, followed by domestic violence and personal conflict. Bias against any form of religion has accounted for 76 of those 1,700 incidents.
Of the 277 active-shooter incidents that have happened in the last 18 years and have been tracked by the FBI, 11 happened in houses of worship.
State and federal police have said they are still investigating the motive of the West Freeway Church of Christ shooter, who was identified on Monday as Keith Thomas Kinnunen from River Oaks.
At the First Baptist Church in Pasadena, Texas, the church security team overpowered a man who was on drugs and had rushed into a Christmas event with a large screwdriver. In 2017 in Austin, a man was welcomed into the St. Ignatius Catholic Church benevolence room to stay out of the cold. He had been helping some workers earlier. Once inside, he pulled a box-cutter and robbed two 75-year-old volunteers. He then stole one of their vehicles.
"As long as those things are out there and those threats are out there, churches need to address those issues," Chadwick said. "What better way to have someone there who is trained to be able to stop the threat?"
McClatchy-Tribune News Service