Troopers describe Pa. ambush that killed 1, injured another
Eric Frein, an anti-government survivalist and expert marksman, is charged with opening fire at the Blooming Grove barracks in northeastern Pennsylvania in 2014
---
By Michael Rubinkam
Associated Press
MILFORD, Pa. — Two Pennsylvania state police troopers testified Wednesday about hearing a gunshot outside their barracks that marked the start of an ambush that killed one colleague and injured another.
Eric Frein, an anti-government survivalist and expert marksman, is charged with opening fire at the Blooming Grove barracks in northeastern Pennsylvania in 2014.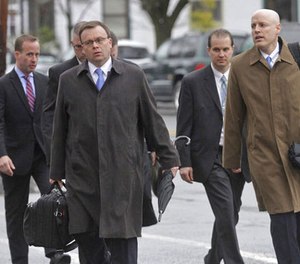 The troopers who testified said they were in the patrol room waiting for their shift to end when they heard gunfire. The troopers grabbed rifles, then dragged Trooper Alex Douglass and Cpl. Bryon Dickson II into a secure part of the barracks.
Troopers tried reviving Dickson, but he died at the scene.
Prosecutors played a radio transmission in which Douglass can be heard breathing heavily and asking when an ambulance would arrive. He was eventually rushed to the hospital and survived.
Frein led authorities on a 48-day manhunt before his capture. He could face a death sentence, if convicted.
The leadoff prosecution witness, state police dispatcher Nicole Palmer, told jurors Tuesday that she had just arrived for her 11 p.m. shift when she heard a gunshot. She opened the door and found Dickson, whose shift was ending, on his back, looking up at the night sky and mouthing "help me."
Palmer's dramatic testimony captured a portion of the horror and chaos that unfolded at the barracks on Sept. 12, 2014, when a sniper opened fire from a densely wooded area across the street, striking both troopers. U.S. Marshals, after an intensive search, found Frein in an airport hangar seven weeks later.
In opening statements, Pike County First Assistant District Attorney Bruce DeSarro asked jurors to deliver "full justice" to Frein, calling him an assassin who targeted law enforcement in hopes of sparking a revolution.
Palmer told the jury that after Dickson asked her for help, she ran back inside to try to alert others, then returned to ask him what had happened.
"I've been shot. Drag me inside," he managed to say, Palmer testified.
"I looked at him and told him, 'I can't,'" she recounted tearfully.
Prosecutors showed surveillance video of the shooting, which showed Dickson falling to the ground, followed by Douglass, who had knelt beside his mortally wounded comrade. Douglass then crawled into the lobby on his stomach — his legs immobilized by the gunfire — where a trooper dragged him through a doorway and out of sight.
Other troopers drove a patrol SUV into the parking lot and used it as a shield so they could drag Dickson into the barracks and begin attempts to save his life.
Frein's attorney acknowledged the enormity of the crime.
"It's a tragedy I don't know how this county will recover from," Michael Weinstein told jurors in a six-minute opening statement.
DeSarro showed jurors portions of a letter that authorities say Frein wrote to his parents while on the run. In it, Frein spoke of revolution and said "the time seems right for a spark to ignite a fire in the hearts of men."