Why the 'lone negotiator' doesn't work
A team of negotiators helps ensure the primary negotiator is supported and experiences less stress throughout the negotiation process
---
By Paul R. Phelan Jr., MS
Bruce Willis, Samuel L. Jackson and Eddie Murphy did an excellent job making it look easy: the single negotiator saving the day. In Hollywood's version, the bad guy always comes out, or the lone negotiator violates policy, goes in and single-handedly takes out the bad guy, rescues the hostages and gets a medal. This is not reality.
The "lone negotiator" is someone who works on his or her own to resolve a hostage or barricade situation peacefully through communication. It is surprising how many agencies still use the "lone negotiator" method of operation. Some rely on an individual who is a good talker, while some are selected just because they are supervisors. They may have training in hostage negotiations or no training at all.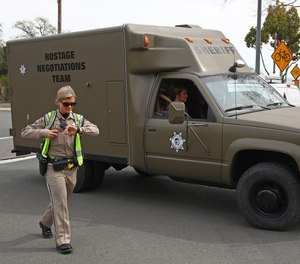 Three reasons why multiple negotiators are necessary
The FBI and the National Council on Negotiator Associations (NCNA) recommends at least two or three negotiators (respectively) for a hostage or barricade situation and there are three good reasons for it:
1. Downs v. United States (1971) made it necessary for law enforcement agencies to take negotiating seriously as an additional alternative to force or escape in hostage or barricade situations. Best practices such as setting policy, training and the use of a negotiation team can help keep hostages alive, as well as deter agency liability.
2. Modern-day negotiators are expected to respond to barricaded subjects, suicidal subjects and domestic violence incidents that have gone from bad to worse, and sometimes even kidnapping for ransom calls. Negotiators must be able to obtain intelligence, communicate that intelligence, assess the subject and strategize for a positive outcome.
To effectively ensure containment of the subject, tactical officers, incident commanders, chiefs and others involved need to know what is going on to make sound decisions. This includes an effective relay of messages to and from the negotiator on intelligence obtained during the event. It is not realistic to expect a single negotiator to have the necessary tools and experience to deal with every case alone. The "lone negotiator" cannot effectively do this while trying to give his or her undivided attention to the subject who is in crisis mode.
3. Finally, there is the consideration of the stress involved in a hostage or barricade situation. Without any support structure, a "lone negotiator" is faced with overwhelming stress, not only from dealing with the unfolding incident but also from being unable to seek guidance from other experienced negotiators. Regardless of the negotiator's experience, negotiations via telephone induce stress levels that often prohibit them from knowing what to say next. Working as a team of negotiators ensures the primary negotiator is supported and therefore experiences less stress throughout the negotiations process.
Taking a multi-jurisdictional approach to negotiations
Many officers and administrators report their agencies do not want to or cannot invest in the equipment, training and costs associated with having fully trained negotiator teams. This is understandable, especially for smaller agencies, or agencies with a tight budget. If this is the case, a multi-jurisdictional team where costs are shared is a solution.
There are several considerations when forming a multi-jurisdictional team:
1. Administrators from all agencies must see the need for such a team.
2. Administrators from all agencies must agree on the benefits of having a multi-jurisdictional team.
3. All participating agencies should sign a memorandum of agreement (MOA). A designated person, preferably with negotiator experience, should spearhead the specific language and details of the MOA. The MOA should include, but not be limited to, the financial responsibilities of each participating agency, team leader/coordinator assignments (usually the largest participating agency), negotiator selection process, training schedules and equipment responsibilities.
There is much to be said about why the "lone negotiator" policy is not advisable when it comes to hostage and crisis negotiations. By having multiple negotiators, agencies can reduce liability, meet performance expectations in a complex field and better handle the stress factors of a hostage or barricade situation.
---
About the author
Paul Phelan Jr., MS, has 16 years of law enforcement and corrections experience in Florida. He authored the department policy on hostage negotiations for two law enforcement agencies. Paul has also been the hostage negotiations team coordinator for the Nassau County Sheriff's Office in Florida and is an FBI-trained negotiator.
Paul served as an adjunct instructor at the Jacksonville Sheriff's Office/FSCJ Academy from 2007-2013 and is currently an instructor/developer for the North Carolina Justice Academy for hostage/crisis negotiations, domestic violence, sexual assault, human trafficking and rapid deployment. He is also an adjunct professor for the Bachelor of Applied Science in Public Safety degree program for Florida State College. Paul is a former member of the Florida Association of Hostage Negotiators, current board member of the Central North Carolina Negotiators Network and board member of the North Carolina Sexual Assault Nurse Examiners Board.
Paul holds a Master of Science degree in Criminal Justice from Columbia College and will obtain his Master of Arts degree in Crisis and Trauma Counseling in 2019.