Alton Sterling's family doesn't want his death to be 'race thing'
The two officers who tackled Alton Sterling, Blane Salamoni and Howie Lake II, are on customary administrative leave during the investigation
---
By Melinda Deslatte and Michael Kunzelman 
Associated Press
BATON ROUGE, La. — A Louisiana woman says she doesn't want the death of her son's father, a black man killed by white police officers, to "be a race thing."
Quinyetta McMillon wouldn't say, however, whether she believes police would have treated Alton Sterling the same way had he been white.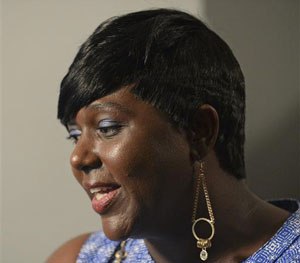 McMillon told The Associated Press on Friday that she is grieving with the families of five police officers who were killed by a Dallas sniper during a march to protest Sterling's death.
"Now, I'm walking a mile with them. We're bearing the same shoes right now," McMillon said.
Sterling, 37, was killed Tuesday during a struggle with two officers outside a Baton Rouge convenience store where he was selling CDs.
Sterling was black; both officers are white. Cellphone video of his shooting was posted online, setting off angry protests, and the Justice Department swiftly agreed to open a civil rights investigation.
Police say Sterling was armed. A witness said police later pulled a gun from his pocket. McMillon said she didn't know Sterling to carry a gun and doesn't believe he had one with him that night.
"I do not believe in my heart that there was a gun," she said, suggesting that police said he was armed "to cover up something." She called the federal investigation a "very positive step."
The Baton Rouge Police Department didn't respond to this claim.
The two officers who tackled Sterling, Blane Salamoni and Howie Lake II, are on customary administrative leave during the investigation.
"They should be prosecuted, the both of them. I don't want the death penalty for them. I want them to be in prison," McMillon said.
Court records show Sterling had pleaded guilty in 2011 to being a felon in possession of a firearm and illegally carrying a weapon. He had been arrested in May 2009 after an officer confronted him selling CDs outside another store.
McMillon focused on Sterling's smile, saying people knew he was a "good, genuine man."
"As far as his criminal record, it has nothing to do with right now. That is the past," she said. "Right now, we're focusing on what happened to him."
Protesters have gathered outside the Triple S Food Mart, first to remember Sterling and then to protest the fatal police shooting in Minnesota the next day of Philando Castile, another black man whose death was recorded and posted for all to see.
Cornell William Brooks, the national head of the NAACP, said during a visit to Baton Rouge Friday that he's tired of victims of police shootings being treated as "hashtag tragedies" instead of human beings.
Later Friday night, a line of officers with shields pushed away hundreds of protesters outside the Baton Rouge Police headquarters.
"No justice, no peace!" shouted the sign-carrying crowd. "Y'all have guns. We have posters!"
In New Orleans, several dozen protesters briefly lay down in front of the police headquarters in a symbolic die-in. Then, they moved on to the statue of Confederate Gen. Robert E. Lee, calling it a memorial to slavery.
Baton Rouge Police Chief Carl Dabadie Jr. said his department has strived to avoid a "military-style response" to the protests.
State and local law enforcement officials briefed Louisiana Gov. John Bel Edwards on Friday about their public safety strategies.
The governor credited McMillon and Sterling's aunt — both of whom appeared with him at a news conference — with helping keep the peace by urging nonviolence.
He urged protesters "to keep the conversations constructive and the actions lawful and peaceful," and said the best way to honor Sterling "is by not allowing violence to tear apart any more families."
McMillon said Sterling was good father to their son Cameron, 15, who has been devastated, and broke down in sobs at a rally outside City Hall.
When Cameron took his first steps, his father would swoop in to catch him each time he wobbled. It's one of her best memories, she said.
"Every second my son goes to stumble, he's breaking his neck to get to him," McMillon said. "And that memory will never be forgotten, because right now I use that same memory in terms of coping with my son and letting him know right now, 'You still pick yourself up.'"
Copyright 2016 The Associated Press