License plate imprint in snow leads to Mass. suspects
---
Associated Press
LAKEVILLE, Mass. — The imprint of a license plate in a snowbank proved to be the undoing of a couple suspected of a series of burglaries in Massachusetts.
A Lakeville police officer investigating a home break-in traced the imprint to a pickup truck that matched the description of a vehicle seen at other burglaries.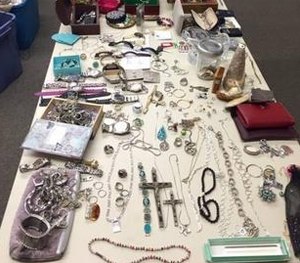 Chief Frank Alvilhiera told The Enterprise of Brockton on Monday that the truck was traced to a Dartmouth hotel.
A search of a hotel room uncovered more than 300 stolen items, including jewelry, watches, wallets, laptops and cameras. Alvilhiera estimates the goods are worth at least $10,000.
Meanwhile, Robert Beaucaire and Amy Peters face charges including breaking and entering and larceny.
Working phone numbers for the suspects couldn't be found, and they can't immediately be reached for comment.
Copyright 2015 The Associated Press