Ariz. sheriff blasts federal government for neglecting border after deputy critically injured in pursuit of human smuggler
"Just this week alone, I've had a patrol car damaged, I've had two officers, deputies, that were trying to be run over by smuggler drivers. This is every day down here," Sheriff Mark Dannels said
---
By Joanna Putman
Police1
BISBEE, Ariz. — An Arizona sheriff has declared "enough is enough" after a deputy was seriously injured while deploying spike strips to stop a suspected human smuggler, according to a Cochise County Sheriff's Office Facebook post.
While in the process of deploying the spike strips, Deputy Christopher Oletski, 43, tripped over a traffic barrier on a bridge and fell 15 feet to the ground below, Sheriff Mark Dannels said in a Facebook press release. Officers at the scene applied lifesaving care. After being airlifted to a Tucson hospital, Oletski is expected to survive.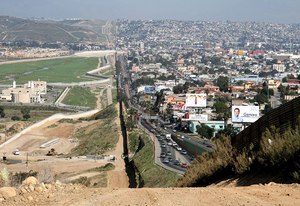 [RELATED: Cochise County Sheriff Mark Dannels on the challenges of policing at the Southwest border]
"Complications have arisen in Chris' care, resulting in significant challenges moving forward with his medical pathway. We would ask for your positive thoughts and prayers for Chris' recovery and blessings to his family, loved ones and friends as they navigate through these dark times," Dannels said in a Facebook post.
The suspect, Amber Bernadette Fuaga, was arrested on charges of DUI and human smuggling. The car's smuggled occupants fled the scene and Border Patrol agents searched for them.
"This is the third time in the last several days where my deputies and citizens have been placed in harm's way by reckless and violent criminal smugglers due to a border being neglected by those entrusted in Washington, D.C., to protect Americans. Enough is enough!" Dannels said in a Facebook post.