Calif. police chief joins peaceful protest
Richmond Police Chief Chris Magnus joined a protest against police brutality in his city on Tuesday
---
Associated Press
RICHMOND, Calif. — A Northern California police chief noted for his community policing efforts raised a few eyebrows when he joined a peaceful protest, holding a sign with the popular Twitter hashtag of "blacklivesmatter."
The Contra Costa Times reported Wednesday that Richmond Police Chief Chris Magnus joined a protest against police brutality in his city on Tuesday. The Tuesday afternoon protest, one of many in the San Francisco Bay Area this week, was organized by a Richmond youth center.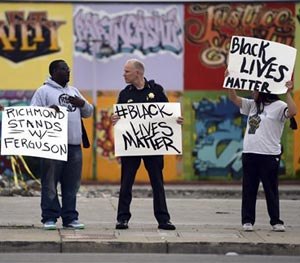 About 100 people lined a busy Richmond street at noon, holding signing and listening to recordings of Dr. Martin Luther King Jr. speeches. The city's mayor and several councilmembers also attended.
Magnus said he attended to show the department's commitment to peaceful protest and that minority lives matter.
Copyright 2014 The Associated Press