Calif. town shaken in wake of police scandal
"It's certainly going to be a black eye for King City," County Supervisor Simon Salinas said
---
By Martha Mendoza
Associated Press
KING CITY, Calif. — Residents of a California farming town were grappling Wednesday with the feeling that their trust has been violated after learning the acting police chief and a handful of officers were charged with crimes including selling or giving away the impounded cars of poor Hispanic residents.
The misgivings had been building for some time. Investigators heard people — many unable to speak English — complain that police were taking their cars and money, and there was nothing they could do about it.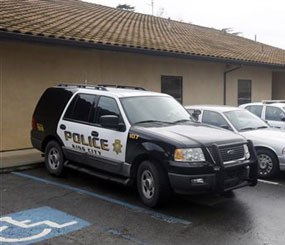 "I'm not at all surprised by the arrests, I'm just surprised there weren't more charges," restaurateur Vivian Villa said Wednesday in Spanish while sizzling a pan of beef in preparation for the lunch rush. "Now maybe some of them are going to feel what we feel when they target us."
Later in the day, Villa held a meeting in her little restaurant where about a dozen community members spoke out against police abuse and corruption.
Latinos account for nearly 90 percent of the community of 13,000 people tucked among fields of tomatoes, strawberries and lettuce along the Salinas River, 150 miles southeast of San Francisco.
Farm mechanics Francisco Mendez and Alfonso Perez, stopping at a taco stand before heading into work, both described being stopped frequently by police for having tinted windows or broken tail lights.
"It seems like they just want a reason to pull you over," Mendez said.
Tuesday's arrests, which also included a former police chief, came after a six-month probe of the police department launched in September when a visiting investigator — there to check out a homicide — heard from numerous sources that the community didn't trust its police department.
By this week, authorities said they had enough evidence to arrest a total of six people linked to the department for a variety of crimes ranging from bribery to making criminal threats. They were all quickly released on bail.
"Ordinary citizens, again and again, told us they didn't trust the police," said acting chief assistant Monterey County District Attorney Terry Spitz. "There are more investigations underway."
Tow shop owner Brian Miller; his brother, acting police chief Bruce Miller; and Sgt. Bobby Carillo were scheduled to be arraigned Monday on bribery charges after authorities said vehicles impounded from Hispanic immigrants were funneled to the tow yard then sold or given away.
Prosecutors said an undetermined number of vehicles were sold or given away for free when the owners couldn't pay fees to reclaim them. Two people at Miller's Towing in King City refused comment.
Former Chief Dominic David Baldiviez and Mario Alonso Mottu Sr. were set to be arraigned March 6 for embezzlement of a city-owned Crown Victoria. Officer Jaime Andrade, accused of possession of an assault weapon and illegal storage of a firearm, and officer Mark Allen Baker, accused of making criminal threats, are also slated for a March 6 arraignment.
Bruce Miller said the charges were baseless, and his family had received death threats since prosecutors disclosed details of the case. Messages for Baldiviez and Brian Miller were not immediately returned. A man who answered the phone at a listing for Baker hung up when asked about the case.
Attorney Michael Schwartz of Ontario, Calif., representing Carillo and Andrade, said it's important to hold off judgment until the evidence comes out.
City Manager Michael Powers said all but Mottu had been placed on paid leave during the investigation prior to their arrests, and that he hopes to announce a new, interim police chief on Thursday.
Fixing King City's sense of well-being is a bigger challenge.
"Obviously no one should be targeted because of race, but recent immigrants are at something of a disadvantage," Powers said. "They already fear the police. It makes them easy prey."
Powers said a community meeting would be held in two weeks to try to resolve concerns of angry citizens and those worried about the depleted police force, where 10 of the 17 sworn positions were held by Latinos.
State Sen. Bill Monning, whose district includes King City, said he was "incensed and outraged," and thanked the FBI and local authorities for their ongoing pressure.
"While I hope this is an isolated incident, I fear it is not," he said. "There continues to be situations throughout the state where the immigrant workforce is subjugated to tyranny of those abusing their authority."
County Supervisor Simon Salinas said it's going to take community oriented policing to get the town to trust authorities again.
"It's certainly going to be a black eye for King City," Salinas said.
Complaints of misconduct have been raised during the past few years in this historic, agricultural city where John Steinbeck's father settled in 1890s and met his wife. With wide streets, historic buildings and old oaks, parts of the city haven't changed much since Steinbeck wrote of King City in parts of Mice and Men and To a God Unknown.
But some said they are now afraid in the city.
"I'm not sure who is taking care of the town," said San Lorenzo Liquors store owner Myukng Hong who reopened Wednesday after closing early the night before after learning of the arrests.
At Leyva's Tow Yard, which police often bypassed with impounded cars, George Oliveros said many people in the community were aware of the investigation for months.
"In King City, a lot of people really try to stay away from the police," he said. "Cops aren't really helping the people, they focus on helping themselves."
Copyright 2014 The Associated Press