2022's safety and security challenges require innovation and collaboration
Staying adaptable and responsive to evolving circumstances will continue to be critical into the next year as we have seen throughout 2021
---
By Todd Miller
Much of the world thought 2021 would bring an end to the COVID-19 pandemic and a return to normalcy. While re-openings have taken place and many are back to work, school and their social lives, events within our communities have surfaced both new and old challenges.
For instance, acts of violence at schools, workplaces and public spaces continue to make the news. With these events top of mind, law enforcement, public safety and local governments have their work cut out for them in 2022.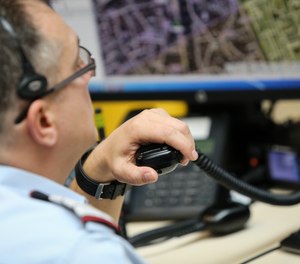 However, the events of the past year have taught public safety professionals new ways to approach challenges to better serve communities and keep everyone protected. Staying adaptable and responsive to evolving circumstances will continue to be critical into the next year as we have seen throughout 2021.
Here are a few trends and best practices for law enforcement to be aware of in 2022.
An unfortunate return to threats of violence – especially in schools and workplaces
While most people were doing less in-person activities last year, re-opening has meant a return to the threats of public violence. Instances of gun violence, for example, increased in 2021.
Experts attribute this to the accumulated stress from the pandemic lockdown and the opportunity to act out in violence as more people interact in person. In 2022, law enforcement can expect to see increased incidents of violent crime as we continue to navigate through reopening.
The issue of workplace and school violence is not limited to physical harm such as shootings but includes verbal abuse, sexual harassment and bullying as well. Law enforcement officers must be prepared to navigate this uptick with strategies to collaborate with on-premise security professionals and organizations' leadership to mitigate the negative effects of an unsafe work or school environment, from the physical to mental impacts.
A continued focus on mental health
Mental health, in general, will continue to be a focus of law enforcement professionals in 2022.
This year, we saw an increase in the dialog around how to best address the mental health crisis and how first responders can be properly trained. Across the country, police departments are partnering with mental health professionals to provide a tailored response to citizens experiencing mental health challenges. These new partnerships require improved communication and additional context so that responders arriving on the scene have the relevant information to properly address the situation.
Additionally, Congress mandated the creation of the National Suicide Prevention Lifeline to be made available by July 2022. All calls to the new 988 number will be directed to a national network of local- and state-funded crisis centers. This establishes an easy-to-access resource to help people experiencing mental health, substance use and suicidal crises access compassionate support and treatment services. The 988 resource is anticipated to manage an increase in calls from mental health emergencies due to the pandemic, as well as provide more appropriate response by mental health professionals and mobile response teams that can stabilize individuals in crisis and connect them to services for follow-up care.
[RELATED: How behavioral health crisis calls are handled in the dispatch center]
To address mental health crises, we'll see an acceleration of innovation focused on offering alternatives to traditional emergency response. These alternative approaches will challenge leaders to think creatively and find new ways to share critical data across a growing set of emergency response stakeholders that will now include clinicians and other mental health specialists. For effective partnerships between 988 and 911, law enforcement will have to bridge technology, communication and collaboration gaps.
An increased focus on interoperability and data sharing across public safety
In 2022, law enforcement professionals will need to increase their focus on interoperability across public health and safety agencies and regional jurisdictions to address emergencies more comprehensively. Collaboration between police, healthcare professionals and other social services will be essential to address communities' changing needs amid law enforcement's set of responsibilities.
Improving technology is critical to achieving this collaboration and enabling the sharing of information and resources. Stakeholders such as fire, police, 911, EMS, schools and private organizations often face challenges sharing data and communicating effectively across response teams. When essential information is not made readily accessible, responders lack the situational awareness to be best equipped to resolve the situation at hand.
[RELATED: Turning opioids-related data into actionable intelligence]
Throughout 2022, we will see success stories from departments that uncover ways to enhance the emergency response process as new best practices are established. Government agencies and public safety professionals will need to work together to adopt innovative technology that enables the authorized sharing of data, interoperability between CAD and third-party systems and new best practices for using these resources effectively to improve outcomes.
A need for innovation and collaboration to meet growing challenges
As we enter 2022, law enforcement will be tasked to protect and serve their communities in the midst of growing challenges in safety and security. Collaboration will be a particularly critical theme of law enforcement's work as police departments and community stakeholders engage in dialogue about a more holistic and collaborative approach to public health and safety. Law enforcement departments that innovate best practices and seek out new tools for collaboration will be able to adapt better to the evolving needs in their communities.
NEXT: Top 5 LE game changers of 2021
---
About the author
Todd Miller is the SVP of Strategic Programs at Rave Mobile Safety. Prior to joining Rave, Todd managed the self-service consulting practice at Oracle where he was responsible for the delivery of customized software solutions for clients in North America, supporting millions of users. At Oracle he was awarded recognition as a member of Oracle's top 10% in consulting. Todd's previous experience includes leading consulting teams for Siebel and eDOCS in North America, Europe and Australia.