NYPD will protect Pride events this weekend — whether organizers want them or not
Last month, organizers announced that they want to drastically cut the number of cops assigned to protect the route in 2022
---
By Thomas Tracy
New York Daily News
NEW YORK — The NYPD said Thursday that its officers will be providing protection to several small Pride-related marches this weekend — whether organizers want them there or not.
"As much as there may be a concern of our presence there, there is a need for us to be there for all sorts of reasons," NYPD Chief of Department Rodney Harrison said. "We will be assisting to make sure that everything goes smoothly."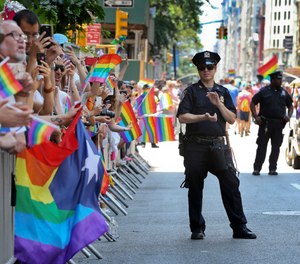 While the city's official Pride parade will be virtual this year, there will be several other Pride events on Sunday, including a march organized by the Reclaim Pride Coalition which is expected to draw an estimated 45,000 people.
Last year, five people at the Reclaim Pride Coalition march were arrested during a clash with the NYPD's Strategic Response Group, heavily armed cops who respond to violent protests throughout the city.
Scores were injured and maced by SRG officers as cops tried to arrest a marcher who vandalized a police vehicle near Washington Square Park, where last year's parade ended, said Jay Walker, an organizer for the Reclaim Pride Coalition march.
Harrison said that SRG will be assigned to the march but will be "off set."
"There is a need for them to move in if there is any concern of violence against police officers," Harrison explained.
Walker said that deploying SRG teams, even on standby, is "incredibly offensive" given what happened last year.
"That is the exact same thing that happened last year and they brutally attacked scores of our marchers over someone writing three initials on the back of a squad car that should never have been parked across the street for a march against police and for black lives," Walker said, adding that SRG was initially created to combat terrorism. "This is another example of the NYPD treating the activist community of New York City like terrorists."
Walker said 100 "community marshals" will be keeping the peace at the march and hopes the NYPD keeps a respectful distance.
Last month, organizers for the city's annual pride parade announced that they want to drastically cut the number of cops assigned to protect the route when the marchers kick off again in 2022.
"There is a little frustration toward the NYPD from certain communities, but they're going to have to understand that we have to be there to make sure everyone's safe," Harrison said.
The NYPD's plans for Pride marches this year came as the department announced several new efforts to bridge the divide between police and the city's LGBTQ community.
The changes include adding more officers to LGBTQ outreach units and task forces investigating gender and sexual orientation-based hate crimes, expanded training and the creation of an inclusive language guide about using proper pronouns and terms that respect gender diversity, Commissioner Dermot Shea announced Thursday.
The NYPD has also launched a new program where employees can self-report information on their sexual orientation and gender identity if they want to.
[READ: Why banning the NYPD at NYC Pride is unsafe and unprogressive]
©2021 New York Daily News. Visit nydailynews.com. Distributed by Tribune Content Agency, LLC.
McClatchy-Tribune News Service