31 NYPD cops call out sick after officer tests positive for COVID-19
The officers called out sick from a Tribeca precinct; 17 officers have displayed coronavirus symptoms
---
Graham Rayman, Thomas Tracy John Annese
New York Daily News
NEW YORK — Dozens of officers in the 1st Precinct in Lower Manhattan have called out sick after a cop there tested positive for coronavirus, the NYPD confirmed Tuesday night.
The 31 officers who called out work in a precinct that covers the area around the World Trade Center, SOHO, Tribeca, and Wall Street, an NYPD spokesman said. Their number represents about one-fifth of all the cops assigned to the Ericsson Place stationhouse.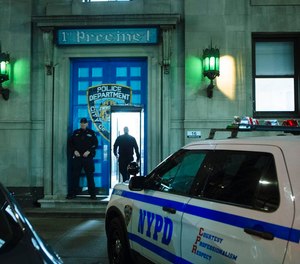 "Seventeen officers are out sick coronavirus-related. One officer apparently tested positive for coronavirus," the spokesman said.
The precinct's commanding officer and executive officer are both under observation for the virus, as are the precinct's neighborhood coordination officers, police sources said.
"The building is a ghost town," one source said. "Crime analysis, anti-crime and the whole second floor are empty."
So far, five NYPD employees have tested positive for the coronavirus, Police Commissioner Dermot Shea told NY1 Tuesday during a vist to the 40th Precinct in the Bronx.
The number includes Robert Ganley, the department's deputy commissioner for employee relations, two sources confirmed Tuesday. Chief of Transit Edward Delatorre, a Bronx traffic agent and a lieutenant have also tested positive.
McClatchy-Tribune News Service