'Virus of hate' spotlights importance of interrogation themes
Amid an uptick in coronavirus-related hate crimes, investigators can use empathy to relate to offenders
---
It appears that the number of hate crimes as a result of the COVID-19 pandemic is increasing at an alarming rate.
"People are worried about the coronavirus, which we're watching in this state – there's also a virus of hate, and it's spreading, and it's spreading quickly," New York Governor Andrew Cuomo said in Albany, New York.
New York Attorney General Letitia James launched a hotline for victims of coronavirus-related bias crimes.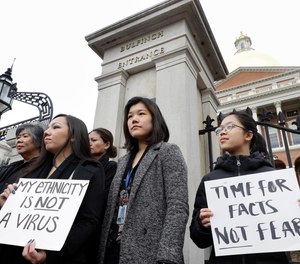 California Governor Gavin Newsom described a "huge increase" in assaults targeting the Asian-American community in his state.
When an individual is identified as an alleged COVID-19 hate crime offender, selecting the proper interrogation theme is critical in soliciting the truth. In Anatomy of Interrogation Themes, I address many hate crimes against persons and property, as well as bullying. However, I would like to offer more specific interrogation themes addressing this topic as it relates to the COVID-19 outbreak.
UNDERSTANDING THE RATIONALE
The following are theme suggestions based on the offender's motivation (i.e., their bias and attitude toward the specific offender group) and the Reid Technique, the foundation of which is empathy and understanding. It is imperative that during the interrogation the suspect is treated with dignity and respect. The core of the theme should focus on the concept that the investigator understands that good people can make mistakes in judgment when facing difficult circumstances.
For the most part, interrogation themes reinforce the guilty suspect's rationalizations and justifications for committing the crime. As part of an offender's decision to commit a crime, or in the case of a spontaneous crime, it is natural for the person to justify or rationalize the crime in some manner. Oftentimes, the offender may blame the victim's actions as a precipitator for the offender's behaviors.
Blame the victim for their actions
When interviewing a suspect, an investigator should be aware of possible thoughts or justifications the alleged offender might espouse, including but not limited to:
Victim not wearing a mask or protective gloves
Victim not adhering to social distancing
Victim not responding to questions, being arrogant, aggressive or confrontational
Victim's racial or ethnic being responsible for the outbreak
Victim engaging in social gatherings with others, not adhering to government guidelines
Victim not avoiding discretionary travel
Victim engaging in unnecessary shopping or social visits
Victim coughing or sneezing without using a tissue or inside of the elbow
Victim coming into the neighborhood for no apparent reason
Blame outside factors for affecting the offender's judgment
In many cases, hate crime offenders may seek to justify or blame their actions on outside factors, including but not limited to:
Fear and anxiety
Loss of income/job
Illness of loved one or friend
Media/internet for constant reference to a specific ethnic group
Blame media for presenting biased reporting
Blame specific politicians or reporters for causing the crisis
Constant and unrelenting news hysteria
Struggling family circumstances
Alcohol/drugs
Believed the victim was infected
Influence of others who encouraged their behavior
Blame population density
Minimization Themes
Offenders may seek to justify their actions in the following ways:
It was a spur-of-the-moment act versus premeditated
Contrast verbal threat versus physical
Contrast seconds versus minutes
No physical harm was caused
Physical harm was caused but the victim will recover
One time versus many
One individual versus several
No weapon was used
The intent was originally designed to see the victim's reaction
Suggest their immaturity or young age
CHOOSING AN APPROACH
It may help the investigator to contrast the subject's behavior with a more serious activity, playing to the offender's perception that their actions were "justified."
Theme selection would depend upon the individual case facts and information, and the suspect's statements made during the nonconfrontational investigative interview that precedes the interrogation.
In preparation for the interrogation, it would be prudent to select several themes to develop that blame the victim, outside factors and minimize the offender's behavior.
Once the subject makes an admission and tells the truth about what they did, the investigator should obtain the details of their actions from the offender – particularly details only the offender knows – location of the weapon, specific words used, location of victim's property if stolen, who they told of the event, names of persons involved, etc.
THEMES IN ACTION
The following scenario and possible interrogation illustrate how investigators can put these themes to use on the job.
Scenario: An Asian man was kicked in the back and told to go back to his country.
Interrogation of the suspect: "Don, based on our information, we know that you did kick Mr. Lee in the back while in the subway.
We don't condone what you did but can understand it. This guy was wearing a mask, but he wasn't wearing it properly so the virus could have leaked out. I know from talking to others that he wasn't keeping a proper distance from people in the subway, and I think you were just sending him a message.
On top of that, you told me you just lost your job and that can cause stress, which I do believe caused you to act out of character. On top of that, the media keeps referring to this as the Chinese virus, and you were blasted by this so much that it caused you to lash out against this person because of his appearance.
Look, I get it. You're not a bad guy, you just made a bad split-second decision because of your emotions. You didn't use a knife or gun or cause permanent injury. I truly believe you acted impulsively out of emotion. Right? You were just in the wrong place at the wrong time, right? I'm thinking this was a more spur-of-the-moment, not planned out, right?"
Additional crimes
Interestingly, the COVID-19 pandemic has also spawned additional crimes.
In Southern California, the FBI arrested a man on a federal fraud charge for allegedly hawking a "patent-pending cure" for the coronavirus and soliciting funds with promises of massive profits claiming basketball legend Magic Johnson was on the board of directors.
Selling fake at-home tests kits for COVID-19
Going door to door performing artificial tests for money
Creating phony websites claiming to sell face masks
Impersonating doctors calling individuals for payment treating their friends
Offering free home inspections
Spitting or coughing on food or persons and claiming they are transmitting COVID-19
Conclusion
With our country and the world forced into this unprecedented pandemic, themes can be adapted to the motive of the offender. 
The primary motives of these crimes – such as the passion of the offender, anger, revenge, stress, financial loss and cabin fever – can assist the investigator to elicit the truth from the suspect.