Why online and telephone reporting makes sense during COVID-19
Allowing the public to file low priority crime or incident reports online or by phone facilitates social distancing
---
Law enforcement agencies are doing their best to mitigate potential exposure to, and the spread of, COVID-19 to their workforce while striving to continue to deliver a high level of service to their communities.
Many agencies have had online or telephone reporting systems in place for several years for accepting specified crime and incident report information instead of an officer responding to a call. Other agencies are currently implementing these systems due to the coronavirus pandemic.
Community members are encouraged to use either the online or telephone reporting systems to report non-violent and non-emergency crimes or incidents. These alternatives permit civilians to file their reports without having to wait for an officer to respond. Additionally, these options reduce face-to-face interactions, thus minimizing the potential of exposure to COVID-19 for both officers and civilians.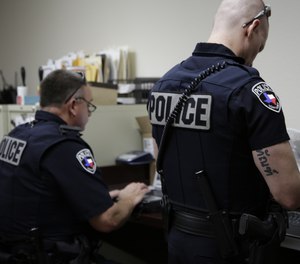 Online Reports
Online crime and incident reporting can help reduce staff's potential exposure to COVID-19. Departments can use the internet to provide civilians an opportunity for filing police reports or documenting an incident, any time of the day, from any internet connection, and at their convenience.
An example of how a typical online reporting system might work is the civilian will access the online reporting system from the agency's website. After reading carefully worded instructions that describe the type of reports that can be filed, and address jurisdictional concerns, the civilian can then proceed to the report form.
The form should request an email address from the reporting person so they can receive status updates of their report. The civilian will complete and submit their report. The reporting system will generate a temporary case number, sending it in a confirmation email upon successful report submission. The civilian can also print a copy of the police report for their records.
An important part of online reporting is determining the type of crimes or incidents that will be accepted through this process. Crimes or incidents that have no known offender information and no physical evidence to collect are most appropriate for online reporting. Insurance companies and businesses are requiring their customers to file crime and incident reports to support claims. These are report services that would increase the demand for an officer, but online reporting can reduce the impact on the agency.
Examples of crime or incident types appropriate for online reporting may include:
Vandalism
Destruction of property
Theft from vehicle
Theft of property
Lost property (vehicle license plate)
Harassing telephone calls
Animal bites
Civilians who do not have a computer, or prefer to speak with an officer, may still contact the police department by telephone to speak with an officer.
Telephone Reporting
Not every call to the police needs to go through 9-1-1, because not every crime or incident is an emergency.
A non-emergency incident is one that does not involve a crime in progress and does not pose an immediate threat to life, bodily injury or major property damage or loss. A non-emergency crime includes theft from a vehicle, criminal damage to property, garage burglary, auto theft or attempted auto theft, or other offenses where the offender is no longer at the scene. These occurrences do not require the immediate dispatching of a police officer.
Larger agencies may have a telephone reporting unit (TRU) for handling non-emergency reports. Smaller agencies are implementing processes due to COVID-19. Telephone reporting provides civilians with a convenient way for reporting non-emergency situations, the convenience of asking questions concerning police services, filing a report for minor damage to, or theft of, property, or passing along suspicious circumstances or information.
The telephone reporting process may begin with the communication center telecommunicators receiving and evaluating each service call as it comes in. If the call concerns a non-emergency crime or incident, the telecommunicator will refer the citizen to the TRU or have an officer contact the caller by telephone to take their report.
Examples of crimes or incidents types NOT appropriate for telephone reporting may include:
Violent crimes
Domestic violence
Missing persons
Sex offenses
The telephone reporting program can also provide extra benefits to the police agency. The telephone reporting position may be fulfilled by an officer who is assigned to modified duty that prevents them from performing their full duties or meeting the minimum standards established for their position.
Using an officer in need of accommodations in the telephone reporting position is a great resource that allows other officers to stay patrolling and responding to in-progress calls. It is a win-win for the employee and agency.
Summary
Online and telephone crime and incident reporting enhance services by providing community members the convenience of filing a non-emergency report any time of the day without having to wait for an officer to respond and reduces one-on-one interaction during the COVID-19 pandemic. It allows an agency to redistribute valuable resources and staff to more critical functions. 
As the COVID-19 pandemic continues, agencies will likely experience diminished staffing levels as employees and/or their families become ill. Providing civilians reasonable alternative solutions for filing low priority crime or incident reports conforms to social distancing recommendations thus reducing the number of in-person responses and potential exposure to COVID-19.
References
The Commission on Accreditation for Law Enforcement Agencies, Inc. (CALEA). Standards Manual, Revision 6.9.
International City/County Management Association. Online Crime Reporting: Should Law Enforcement Turn to the Internet for Savings?