Calif. police protests continue, websites hacked
Several websites for the city of Oakland were knocked out in a likely cyberattack
---
By Matt Hamilton, James Queally and Veronica Rocha
Los Angeles Times
OAKLAND, Calif. — After four straight nights of anti-police protesters crowding San Francisco Bay Area streets — prompting authorities to fire rubber bullets at crowds and arrest 19 people late Tuesday alone — the hacker collective Anonymous on Wednesday apparently sought vengeance.
Several websites for the city of Oakland were knocked out in a likely cyberattack. By Wednesday night, the sites for the city and the Fire Department were operating, but the Police Department's website remained disabled.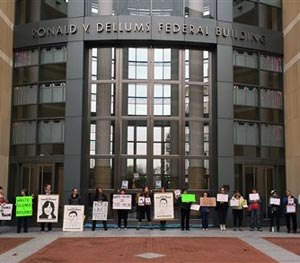 In a message posted on Anonymous' main Twitter account, the group took responsibility by invoking military lingo for taking out an enemy combatant. "Tango down: oaklandpolice.com," the message said.
Since grand juries in Missouri and New York decided not to indict white police officers in the killings of unarmed black men, crowds have gathered in cities across the nation, voicing anger and frustration over treatment of minorities by police.
Anonymous, the "hacktivist" network that once eavesdropped on an FBI conference call on cyberpirates and temporarily disabled the Justice Department's website in retaliation for prosecuting the founders of Megaupload, has become one of many groups supporting protesters.
The group posted personal information of Missouri residents who published racist messages on social media following the death of Michael Brown, an unarmed black man killed in Ferguson in August by Officer Darren Wilson.
An Oakland spokeswoman confirmed that problems with the websites first cropped up on Tuesday night, when protesters who began marching in Berkeley headed south into Oakland.
In Berkeley, hundreds have gathered nightly since Saturday, meeting at the edge of the University of California, Berkeley campus and marching through the city.
On Tuesday night, about 300 people reached Oakland City Hall, setting small dumpster fires along the way, the Oakland Police Department said.
Perhaps the night's most confrontational moment took place just after 9 p.m.
A large group of demonstrators climbed onto the 24 Freeway at 40th Street, halting traffic for about half an hour. Demonstrators threw projectiles, incendiary devices and rocks at California Highway Patrol officers, the agency said. At one point, fireworks were launched toward a CHP helicopter.
"Our fear, and what we are trying to prevent, is someone getting seriously injured or killed by choosing to march onto the freeway," Assistant CHP Chief Ernie Sanchez said in a statement.
Officers issued orders to disperse, but some protesters remained. The CHP fired rubber bullets to end the standoff. Some people on social media accused law enforcement of firing tear gas into the crowd.
By the end of Tuesday's demonstrations, the CHP had arrested 13 people on suspicion of creating a public nuisance or battery on a peace officer. The Berkeley Police Department arrested six people.
More than 1,500 demonstrators gathered in Berkeley on Monday, shutting down both directions of Interstate 80. The CHP arrested more than 160 people.
As a preventive measure, officials have closed or rerouted transit routes. Bay Area Rapid Transit has temporarily closed its Downtown Berkeley Station, and on Tuesday briefly closed its MacArthur Station in Oakland.
Capitol Corridor, Amtrak's Northern California rail line, suspended service to Emeryville, Berkeley and Oakland, and planned to use BART trains to relay riders around the closed stations.
The CHP has typically shut down freeway onramps around Berkeley in an effort to stop protesters from gaining access to the roadways.
Copyright 2014 Los Angeles Times
McClatchy-Tribune News Service